How long do you actually spend reviewing the job posting?
The answer is not long enough!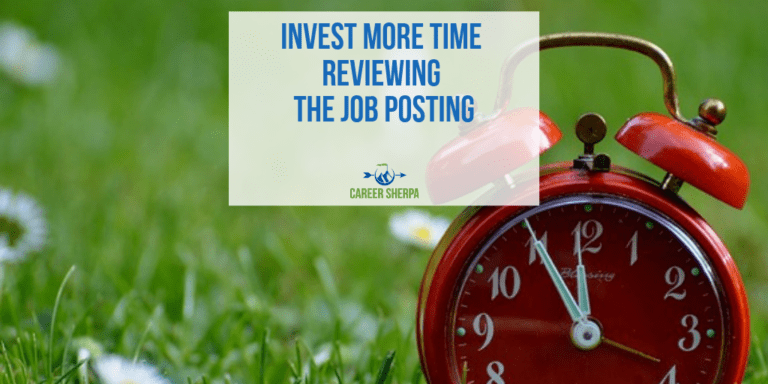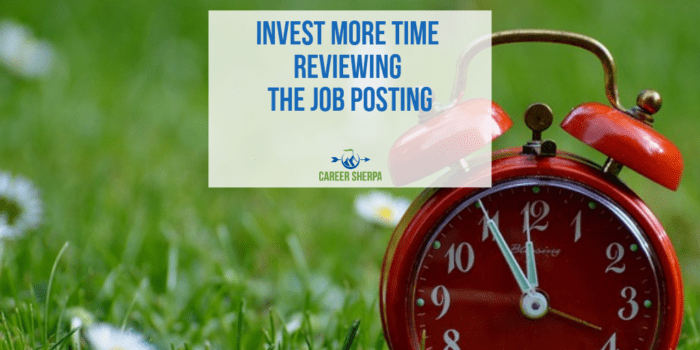 Before you submit your resume for a job, how thoroughly do you review the description, including the requirements and instructions?
Haste makes waste! You need to spend more time reviewing the job posting. Here's what you need to know.
Spend More Than 60 Seconds
Job seekers spend less than 60 seconds reviewing a job posting before deciding to apply or pass, according to a study by TheLadders.
50% of Applicants Are NOT Qualified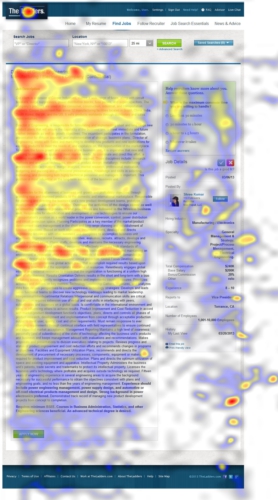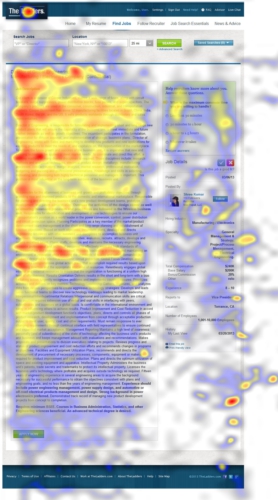 Recruiters have said that half of the applicants that apply for a job are not qualified. Do you know why? Because job seekers are not spending enough time analyzing the entire job posting.
TheLadder's study used eye-tracking technology and as you can see (red indicates more time), the most time was spent looking at
Title
Company
Job details (salary and recruiter information)
The press release stated:
Despite job seekers self-reporting that they spend up to 10 minutes reviewing a job description to determine whether they are a fit, the results revealed that they devote only 10 percent of that time assessing an opportunity.
The takeaway according to this study is that more time spent reviewing qualifications, roles and responsibilities, would decrease the number of unqualified candidates applying. Might I add, following the instructions for how to apply is equally important. These rules apply to everyone.
Follow These Instructions
Submit your resume in the format/method requested.
Once you've followed their instructions, you can reach out to company insiders to let them know you've applied and ask if they would feel comfortable walking your resume to the hiring manager.
Address the request for additional information.
If you decide NOT to submit references or salary expectations/history, explain why you are not supplying this information at this time but you will be happy to supply it upon scheduling of the interview.
No Calls Please means you should not call HR.
However, if you know people inside the company, you can certainly contact them for more information.
Apply for the right level jobs.
Use this to help you understand how years of experience translate to position level. If you apply for a job you are over- or under-qualified for, you'll need to do a good job of explaining why.
1-3 years is usually considered entry level
4-9 years is mid-level
Over 10 years usually indicates a senior level position
Understand How Recruiters Think
Before you apply for one more job, please do this. Go read this article written by Dr. John Sullivan, so you can understand how recruiters think. This means understanding how they screen and eliminate candidates and the challenges they face.
Why You Can't Get A Job… Recruiting Explained by the Numbers on ERE.net (a website specifically for recruiters!)
Job Postings Stink, But…
I'll admit, most job postings bite the big one. However, you and I can't change that, so for now, perform your due diligence and thoroughly review and absorb all parts of the job posting before you submit your customized resume and company-specific cover letter.
And the best way to create a WOW cover letter is to research the company- visit its website, social media profiles, and talk to employees. Then melt this intelligence into your cover letter to ensure you come across as interested AND qualified!

Hannah Morgan speaks and writes about job search and career strategies. She founded CareerSherpa.net to educate professionals on how to maneuver through today's job search process. Hannah was nominated as a LinkedIn Top Voice in Job Search and Careers and is a regular contributor to US News & World Report. She has been quoted by media outlets, including Forbes, USA Today, Money Magazine, Huffington Post, as well as many other publications. She is also author of The Infographic Resume and co-author of Social Networking for Business Success.