Because it's a new year, don't you owe it to yourself to get a new job? These 13 tips will get you started on your way!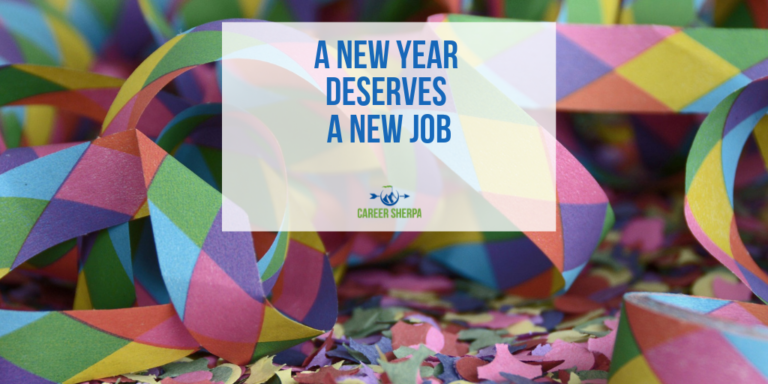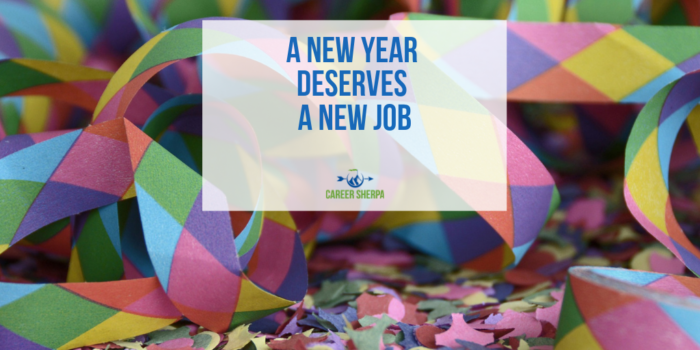 It doesn't matter if you are considering a transition inside your company or a move to a new company. There are tried and true steps you should take to kick off the new year and get your career moving in the right direction.
Know What You Want
When you know what is most important to you, it helps to identify your next move.
Take time to re-evaluate and write down your values, the skills you most enjoy using, the successes you've had and what you want to do next.
Next, begin reviewing job postings to see if you have the skills and experience necessary for the positions you're interested in. You may not have everything, few do, but if you have more than 60 percent of the requirements, you're in good shape.
Is It Really A Promotion You Are Interested In?
Assess the potential for movement within your company by evaluating these questions?
Do people move around within the company?
How long has your manager been in his/her position?
Does your manager have changes planned in the new year?
How did the last person (who was promoted) get from job A to job B?
Meet The Right People
If you don't already know decision-makers in your company, now is a good time to meet them, either formally or informally. Also, meet with people who hold the job you are interested in so you can learn about what it takes to succeed in the role.
These informational meetings will help you identify any gaps in skills or knowledge plus you now have a connection to someone who can serve as an advocate.
It's up to you to keep in touch with all these people throughout the coming months so they'll keep you in mind for new opportunities that may develop.
Gain Some Good PR
You will need some good publicity in order to position yourself for a promotion or move outside your company. Merely doing your job isn't good enough. The right people have to know about the work you've done.
The person who got the promotion wasn't necessarily the most qualified. So what was the secret?
The person who won the promotion had an advocate, was well-liked, had a track record of success or was better at selling their abilities.
Let your manager know about your success throughout the year, but don't rely on them to be your only advocate. Enlist the help of other people you've met and engage in some healthy self-promotion.
Also be sure to look outside your organization for opportunities to talk or present at industry events, write articles, speak on panels, get interviewed on a podcast or start your own blog or community.
Be Ready When It's Time To Leave
If you determine that movement within your current company is nonexistent or very slow, you may need to begin exploring options with competitors or companies that do similar work.
To start that process, make a list of companies that could potentially hire you for the role you are interested in. Then look for events where you can network with employees from these companies.
Also watch for news about new contracts, buyouts, mergers and promotions. These changes can mean potential new opportunities for you.
Update LinkedIn, Resume & Pitch
With your new goals defined, update your LinkedIn profile, resume and pitch and align them with your desired new role. All three of these need to include the same message.
You want to make sure to highlight the keywords mentioned in the job descriptions you read. Pay special attention to processes and procedures, technology and other hard skills that recruiters will search for.
Become A Specialist
Learn everything you possibly can about your ideal job. Your mission is to become a subject matter expert or specialist.
Allocate time to:
Regularly read industry publications and news related to your area of interest.
Attend industry conferences, Meetups and other events that give you access to industry experts
Find out how people in this industry/role keep up with trends
Keep in touch with all the new people you meet.
Top 3 Job Search Methods
Jobvite's Job Seeker Nation Study 2018, highlights the methods successful job hunters used to secure a new career.
While most workers (61%) were satisfied with their current jobs, over 80% were open to new job opportunities, according to the survey.
This highlights one of the most important career management principles:
Always be searching for your next great job.
When you become complacent or rely on your current employer to look out for your best interests, you are likely to miss out on opportunities.
Of course, being on the lookout for a new job takes time and effort, but you can work smarter by following the strategies used by successful job seekers.
Use The Power of Human Search Agents
Wouldn't you love to have hundreds of people helping you source your new job? It's called networking.
Jobvite reports that 49% of job seekers turn to friends for help identifying jobs and 35% tap professional connections.
The takeaway is: If you tap your network and do it well, you'll stand out from the vast majority of job seekers who aren't networking.
Quick networking tips.
Make a list of everyone you know so you can systematically reach out and keep track of when you contacted each person. Tell your contacts the type of job and some of the companies you are interested in. This helps your contacts focus on the right types of opportunities. Most importantly, keep in touch with your network. You must stay top of mind.
Get Referred Because Jobs Go To Referrals
In order to jump to the top of the pile of applicants, you want someone you know to refer you for the job. That isn't as hard as it may sound. 60% of workers have referred a contact or connection for a job, according to Jobvite. The survey reports that 35% of job seekers ultimately landed a new job through a referral.
Quick tips about being referred.
Before you apply to a job, search for people you know inside the company. Use LinkedIn and ask your network whom they may know inside the company. Often, the online application will ask if you know anyone at the company and you'll want to provide your contact's name. When you are interested in the job, always let your inside contacts know and ask if they can pass your resume along to the person responsible for hiring.
Use These 2 Sites To Apply Online
There are many job boards out there. However, two of the online application methods used by successful job seekers aren't really job boards at all.
Almost 25% of job seekers applied to their current or most recent job via LinkedIn and 32% applied directly through a company's career site.
Quick tips for applying online.
Almost every company lists jobs on their own website and these systems will allow you to set alerts for new jobs. You can set similar alerts on LinkedIn as well. Setting alerts saves you from having to scroll through hundreds of unrelated jobs and will allow you to apply quickly after a job is posted.
Avoid Taking On Irrelevant Projects
Now is the time to develop laser focus. Don't overcommit or take on any random assignment. Be strategic and selective. Only take on projects or tasks that will help you reach your next job. These assignments should help you develop or enhance the skills you need for your next role. And if you are asked to take on extra work that doesn't fit your goals, turn it down politely but firmly.
Taking on a project right now may not allow you to have the time you need to work on your job search.
Don't Say Yes Until You've Gotten All The Info
Jobvite found that within the first 90 days, almost a third of new employees leave a job because of these top four reasons:
The role wasn't what they expected
There was an incident or bad experience
They didn't like the company culture
They simply changed their minds.
Once you've secured a new job, you want to keep it. To do this, make sure you've thoroughly vetted the company, your new manager and the role before accepting the offer. Both the employer and the new employee can take the blame for allowing this to happen. But, ultimately, it is up to you to reduce the risk when taking a new job.
Have you taken these steps:
Asked the right questions during the interview process.
Spoken to current and ex-employees about working for the company.
Asked if you can shadow someone in the job in order to understand the role.
Watched how the team interacts with each other and people from other departments.
Pay attention to your gut instincts. If something doesn't feel right, it could very well be a sign you may not fit in the company.
Be Patient and Carry On
Don't expect immediate results. It takes time to build new contacts and get the word out. Be persistent and don't lose hope.
Keep taking actions that will get you to the next step in your career.

Hannah Morgan speaks and writes about job search and career strategies. She founded CareerSherpa.net to educate professionals on how to maneuver through today's job search process. Hannah was nominated as a LinkedIn Top Voice in Job Search and Careers and is a regular contributor to US News & World Report. She has been quoted by media outlets, including Forbes, USA Today, Money Magazine, Huffington Post, as well as many other publications. She is also author of The Infographic Resume and co-author of Social Networking for Business Success.