The economy will always impact your career. The key is understanding what you want and need. This week's summary has news you can use to help you.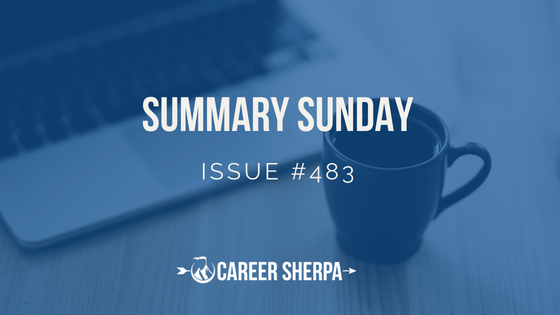 In this week's summary, you'll find a collection of articles about:
Top Ranked States
Are we in a "full-job" recession
Advice if you're worried about layoffs
When to write a rejection followup
A self-improvement hack
WORKFORCE
America's Top States for Business 2022: The full rankings – CNBC
States were ranked according to 10 major categories. And this list allows you to see top ranked as well has how the state ranked by these categories: Workforce, Infra-Structure, Cost of Doing Business, Economy, Life, Health & Inclusion, Technology & Innovation and Business Friedliness.
If you've been contemplating a move, perhaps this list can help you decide on a state that aligns better with what's important to you.
The Complexities of a "Job-Full" Recession – Korn Ferry
This isn't a normal recession… read why. And the advice to leaders is:
"Instead of fixating on the macro indicators, experts say, leaders should pay attention to the statistics coming out of their own organizations."
This means, your employment status depends very much on the financial health of your company and how leaders respond. Pay attention to internal communications and red flags.
JOB SEARCH
Career Experts Offer Advice For People Who Are Worried About Layoffs – Wecruitr
There are a lot of things you can and should be doing now to proactively ensure your employment is more stable. This list of advice from experts is worth following through on!
Job Rejection Emails: Are They Necessary – HR Bartender
The answer is maybe. Sharlyn Lauby writes
"'What's the goal?'. If you're trying to keep the door open with this organization, then yes, a response could be appropriate. In the case of an internal candidate, it could make some sense to follow up and let the organization know that you take their feedback seriously. "
And if you want to read some sample emails, check out this article I wrote How To Respond To A Job Rejection Email (With Samples).
CAREER
The Copy-Paste Technique Is the Easiest, Most Effective Self-Improvement Hack, a New Wharton Study Finds – Inc
If you want to start a new routine to improve your productivity, copying the routines/habits of those you work with might be the secret.
MENTIONS
CareerChat on Twitter – Hosted by AT&T
Here are my answers to the 8 questions during the #CareerChat #LifeAtATT. You can also find some questions and answers on AT&T's company page on LinkedIn here. Q1-Personal Branding Q2-Networking Q3-Next career steps
DID YOU MISS THESE
It's a question you know you'll be asked – while interviewing AND networking. So here's how to concisely respond.
How To Message Someone On LinkedIn About A Job (Simple)
This guide will teach you how to approach and reach out to individuals on LinkedIn about jobs in a way that's effective and professional.
Networking is a Waste of Time- Or Is It?
In this guide, learn who to network with, how to structure your conversation and questions to ask.

Hannah Morgan speaks and writes about job search and career strategies. She founded CareerSherpa.net to educate professionals on how to maneuver through today's job search process. Hannah was nominated as a LinkedIn Top Voice in Job Search and Careers and is a regular contributor to US News & World Report. She has been quoted by media outlets, including Forbes, USA Today, Money Magazine, Huffington Post, as well as many other publications. She is also author of The Infographic Resume and co-author of Social Networking for Business Success.