Writing a thank you message after you've been rejected for a job may seem like a crazy idea, but replying to a rejection email might just work. But before you learn how to respond to a rejection email, I want you to think about how the whole situation typically plays out.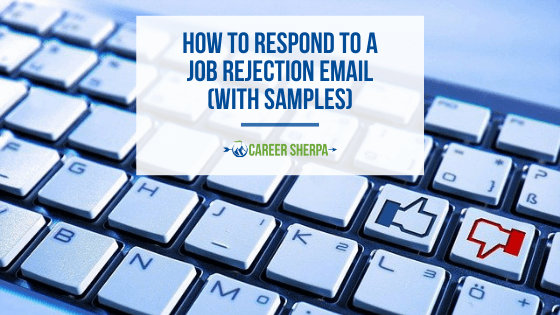 Table of contents
Here's how it usually goes:
Sarah wanted the job, badly. She went through four rounds of interviews and loved the team. Her qualifications checked all the boxes, and then, one Friday she got the email…
Thank you for your time and interest…we've decided to go with another candidate blah, blah, blah.
She was devastated. She was sure they were going to offer her the job, and this unfortunate turn of events took her by surprise.
Put yourself in her shoes. What should she do now?
I'm sure many candidates are tempted to send a big "F you" message after receiving a rejection email. But thank goodness they don't. It's normal to feel rejected and hurt. You've invested a lot of time and energy into the process. But you'll never really know the full story behind who the company hired or what was going on behind the scenes.
Things happen and you may never really know the reason why you weren't selected for that job. Did they:
Hire the CEO's daughter
Put the position on hold and not hire anyone
Promote an internal candidate
It doesn't really matter who they hired because, at the end of the day, you did the best you could do. What you can do now is let the company know that you are still interested in roles that might become available in the future.
But here's what I want you to remember. A rejection email doesn't mean the company never wants to hire you. It just means they aren't interested in you for that specific job.
You want to leave the door open for future opportunities with a company and that is the very reason to write a thank you after being rejected for a job.
Sending a thank you email after being rejected helps you stay on top of the backup list in case something happens. For example:
Sometimes candidates don't make it past the first 60 days
Candidates sometimes receive better offers and never start
And new opportunities open up within companies all the time
It's always easier for the employer to pick someone they've already interviewed rather than starting from scratch. Why wouldn't you want to be considered as a backup option in case their first choice falls through or they need to hire someone new?
A Rejection Email Response Success Story
Years ago, when I hired someone (actually my boss hired her, but that's another story) I received a nice response to the rejection email from the candidate we didn't hire. I saved her note in my desk.
Three months later, when the person we hired didn't work out, I reached into my desk and pulled out the note from the candidate we rejected and showed it to my manager. He called her immediately and hired her within days. If I hadn't gotten her note, I may not have thought to contact her.
Why It's Important To Reply
Responding to any email is just common courtesy. First of all, the person wants to know you received their message so they'll appreciate your response. But there are other reasons why responding to a rejection email is important.
Shows You're Still Interested
Responding to a rejection email is one way to show you are still interested. If you don't respond, the employer will never know how you feel about their company or may not think to consider you for future opportunities. Or they may think you have moved on to another company and are no longer interested.
Makes A Good Impression
While you may not have been a fit for a particular role, that doesn't mean you won't fit in the company at all. When you take the time to respond to the job rejection email, you show future managers that you have maturity, emotional intelligence, and it makes a good impression overall. Often, companies maintain what they call a talent pipeline. It's a queue of people that the company considers potential candidates. You want to stay in the company's queue.
How To Respond To A Rejection Email
Your response to a rejection email doesn't need to be lengthy, in fact, it's just three to four short paragraphs. Keep it positive and focus on the future!
Express Gratitude
Thank the person for their time and the opportunity to learn about the job and the company. If there were multiple people involved, make reference to them too.
You are also thanking the person for letting you know their final decision, though you don't actually have to say this. Too often candidates don't receive any update after a job interview so appreciate the fact that you know the outcome.
If you want to reference a specific moment during the interview process that was important, feel free. But you don't need to go into a lot of detail. The thank you email you wrote after the interview probably already mentioned that.
State You're Still Interested (If applicable)
If you are still interested in working for the company, either in a different role or in that same role, be sure to mention this in your email message. It may seem obvious, but stating that you are interested in future opportunities might be just the reminder the hiring manager or recruiter needs to keep you on the top of their list of upcoming roles.
However, if you are not still interested in working for the company, you don't need to say anything in this section. It's still a good idea to send a thank you though, because the hiring manager or recruiter may have contacts in other companies and may refer you to openings outside their company.
Emphasize Skills and Desired Role
You should remind the hiring manager or recruiter of your skills and the specific roles you are interested in. People can easily forget or may get you mixed up with another candidate. Rather than just saying "keep me in mind," remind them of your top two to three skills.
Stay In Touch
Your final paragraph includes a sentence or two about your interest in staying in touch. You can let them know you will be monitoring their website for future opportunities. You can also ask if it's okay to connect with them on LinkedIn.
Don't expect people to contact you if there is an opening. It is up to you to take ownership of your job search. It's a good idea to stay in touch and keep an eye on the company's website.
Focus On The Subject Line
Writing a strong subject line for your email serves two purposes: to get the reader's attention and to reference the subject of the email. In each of the rejection email responses below, take note that the subject line references the job title and your name.
Include An Email Signature Block
Every email you send should include an email signature block which makes it simple for someone to contact you. It's a good idea to include your job title, phone number and LinkedIn URL in your signature block.
Rejection Email Response Samples
Finally, let's look at some example ways that you can reply! These samples will help you see exactly what to say and visualize how to respond to a job rejection email in a natural and effective way.
Sample 1
Subject: Business Analyst role decision
Dear Dana Smith,
Thank you so much for meeting with me to discuss the Business Analyst position at ABC Company. I appreciate the time invested and the information you and your team shared. I particularly enjoyed learning how the teams share information so freely to help tell the most accurate business story.
While I am disappointed to learn that I was not selected for the role, I am still very interested in future opportunities with ABC Company. I am interested in roles similar to Business Analyst, and I noticed there are employees who serve as data analysts and financial analysts. I would be open to pursuing one of those roles.
I will continue to monitor your career page and will be in contact if I see future openings of interest.
Thank you again for the conversation and the chance to learn more about ABC Company. And I wish you and your new hire all the best.
Sincerely,
Susan Smith
Business Analyst | MS Business Analytics
Phone number
LinkedIn URL
Sample 2
Subject: Marketing Vice President – Sally Jones
Dear Sam Smith:
Thank you for letting me know about your decision regarding the Marketing Vice President role at PDQ Ltd.
I enjoyed learning about PDQ Ltd. and remain interested in pursuing opportunities in marketing. If a similar position becomes available, I'd be interested.
As I continue my search, I am grateful for the chance to meet outstanding leaders like yourself and hope we can stay in contact. I'll be sending you an invitation to connect on LinkedIn.
Thank you again for your time and consideration and good luck to you and the PDQ Ltd. team.
Sincerely,
Sally Jones
Marketing Executive | Consumer Goods & Services
Phone number
LinkedIn URL
Sample 3
Subject Line: Rachel Carpenter – Customer Service and Support
Dear Ms. Sharon McArthur:
Thank you for letting me know your decision regarding the Customer Service and Support role at Ajax Corporation.
I still remain interested in working for Ajax and would be open to considering other opportunities that might be a good match for my data entry and communication skills.
I wish you and your team the best of luck! Thank you again for your time and the opportunity.
Sincerely,
Rachel Carpenter | Customer Service
Phone number
LinkedIn URL
Sample 4
Subject Line: Pat Brown – Customer Service and Support
Dear Mr. Scott Price:
Thank you for considering me for the Software Developer position at Data Corp. I appreciate your time and consideration.
Should there be a similar position that would be a better fit for my experience and qualifications, I would be interested. I hope you will keep me in mind.
Best of luck to you and Data Corp in the future. Thank you again for your time and the opportunity.
Sincerely,
Pat Brown | Software Developer
Phone number
LinkedIn URL
Final Thoughts
While it's not a skill you ever want to use, knowing how to reply to a rejection email is an incredibly powerful tool to have during your job search.
When drafting your response to a rejection email, remember to keep your emotions in check. This is your chance to show your professionalism, your continued interest in the company and keep the lines of communication open. The right thank you email does exactly all that.
When you take the time to write a thoughtful reply to a job rejection email, you are far more likely to stay in the recruiter's queue for future job opportunities. And that's exactly the outcome you want.

Hannah Morgan speaks and writes about job search and career strategies. She founded CareerSherpa.net to educate professionals on how to maneuver through today's job search process. Hannah was nominated as a LinkedIn Top Voice in Job Search and Careers and is a regular contributor to US News & World Report. She has been quoted by media outlets, including Forbes, USA Today, Money Magazine, Huffington Post, as well as many other publications. She is also author of The Infographic Resume and co-author of Social Networking for Business Success.