You don't have time to waste. So what can you do to more strategically grow your network?
Be purposeful.
That means you need a plan.
And it is always better to begin this process before you are in dire need (like when you've been laid off or are about to graduate or hate your job!)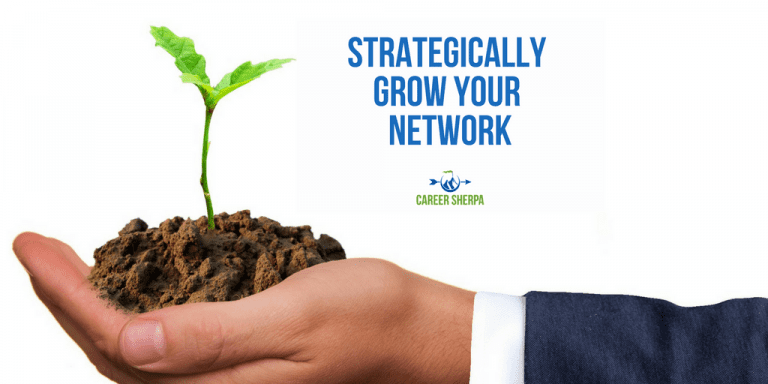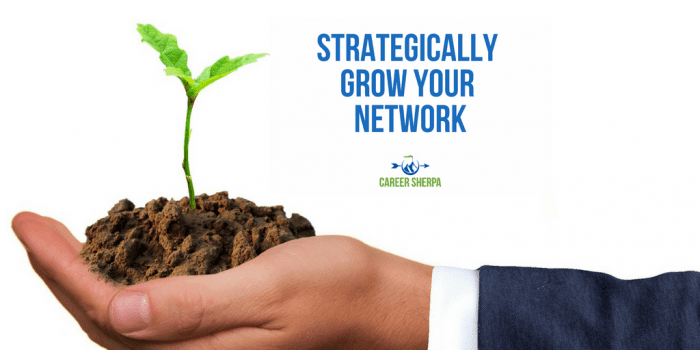 4 Ways To Strategically Grow Your Network
1. Create A Bucket List
Brainstorm the people you have always wanted to meet. These folks may be local or perhaps they are industry legends. It doesn't matter. Put their names on your list. We'll worry about how to meet them later. You can find more ideas on how to construct your bucket list by reading Who Do You Need To Know.
2. Target Company Insiders
There are companies you've either always wanted to work for or have heard good things about. They may even be competitors. These are what I mean by target companies. Even if you are happy in your role, you should think about identifying target companies. If you know names of people who work there, list them. If not, you can research them on LinkedIn.
3. Your Current Network
People in your current network know lots of people. In order to discover who your network knows, you need to re-engage with your network. Make a list of all these people. Sure, you have your email contacts and your LinkedIn connections, but don't forget about the many other people you know!
Create a spreadsheet with these names and rate your relationship with them. For example, 1 = strong, 2 = acquaintance/casual, 3 = weak 4 = target but unknown 5 = referral. This is just one example. You may have your own system. When starting out, you want to tap your strong ties first. They tend to be more forgiving and helpful which is just perfect if you are new or uncomfortable with this networking adventure. You need practice before meeting with higher-stakes networking contacts!
4. Networking By Getting Out
Some of the best networking just happens by chance encounters. It may be a trip to the store, a volunteer assignment or maybe an industry meetup. The more active you are, the greater your chances of fortuitously meeting new people. (Check out this list of networking activities)
Take It Slow
Keep this in mind before you start reaching out!
Your first meeting with someone, whether it be at an event or even over coffee is supposed to be about building a connection. Sometimes that happens, sometimes it doesn't. Don't ask for too much during your first encounter. Take it slow.
The same is true when reaching out to someone you don't know via LinkedIn or email. You want to connect first and then follow up with your request for a phone call or meeting. Don't come across too aggressive.
Research On LinkedIn
Once you've found the person you want to meet on LinkedIn, read their profile in depth. Look at articles they have liked or written on LinkedIn. You're trying to get a sense of what is important to them. You may be able to use this information during your meeting. Look at their work history and education. Are there any parallels to your experience or education? See who they are connected to. Do you know people in common? Using the name of a mutual connection can warm up a cold call/connection request.
And don't just research on LinkedIn, check other social networks like Facebook and Twitter (which are relatively easy to search). See what updates they are sharing. It may help you craft your outreach message.
Plan Your Message
There's one question you want to ask yourself before you reach out to each person on your list.
"How can this person help me?"
Your answer may be one of these:
We worked together, they know my work and may have leads.
This person knows A LOT of people, so they can help spread my message or provide referrals.
This person knows the industry and can share insights.
If you don't know exactly how the person can help you…yet, don't eliminate their name. Sometimes reconnecting is nothing more than staying in touch.
Remember, you are reaching out to establish (or re-establish) your relationship.
Relationships are all about trust.
In fact, 83% of people say they trust recommendations from friends and family according to Nielsen Global Trust in Advertising Report 2015.
Know How To Describe What You Do
You want to use a clear and simple message to describe yourself (and what you do). It's your value proposition or brand statement. It contains these three things:
What you do (the problem you solve)
Who you help
How you do it uniquely
It has to be easy enough for anyone to understand AND remember. So avoid using technical lingo, acronyms, industry buzzwords, or being vague. (There's time for more details about your skills later. Be patient).
If you are transitioning into a new role, you don't need to introduce yourself by telling that part of your story. Stay focused on the transferable nature of the problem you solve. In other words, think big picture.
If you want to try a shorter, more engaging pitch, learn more about the micro-pitch.
Writing Your Email
I suggest you send a regular email. Try not to use LinkedIn's InMail or messaging because most people don't check LinkedIn very often. However, I realize that in some cases LinkedIn may be your only option.
As you craft your brief outreach message, keep in mind how important the subject line is. Keep it short and make it interesting. Especially if the person doesn't know you.
If you don't know the person well, either remind them of how you met or explain where your interests overlap or how you've heard of them.
Next, state your purpose for wanting to talk/meet/connect with them. You can also read How To Ask For An Informational Meeting.
You're looking for advice, information or recommendations! (Not a job). The more specific you are in stating the purpose, the more likely someone will be to accept. A vague or general request for a meeting often puts people on alert as they have experienced one too many "bait and switch" meetings (a meeting where the person tried to sell them insurance, asked for an introduction to the CEO or flat out asked for a job).
Make it super simple to schedule a time with you. Include dates and times that work well for you. This will help solidify the request.
Thank the person in advance!
You're done. But do make sure your email includes a signature block. Here's what to include.
Make This A Habit
Don't wait for a crisis to grow your network. Build time into your calendar to re-connect and reach out to new people regularly!

Hannah Morgan speaks and writes about job search and career strategies. She founded CareerSherpa.net to educate professionals on how to maneuver through today's job search process. Hannah was nominated as a LinkedIn Top Voice in Job Search and Careers and is a regular contributor to US News & World Report. She has been quoted by media outlets, including Forbes, USA Today, Money Magazine, Huffington Post, as well as many other publications. She is also author of The Infographic Resume and co-author of Social Networking for Business Success.