Job seekers are often told to "nail your 45-second elevator pitch." But here's the problem – 45 seconds is a really long time. You need a micro-pitch.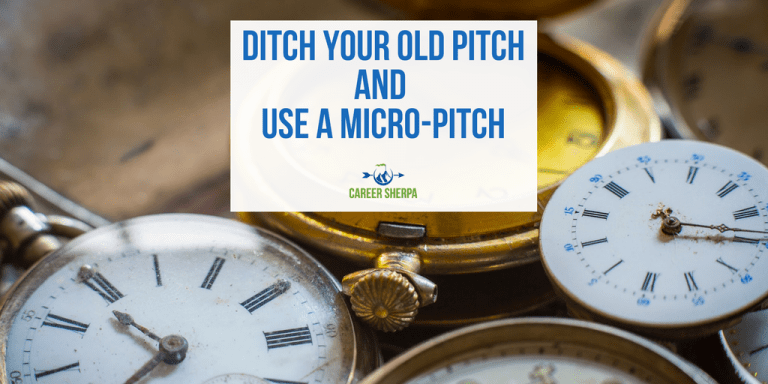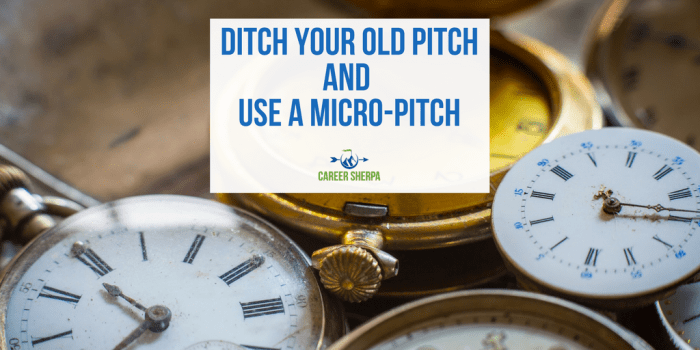 Today's short-attention-span culture features pithy headlines, 140-character tweets and sound bites.
You are more likely to skim your news feed, emails and other social networks than you are to listen to voicemail messages or read every email word-for-word.
Everyone wants bullet points.
Here's a fun fact: the human attention span is now eight seconds – less than that of a goldfish. [source]
Micro-Pitch For Networking
Let's say you walk into a meeting or networking event and someone asks you what you do. Do they really want to know your whole work history? Either the person is trying to be polite or maybe they want to know if you have similar careers.
As you shake the person's hand you wonder, too, who is this person and why should I care? As you can tell, neither of you are really interested in learning about each other.
Your introduction faces another obstacle. People are really bad at listening.
They may hear what you say, but they are unlikely to remember anything about you tomorrow.
And honestly, do you think anyone will listen to you talk for a full 45 seconds about your career and skills? Is it that interesting?
That's what I thought. So it's time to shorten up your pitch.
Craft A Micro-Pitch
A short (10 to 20 seconds), attention-grabbing conversation-starter is what you really want to use the next time someone asks you about your work.
Your micro-pitch should be just long enough to include a couple of the items listed below. You want to share just enough information to pique the listener's interest in you.
Make It Relatable
Avoid using your job title if it doesn't describe what you do or no one knows what it is. And avoid the generic job titles.
Stop saying you're a project manager with X company, for example. Here's why. There are too many types of project managers. Instead of using your title, talk about what you do in terms anyone can understand.
You might say,
"I make sure the new software hits the shelves on time by organizing meetings and planning what to do when there are delays."
Make It Interesting
Even the most boring jobs can have interesting aspects or anecdotes. Reference an interesting client, mention a well-known project or talk about a strange situation, leaving out the identifying information, of course.
People who love what they do ooze excitement and can make even the most mundane work sound interesting.
Paint a Verbal Picture
The best way to help someone understand what you do is to paint a picture. Use descriptive words that are universally understood. Yes, it requires more words, but it lures the person in so they won't mind listening.
It's Not About You
The most important thing to remember is that your pitch isn't about you.
Your micro-pitch is used to get the other person interested enough in you so they'll ask more questions.
You may choose to include information that will help your new contact find something in common, such as what city or town you live in. Add a sentence like this to your micro-pitch:
"And I have plenty of time during my commute home to [your city] to take an online class in Spanish."
Remember,  the best way to show you are interested in the other person is to pay attention to their pitch and ask follow-up questions.
Get Personal
Building a new relationship is predicated on having something in common with the person you are meeting. You need to find that point of commonality and it's easier to find when you share information about your personal interests. 
But don't make it too personal or revealing and avoid bringing up interests that could cause someone to form the wrong impression.
You can reference a hobby or activity in your micro-pitch that is relevant to your new contact. You might say,
"I had a client in the airline industry early in my career and developed a fascination with aviation. I love going to the Air and Space Museum when in the District of Columbia."
If coaching Little League is your passion, you could talk about why coaching has helped you as a leader.
Add an Interesting Factoid
Sometimes you can find a way to weave in an interesting fact about yourself or a project you've worked on into your micro-pitch.
If you have had an achievement outside of work, this might be interesting to talk about. Make sure you tie it into the conversation so it doesn't sound like you're just bragging.
For example, if you just ran your first Iron Man race, you could end your micro-pitch by explaining how training for an Iron Man is similar to training for your next career move.
Here are some examples to get you thinking about how you can shorten and enliven your answer to "What do you do?"
"I help middle school students work through the issues that prevent them from doing well in school. By spending a couple of hours after school with students who are struggling, I've helped turn a couple around. And when I'm not working with students, I'm planning my next great adventure, a trip to Honduras."
"Have you ever used an online app for your banking? I helped make that happen at X bank. I'm the person who researched the options and coordinated all the details. Outside of work, I love taking pictures of people with their dogs. It's fascinating to capture the relationship."
This post originally appeared on US News & World Report
Learn more about telling your career story
Use LinkedIn Publishing To Tell Your Story
Learn How To Tell Your Career Story

Hannah Morgan speaks and writes about job search and career strategies. She founded CareerSherpa.net to educate professionals on how to maneuver through today's job search process. Hannah was nominated as a LinkedIn Top Voice in Job Search and Careers and is a regular contributor to US News & World Report. She has been quoted by media outlets, including Forbes, USA Today, Money Magazine, Huffington Post, as well as many other publications. She is also author of The Infographic Resume and co-author of Social Networking for Business Success.