Before you even begin thinking about looking for a new job, you must know what you can do and what you WANT to do! Here are some resources to help you figure this out!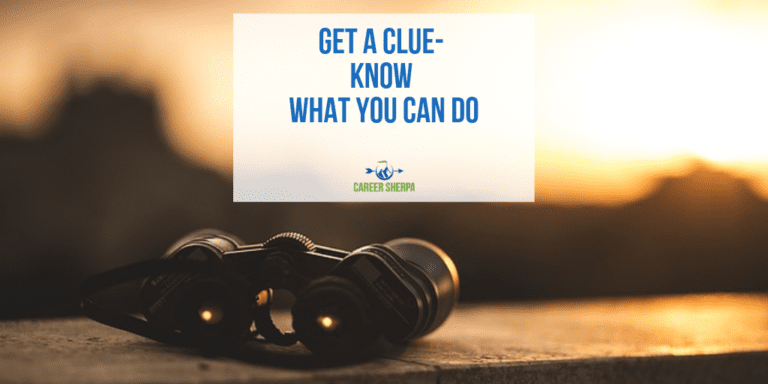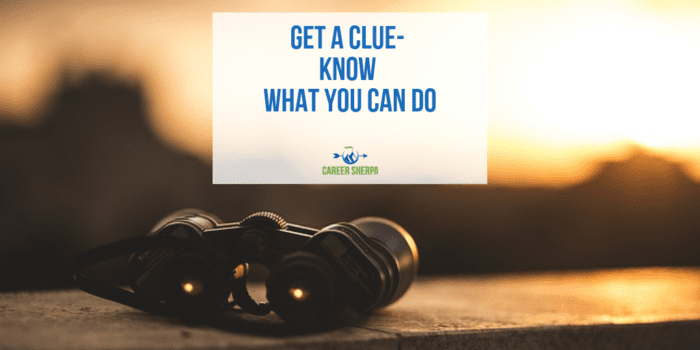 When I facilitated resume workshops there was always at least one person who didn't know what they wanted to do next. When I asked what they were looking for they would respond:
"I don't know" or
"I am keeping my options open" or
"I can do almost anything" or
"A good paying job".
I wanted to scream, but instead, I asked them what kinds of things they wanted to do. Most of them still couldn't answer this question. They weren't ready to write a resume either.
Before You Write Your Resume, Know Your Focus
If you can't specifically identify what you want to do or what you like doing, then it is time to sit down and do some self-assessment.
Self-assessment stinks. It is painful and hard work. Sorry. You have to do it. Not just for the resume, but for the whole purpose of job search.
Finding The Right Job
How do you find the right job amongst a myriad of jobs posted on job boards if you aren't entering the right keywords? (I know you are not reading every job listed for the day on Indeed.com.) Are you spending too much time searching for jobs only to find nothing? That's got to be time-consuming, not to mention frustrating.
In order to find the right types of jobs, you have to be on the lookout for the right job titles and skills requested in job postings.
Why Should I Hire You?
Ok, let's say you can find a job to apply to and you submit your general resume and by some miracle, you are called for an interview.
Great, now, the interviewer will ask "why are you qualified for this job?", "what are your strengths and tell me about a time you used one" and "why should I hire you?" Good luck answering these questions if you haven't done some serious self-assessment.
So if you are convinced that it's worth the pain and suffering to do some self-assessment, here are some resources I recommend.
What Color Is Your Parachute
Self-assessment books are all over the place. "What Color Is Your Parachute" by Richard Bolles, is probably the most comprehensive. Though it's updated every year, the info hasn't really changed. If you have the discipline, sit down and read it.
O*Net
There are other assessment tools online. O*Net or these tools:
O*Net offers several assessments that tie back to over 800 occupations. This helps you see how your interests, skills and abilities map to jobs.
So how it works is, you take the assessment of your interests and values and skills and it matches your answers with the requirements of hundreds of occupations. Then you link to the occupational descriptions to learn more about the duties and skills required. It can be quite helpful.
More Assessments
There are three assessments, that when combined, can be helpful in steering you in the right direction. If you need more help figuring out what you want to do, read Choosing A Career Can Be Overwhelming.
You can also check out What Do You Love To Do
STAR Stories
Another, perhaps easier, self-assessment is to document Accomplishment stories. Think of a time you were proud of something specific you did. Perhaps you solved a problem, made a customer really happy or saved the company money. Once you've recalled this story, begin to document it. Recalling Past Accomplishments walks you through documenting your stories and helps organize them.
Visualize Your New Career
Sometimes it takes visualizing what your ideal day and job look like to make it a reality. If you are interested in a self-guided exercise to help you visualize your new career, check this out: Envisioning Your Future
Bottom Line:
So the next time someone asks you, what are you looking for, know what you can do and give them an answer.

Hannah Morgan speaks and writes about job search and career strategies. She founded CareerSherpa.net to educate professionals on how to maneuver through today's job search process. Hannah was nominated as a LinkedIn Top Voice in Job Search and Careers and is a regular contributor to US News & World Report. She has been quoted by media outlets, including Forbes, USA Today, Money Magazine, Huffington Post, as well as many other publications. She is also author of The Infographic Resume and co-author of Social Networking for Business Success.