What is it that you love to do?  Take the time to reflect on what you love to do and assess the skills you enjoy using to help you find a new job that allows you to thrive.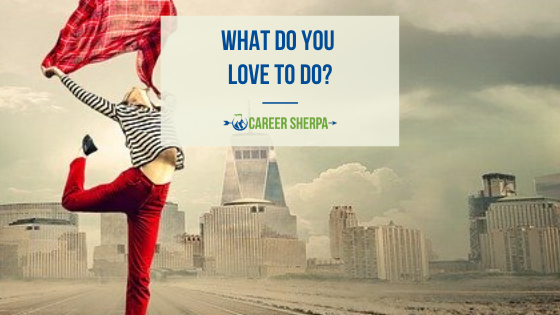 Have you taken the time to identify what it is you enjoy doing?  Many people don't.
But here's why you should.
You want to find a new job that fulfills you. You get fulfilled when you do things you love doing. And when you are doing work that aligns with your values and your purpose.
There will always be elements of a job you don't like (or even hate). But your goal is to find a job that closely matches what you need and want.
What Happens When You Don't Align With Your Job?
People who find themselves in a job that doesn't fit get fired.
At one time, I worked for a company in an HR capacity.  I was referred to as the "Angel of Death". When they saw me walk into a building or conference room, they knew that someone was about to be fired. 
Perhaps as a coping mechanism, or perhaps I really believed it, I felt good about this role. What I was able to do, when firing someone, was to give them permission to do something they really enjoyed. 
In almost every case, the people I was being asked to fire were being let go because they weren't performing well in their job.  
Why?
Because they didn't like what they were doing or maybe they just didn't have the right skills for the job. If they did like what they were doing, they would have heeded the 3 or more warnings to improve. 
(Well, this was how I had to justify the situation to myself and to them.)
Don't Wait For Permission
Who needs to give you permission to take steps to pursue something that will make you happy?
The thing is, I see people desperately hold on to a job because they need the money, stability, insurance, etc. 
It is a frightening thought to not have one. And no one really wants to fail either.  Most people want to be successful in whatever they do.  No one wants to be unemployed.
Self-Assessment
Before it is too late, take the time and think about the times you've been happiest.
What types of things were you doing?
What kinds of people were you working with?
What kind of environment were you working in?
It isn't enough to say, "I am a people-person" or "I love working with people." Take this a step further. 
When you say you love working with people, what do you really mean?  What kind of people do you enjoy working with most?  Youth, elderly, scientists, programmers, leaders, politicians…Specifically, what roles or types of people?
What problems did you enjoy helping them solve? What were you doing with these people that you enjoyed? Be as specific as possible.
One-On-One Skill Assessment
Here is a listing of some general types of activities that are usually done one-on-one: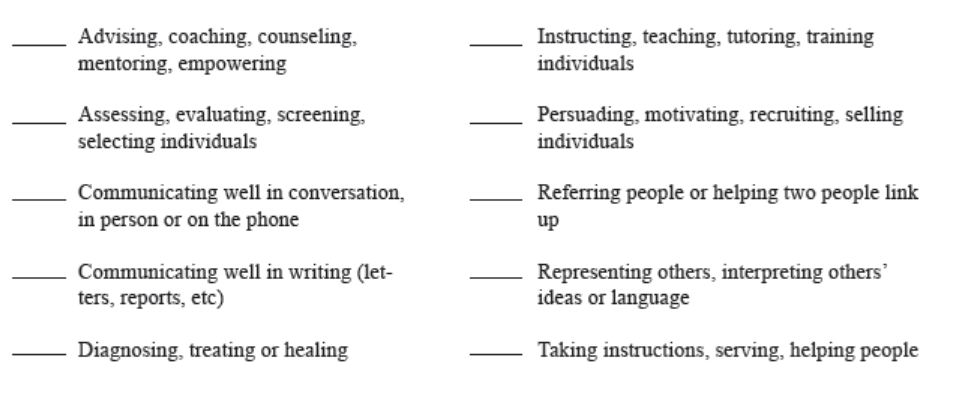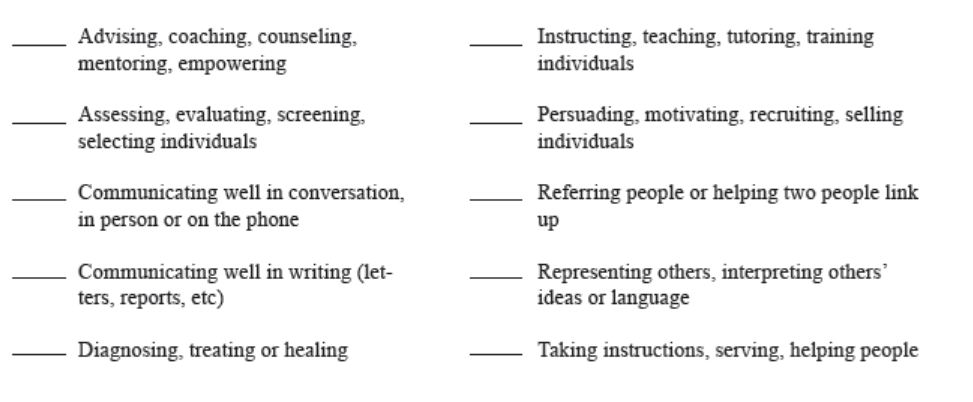 Group Skill Assessment
These are activities generally dispensed among a group: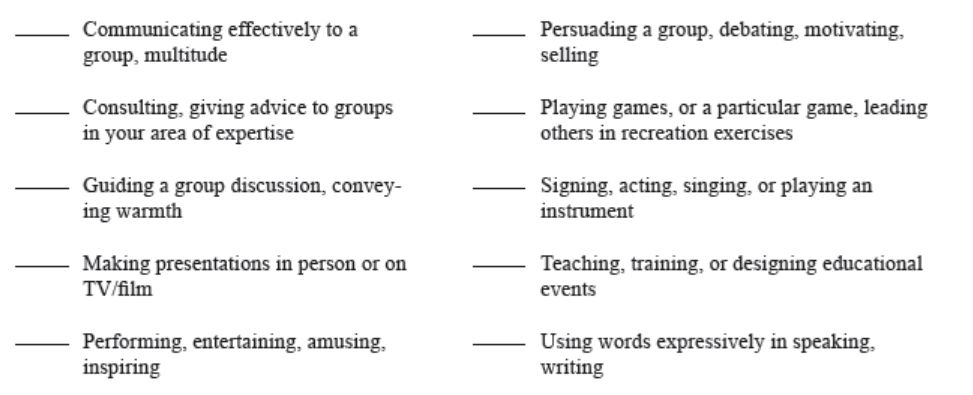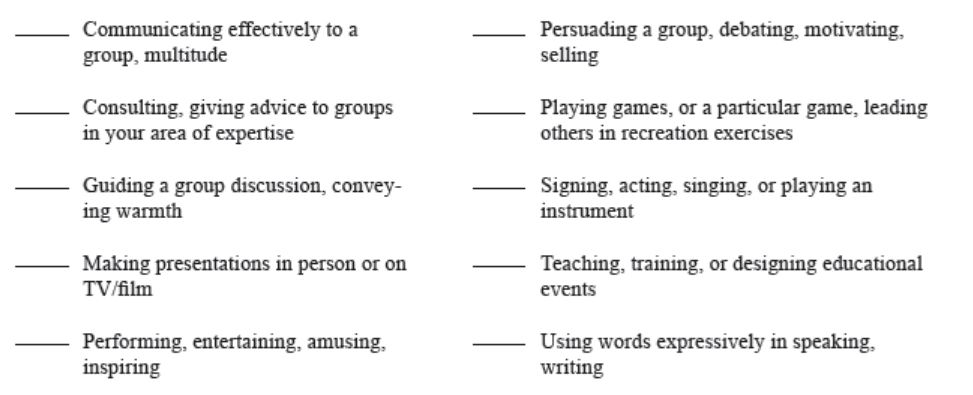 Analytical Skill Assessment
Not everyone likes working with people.  Here are some more analytical/task-based activities that might get you jazzed: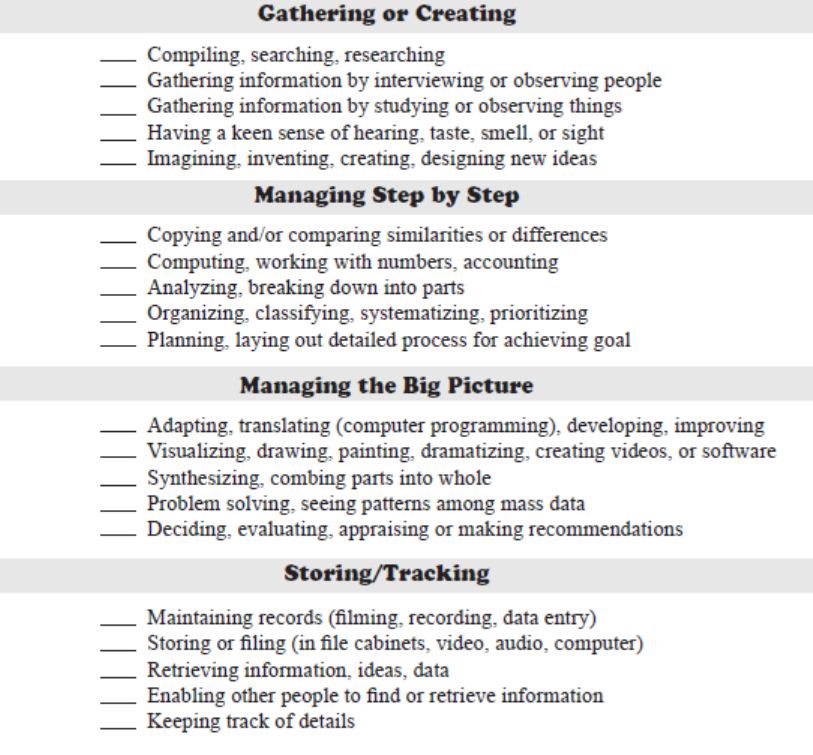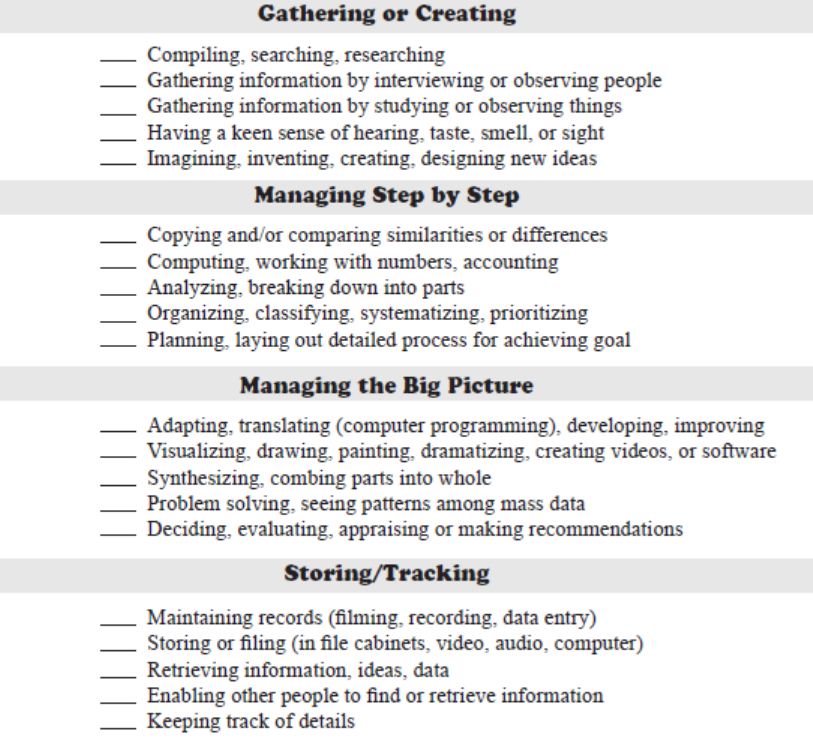 What Does This Tell You?
Do you notice a pattern? Have you identified skills you really love to use?
Whether or not you use these skills in your next job or not is up to you.  I am encouraging you to at least take the time to assess what makes you happy or you enjoy doing so that you can have options and feel, dare I say, fulfilled by the work you do!
Self Employment
There is much talk about converting something you love to do into a job or business.  Some say it could kill the passion you feel.  I believe it is worth exploring before you dismiss the idea.
Could you, would you, embark on a journey to make this your job, profession, vocation, income generating opportunity?

Hannah Morgan speaks and writes about job search and career strategies. She founded CareerSherpa.net to educate professionals on how to maneuver through today's job search process. Hannah was nominated as a LinkedIn Top Voice in Job Search and Careers and is a regular contributor to US News & World Report. She has been quoted by media outlets, including Forbes, USA Today, Money Magazine, Huffington Post, as well as many other publications. She is also author of The Infographic Resume and co-author of Social Networking for Business Success.