Recruiters are turning to the internet to look for talent with exactly the right set of skills. This means that in order to get noticed online you need to proactively manage what you put out there.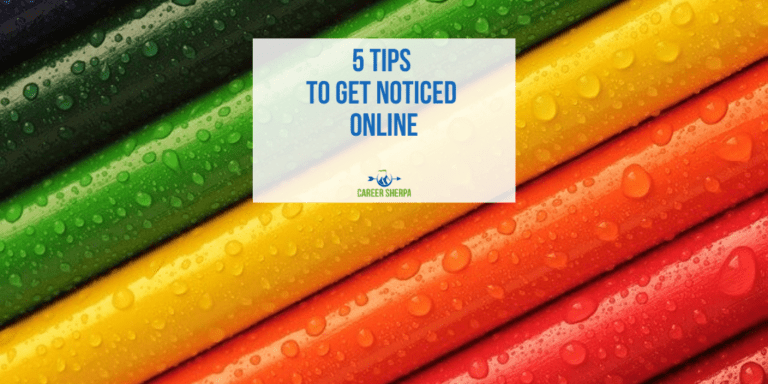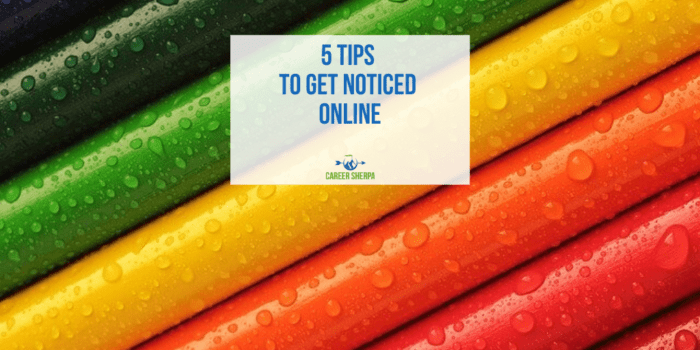 Getting noticed online is something you can easily do. It just requires a little planning and knowing where you can get the biggest bang for your time.
You already know your LinkedIn profile is important, but that's not the only place you should have a digital presence.
According to CareerBuilder's Social Media Recruitment Survey:
35% of employers unlikely to interview candidates not online
51% of hiring managers research candidates using search engines
52% report using social networking sites to research candidates.
Within certain industries, recruiters use these research and sourcing methods more frequently. For example, information technology, financial services, sales and professional and business services professionals should expect recruiters to look at them online.
Here are five ways to get noticed online by creating better online visibility which will attract your next employer:
1. Show Tenure and Experience
Without a doubt, hiring managers want to know you have the experience to do the job. LinkedIn is the obvious place to share your previous work experience, but don't stop there.
Where To Show Experience
Own your digital presence by listing your work history online, preferably on your personal website, and provide a downloadable version as well.
You can take this one step further. Convert your LinkedIn profile into an infographic resume, or create a slideshow of your career progression. And imbed it in your LinkedIn profile and personal website to demonstrate creativity.
FYI: Creativity is another quality many employers look for.
2. Show Proof of Work
Prove you can do the job by showing samples of your work. Your online portfolio can include samples of code you've created, analyses and summaries of data you developed, your sales awards or a list of clients you've served.
Where To Show Proof
You can include links to your work samples in your LinkedIn profile, but again, don't limit the ability for recruiters to find you online. Expand your proof among code-sharing sites, and add samples to your personal website.
You could also create slide decks to showcase your successes and upload them to a site like SlideShare.
Posting your content on other sites can help increase the likelihood you'll show up in search results and improve your visibility.
3. Show Your Personality
Don't overlook the power of personality. You're more likely to land an interview and ultimately a job if you look like you'll fit on the team. Hiring managers also look for someone who will be easy to manage.
Your personality comes through in everything you say and write, so be purposeful.
Where To Show Your Personality
Your LinkedIn About/Summary section is the perfect place to express yourself. Include why you've chosen your field and what motivates you to do your best work.
When you add status updates to your social networks, inject some of your own thoughts when sharing an article.
Video is another opportunity to show people the best of your professional self. Add a one-minute video to your online portfolio, and upload it to YouTube as well.
4. Share Reviews and Positive Recommendations
Social proof has increasingly become an important factor for decision-making among consumers and hiring managers. It is often said that your personal brand is what other people say about you when you're not in the room.
Where To Show Testimonials
An overlooked LinkedIn feature is Recommendations, which allows you to host written recommendations from colleagues and managers on your profile.
You can also capture testimonials from customers or clients and embed this information on LinkedIn and your personal website.
5. Show Communication Skills
Many employers say that communication skills are the most important and yet hardest to find skills. Prove you have strong written communication skills by developing a strong LinkedIn profile. Also include samples of your written work.
Where To Show Communication Skills
You can prove your solid oral communication skills by highlighting presentations you have delivered. Reference your speaking engagements on your LinkedIn profile, as status updates on social networks and on your online portfolio. If you have a video link or photo, include that as well.
Validate your claim by including links to other websites referencing your work, such as professional associations, publications or event pages.
The Bottom Line:
You have to know what employers want so you can deliver the goods.
In order to attract the right opportunities, you'll need to zero in on what employers say they want.
Review requirements for jobs that interest you.
Look for reoccurring technical skills, competencies and work styles listed in job postings.
Then use these skills and keywords in the content you build online. This includes your social media profiles, as well as all content you publish online.
This post originally appeared on US News & World Report On Careers

Hannah Morgan speaks and writes about job search and career strategies. She founded CareerSherpa.net to educate professionals on how to maneuver through today's job search process. Hannah was nominated as a LinkedIn Top Voice in Job Search and Careers and is a regular contributor to US News & World Report. She has been quoted by media outlets, including Forbes, USA Today, Money Magazine, Huffington Post, as well as many other publications. She is also author of The Infographic Resume and co-author of Social Networking for Business Success.