I've met a lot of job seekers over the years. The successful ones – the ones who landed jobs faster – approach their job search similarly.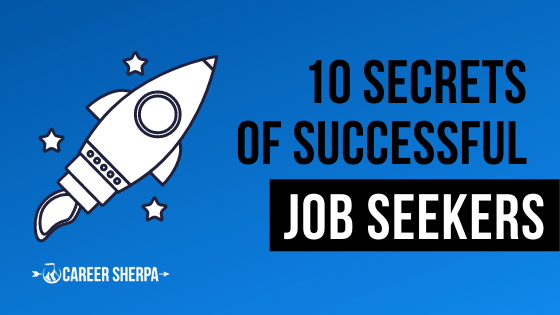 Here are the 10 secrets of successful job seekers that set them apart from average candidates. These secrets made all the difference and helped them get a new job faster.
1. Know Their Strengths and Weaknesses
Too often, job seekers begin their job search by updating their resumes. It's too early to do that.
Successful job seekers invest time to specifically pinpoint what they are good at doing and can communicate that message.
When you speak to people while networking and during interviews, you'll exude more confidence when you know what your strengths are.
The first thing you should do is assess your strengths and weaknesses. Be realistic about what you are qualified to do. You'll be ready for the next step.
2. Know What They Want To Do
Zero in on the specific types of roles that interest you and why you think you'd be a good fit.
You'll be asked what you want to do, but never say you are keeping your options open or you'll do anything. People won't know how to help you.
By pinpointing the types of roles you are interested in, it makes it easier for you to explain the skills and experience that qualify you for these roles. And once you begin communicating this, your contacts will be better able to keep an eye out for similar jobs.
Don't worry, well-meaning contacts will still let you know about other jobs that they hear about.
3. Identified Target Companies
Successful job seekers have figured out that companies don't always share jobs on the major job boards. In order to find some jobs, you will want to identify companies that hire the types of positions you are looking for.
Use your list of target companies to look for people you know who work inside those companies and ask for informational meetings.
You may just learn about upcoming jobs not posted anywhere yet. This can only happen if you are strategically networking with people who work for companies you reach out to.
Read How to find target companies
4. Kept In Touch with Past Colleagues
It might feel awkward or even embarrassing to reach out to people you used to work with, but don't let your emotions limit your actions.
The people you used to work with know the quality of your work and know what it's like to work with you. They can be an ally or advocate to help you meet new people and learn about job opportunities.
And if they have ever been unemployed or looked for a new job, they will appreciate the steps you are taking to reach out.
5. Prepared For Interviews
Just showing up for an interview isn't enough. Successful job seekers learned how important it was to thoroughly research the company and employees they'd be interviewing with, and practiced interviewing out loud.
They have learned through trial and error what it takes to really nail an interview.
Check out How to prepare for your job interview
6. Managed Their Job Search Like A Project
You may feel entitled to take some time off if you've been laid off, but don't delay the inevitable. Once you decide to start searching for a job, maintain momentum until you secure a written job offer.
It is easy to become the family's errand runner or caretaker, or feel the urge to start a DIY project during working hours.
Successful job seekers who devoted 25-30 hours a week to job search-related activities fell into a productive routine.
Block off time on your calendar for recurring daily job search activities. And treat your job search as a project with due dates and milestones.
Even if you are working, setting aside time every week to dedicate to your job search will ensure you stay on track.
Read: Structure Your Week During Job Search
7. Embraced Social Media
In survey after survey, employers admit that social media is becoming one of their top resources for sourcing talent. Social media isn't a magic wand or a quick fix, so don't expect miracles. But being active on LinkedIn, Facebook, or Instagram will make it easier for employers to find you and learn about your capabilities.
Successful job seekers learned how to use social media to interact with people, acquire industry news, and build an online reputation that serves as a magnet to attract recruiters and hiring managers.
Read Social Media CAN Help Your Job Search
8. Weren't Afraid To Ask for Help
One of the hardest things for most people to do is ask for help. The reality is, almost everyone you know wants to help you if they can.
Job seekers who learned this lesson weren't afraid or ashamed to ask.
The more specific your request, the easier it will be for your friends to help in the right way. And every encounter is an opportunity. For example, at a picnic, one job seeker discovered his neighbor worked for a company he was interested in working for. He asked his neighbor some questions and then asked for a referral to someone in the accounting department. It got him an interview for an unposted job.
9. Sought Accountability
Successful job seekers either held themselves accountable or identified a friend who could dole out the tough love.
Since most of the activities required during a job search are unfamiliar or unpleasant to job seekers, it helps to have people you can bounce ideas off of and learn from.
With accountability comes discipline. You'll need to follow up after applying for a job, reach out to people you've been referred to, and even thank contacts for their introductions.
Finding a partner to hold you accountable if you need that push is also an option. Who doesn't need a friend to keep them motivated?
Looking for an accountability group? Check mine out here.
10. Had a Backup Plan
Even the best laid plans can flop. Sometimes the job search just takes longer than you can afford (financially or mentally). Employers can rescind offers or personal finances can change.
There may come a time when you need to implement "plan B." Plan B may be a job where you can immediately begin earning money, relocating, or taking a less-than-desirable job for the short term.
Having a backup plan offers peace of mind in case the unexpected occurs and lets you focus on your job search without panicking.
BONUS: Had the Right Mental Outlook
Job seekers who stayed motivated found outlets to balance the rejection and uncertainty they faced.
Some volunteered at community organizations, others meditated, and some even signed up for classes at the YMCA. These activities rounded out the week and gave them something to think about besides their job search.
Your self-esteem and attitude are always visible, so take care of yourself!

Hannah Morgan speaks and writes about job search and career strategies. She founded CareerSherpa.net to educate professionals on how to maneuver through today's job search process. Hannah was nominated as a LinkedIn Top Voice in Job Search and Careers and is a regular contributor to US News & World Report. She has been quoted by media outlets, including Forbes, USA Today, Money Magazine, Huffington Post, as well as many other publications. She is also author of The Infographic Resume and co-author of Social Networking for Business Success.