Get Your Next Job Faster!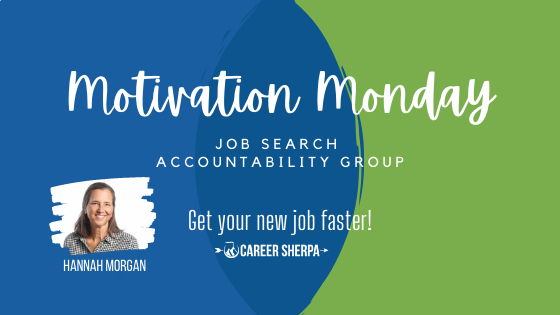 A job search accountability group is a committed team of people working together to help each other land a new job faster.
Do you feel like you need a push to meet your weekly job search goals?
Are there days when you just don't feel like picking up the phone or even sending an email?
Job search isn't easy nor is it fun.
But by working together as a group you'll feel motivated, encouraged and accountable. Plus, you'll learn new ideas from fellow job seekers who are in the same boat you are.
Does This Sound Like You?
Have you found yourself saying any of these things:
There aren't any jobs out there
I've spoken to everyone in my network already
I've been through workshops and attended networking groups, but they don't work
I'm too old/young and no one wants to hire me
I don't know what else I should be doing
These are the same types of things others have said before joining a job search accountability group.
6 Weekly Meetings
You'll be part of 6 weekly meetings to provide you with the structure and motivation you need to secure your next job faster.
These sessions are no-nonsense, no-excuse zones. Only those who are truly serious about putting in the hard work required should register.
Who Benefits?
This group is best for mid- to senior-level career professionals. Whether you are an independent contributor or manager, this is a group of like-minded individuals who are concerned about their future and want to feel like they are in the driver's seat.
Accountability Groups Work
For years I have facilitated job search accountability groups and have seen how truly helpful they are in driving positive, forward motion and leading to a successful outcome- a new job!
Plus, job search accountability groups are more affordable than individual coaching; more personalized than a class; and you build self-confidence and momentum over the five weeks!
Here's What We'll Tackle:
The weekly topics are based on the challenges you and the group are facing.
You bring your questions and the group will help brainstorm new ways of solving your challenge.
Topics often cover these types of questions:
What is the best way to follow up with hiring managers
How do I acquire more names of people to meet with
How can I work smarter, not harder to get it all done in a week
What can I do to come across as a competent, confident candidate during conversations and interviews
[Insert your question here]
And Here's What You Won't Get
I can not guarantee you will land a new job within a certain time frame. There are too many factors. I can guarantee you will be more productive and will be better at doing the right activities in the right way!
This is not a job-matching group. I do not have active jobs to fill. We work together to help you navigate the job search process.
Together, we'll eliminate your job search obstacles.
The Details


You'll attend 6 virtual group meetings along with up to 10 other professionals with a similar goal of finding a new job faster.
Our online meetings will happen over Zoom and will last 1 hour.
Your investment: $239
Next Offering:
Time: 12pm – 1pm EST
Dates: November 6, 13, 20, 27, December 4 and 11
Cost: $239 is due on registration.
* When booking your spot, select November 6 and enter payment. You will be registered for all 6 meetings.
What You Get
Here's what you get for being a member of the Motivation Monday Job Search Accountability Group
Six 1 one-hour meetings
One email a week with specific resources that address your job search questions.
Access to "Quick Launch" videos about important job search topics
KPI tracker
Input and suggestions from your team
Plus one private 30-minute call with me
Interested?
There are only 10 spots, so don't wait! Book Now
If you're on the fence, send me an email and I'll answer your questions.
After You Register
Once you're registered, you'll receive a confirmation email with your unique meeting invitation.
I'll also send you a welcome email with a quick questionnaire to understand your job search situation. Please complete it before our first group meeting!
The welcome email will also contain an outline of how each meeting is structured to ensure everyone is heard, stays on track, gets what they need from the meeting, and stays positive.
Top 7 reasons to join a job search accountability group
Energize and maintain positive momentum in your job search.
Learn from the experiences of others, share your own advice and expand your network.
Take away new perspectives and fresh ideas.
Become accountable to the group, so you will stop procrastinating.
Get objective feedback and input on what you are doing in your job search.
Reprogram your attitude from negative to positive.
Get the help you need at a price you can afford.
Here's what they've said about me
This was a great experience. It gave me the kick in the pants that I needed! Hannah is an amazing coach and mentor. She holds you ACCOUNTABLE. You can't just skate by.

–Mike
Hannah's energy and wit are incredible. It drew all participants in with an amazing and persuasive force!"

–B. K.
Appreciated Hannah's energy, knowledge, insight, directness, honesty, respectfulness towards all of us and humor."

–G. W.
What to expect of me:
You can expect me (and the group) to maintain the confidentiality of all conversations in person, online, or by email during these 5 weeks unless you let me know otherwise.
You can expect me (and the group) to be available to you by email outside our scheduled sessions. If you have questions, concerns, or brilliant ideas, don't hesitate to contact me.
You can expect me (and the group) to challenge you to move beyond your comfort zone, stay committed to your goals, and follow through on assignments. I'm here to motivate you, among other things, and I will do my best!
What I expect from you:
You commit to being on time for our meetings out of respect for the entire group. If you must miss a session, please give us 24 hours notice (unless it's an emergency).
You will follow through on activities assigned between meetings. You will get out of coaching what you put into it!
If something isn't working for you, you will let me know. There are many different paths to reach the same goal or solution; let's work together.

Hannah Morgan speaks and writes about job search and career strategies. She founded CareerSherpa.net to educate professionals on how to maneuver through today's job search process. Hannah was nominated as a LinkedIn Top Voice in Job Search and Careers and is a regular contributor to US News & World Report. She has been quoted by media outlets, including Forbes, USA Today, Money Magazine, Huffington Post, as well as many other publications. She is also author of The Infographic Resume and co-author of Social Networking for Business Success.