The basics of job search haven't changed. But the tools and tech to help you secure a new one have.
When it comes to looking for a new job, you'll want to efficiently use your time, ensure you are qualified, and present those qualifications in writing and during the job interview. These are the basics.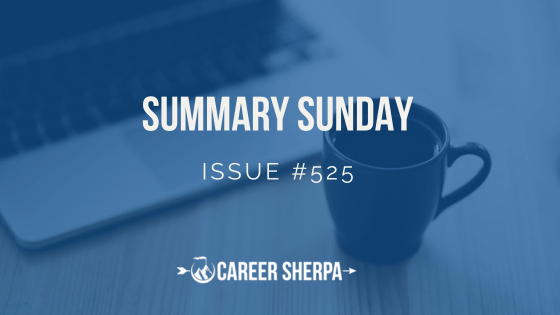 In this week's Summary Sunday, you'll learn about some of the ways Artificial Intelligence (AI) tools are being used to streamline work as well as information you can use to improve your job search.
The Use of AI in the workplace, in job search, and in talent acquisition (4 posts)
Don't do this after you are rejected
LinkedIn's Top Choice Jobs
The truth about LinkedIn's "Applicants for this job" number
If you aren't following these authors yet, I hope you will.
ARTIFICIAL INTELLIGENCE
The Impact of AI on Job Skills | ERE
Take a look at how AI is being used by recruiters, job seekers and in the workplace. According to author, Nicholas Rubright, it's not taking jobs away right now. AI is creating jobs, but mostly for those who know how to masterfully use it. If you think you won't need to use AI in your next job, reading this will help you see why you need to invest time learning the basics now.
How TA Leaders Use ChatGPT and Generative AI | Recruiting Brainfood
Is AI really being used by talent acquisition and how? Watch this recording with five different TA professionals to hear how they are using it. From drafting job postings, to generating emails, to career mapping, and so much more. This is a real-time look at how individuals are saving time on redundant or time-consuming tasks. NOTE: AI is not used to replace human interaction or logic.
AI-Powered Job Search Tools | Adam Broda
New job search tools that use AI are hitting the market every day. While I haven't used all of these, here's a list of 10 you should check out.
JOB SEARCH
What NOT To Do After Being Rejected | Jenna Arono
As much as getting rejected from a job hurts, it's not the time to try and turn their decision around.

Instead, here's how to respond to a rejection email.
LINKEDIN
New Feature Rolling Out: Top Choice Jobs | Ora Levit
What if there was a way you could signal to a recruiter that THIS job is the one you are most interested in? Well, LinkedIn has been testing this feature with Premium LinkedIn users and it is only available on Easy Apply LinkedIn Job Posts.
"The amount of jobs a member can mark as 'top choice' are limited and we ask members to express why they marked a job as a 'top choice'" writes Levit.
And to see how this looks from the recruiter's end, see this post by Prashanthi Padmanabhan.
The Truth About LinkedIn's "Applicants for this job" | Shelley Piedmont
We've all seen this number when looking at a job post on LinkedIn… 14 Applicants for this job. But is it real? See Shelley's analysis of this number and what you should do!
JOB SEARCH VISUAL
Rather than send a cold email, LinkedIn InMail, or DMing, warm up the person you want to contact first using one or more of these ideas: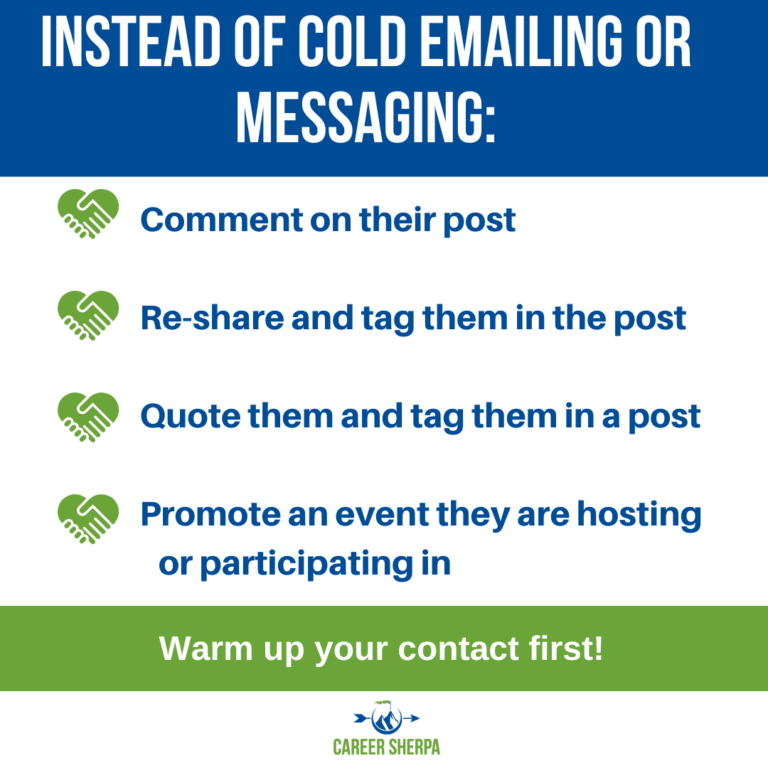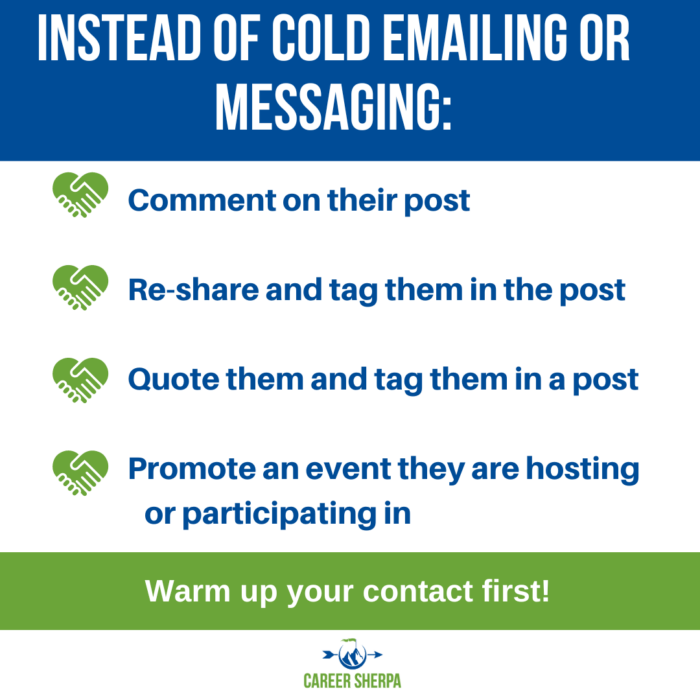 DID YOU MISS THESE
How To Work With A Recruiter To Find A Job
"What Obstacles Have You Overcome?" Tips & Examples
101 Best Skills To List On Your LinkedIn Profile In 2023

Hannah Morgan speaks and writes about job search and career strategies. She founded CareerSherpa.net to educate professionals on how to maneuver through today's job search process. Hannah was nominated as a LinkedIn Top Voice in Job Search and Careers and is a regular contributor to US News & World Report. She has been quoted by media outlets, including Forbes, USA Today, Money Magazine, Huffington Post, as well as many other publications. She is also author of The Infographic Resume and co-author of Social Networking for Business Success.