Knowing the right skills to put on your LinkedIn profile is incredibly important if you want to maximize your reach and improve your chance of getting hired.
But many people don't know where to begin.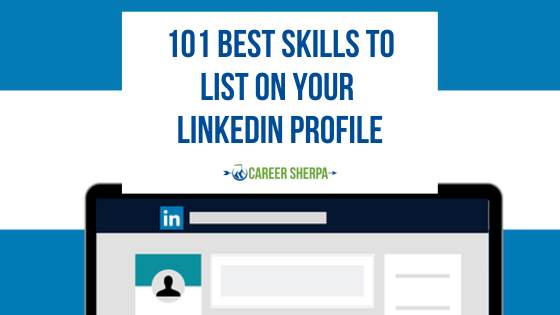 This guide will cover everything you need to know about using skills on LinkedIn to improve your visibility on the platform and find a job.
Table of contents
Why You Need to Add Skills on LinkedIn
LinkedIn is one of the most powerful tools in the modern age for furthering your career and networking. With hundreds of millions of users, companies often turn to the platform when they're looking for potential job candidates.
That means job seekers can benefit from its powerful networking potential to find new opportunities. It's unlike any other social media platform, so you should use it to your advantage!
When setting up your LinkedIn profile you'll see that you have the ability to add skills. While the process of adding skills is simple, it can have a significant impact on your visibility within the network.
If you're already applying for jobs, those skills serve as a quick and easy preview for employers and recruiters. Many will turn to LinkedIn as a supplement to your resume and application. With a glance, they can see if your skills align with an open position's requirements.
Putting relevant skills on your LinkedIn profile can significantly increase your chances of getting an interview or moving forward in the hiring process. But that's not all. Sometimes, you don't even have to apply for a job for potential employers to find you.
The great thing about LinkedIn is that it makes your skills and capabilities easily searchable to recruiters looking for the perfect match. The skills you put on your LinkedIn public profile are indexed. That means they can appear to employers and recruiters via the on-platform search function.
That's a big deal!
Neglecting the skills feature can lead to many missed opportunities. In fact, LinkedIn says that having just five skills on your profile makes you 33 times more likely to receive a message from a recruiter.
Skills to List on Your LinkedIn Profile
There are many options when it comes to choosing skills for your LinkedIn profile. As of 2023, you can add up to 50 skills. But which ones are worth putting on your public profile?
Here are some of the most sought-after skills that employers and recruiters look for.
Business
Solid business skills come into play for many positions. But if you're looking to land a leadership role or become an executive player at a company, they're a must. These skills show employers that you know how to run a business, lead teams, and get results.
Whether interviewing for an entry-level job or one that's further up the corporate ladder, these skills show that you understand what it takes to succeed in your industry. Good business skills to display on your LinkedIn profile include:
Administration
Business analysis
Business development
Business intelligence
Business management
Business storytelling
Economics
Marketing
If you're trying to get a job in marketing, there are many distinct skills you can put on your LinkedIn profile. However, marketing is a broad industry that includes a variety of professions.
This list of skills highlights your ability to talk about the company, promote its products or services, and boost the bottom line. Here are some you can add on LinkedIn based on your experience and desired career path.
Content marketing
Content strategy
Digital marketing
Digital media
Market planning
Market research
Public relations
Sales
SEO
SEM
Social media marketing
Technical
Technology plays a vital role in most modern businesses. Making it clear that you know how to perform critical tasks could be a game-changer when it comes to using LinkedIn for your job search.
The exact skills you should include will vary, but here are several good high-level examples to consider.
Artificial intelligence
Blockchain technology
Business analysis
Cloud computing
Data presentation
Middleware and integration software
Mobile app development
Scientific computing
Software engineering
Tech support
UI/UX
Communication
Good communication skills are important, no matter what job you need. Employers want to see that you know how to share ideas, work with others, and interact with potential clients effectively. That applies to both written and verbal communication.
These skills are considered soft skills, but they are still great to put on your LinkedIn profile. This is especially true if you're looking to land a job that requires frequent communication on a daily basis.
Active listening
Editing
Newsletters
Nonverbal communication
Persuasion
Presentations
Writing
Problem-Solving
Problem-solving skills are another must-have that many employers look for in candidates. Every job comes with unique challenges, and hiring managers want people who can navigate those hurdles as they come. Highlighting your ability to solve problems is a great way to set yourself apart while proving you have what it takes to succeed in any position.
Here are a few skills for your LinkedIn profile in this category.
Adaptation
Analysis
Decision-making
Creative thinking
Communication
Conflict resolution
Research
Problem identification
Sales
If you're trying to land a job in sales, there are many potential skills you can highlight. Being successful in sales requires you to tap into many unique capabilities. It's a mix of communication, marketing, persuasion, and more.
Adding these skills to your LinkedIn profile gives employers and recruiters a better understanding of what you bring into the equation while also making you more discoverable. While all sales situations differ, highlighting your strengths can make a big difference during your job search.
Active listening
Business acumen
Business development
Buyer research
Cold calling
Collaboration
Communication
Discovery
Lead generation
Negotiation
Objection handling
Presentations
Prospecting
Time management
Management
Leadership roles all require good management skills, but they can also come in handy as an entry-level employee. Including these skills on your LinkedIn profile shows you're ready to take on responsibilities and lead a team to success.
These are skills that employers love to see, even if you're not actively pursuing a management role. They show a willingness to lead and continued dedication to professional development.
Assessment
Budgeting
Coaching
Collaboration
Conflict resolution
Delegation
Evaluation
Leadership
Project management
Relationship management
Strategic planning
Time management
Training
People Skills
The modern workplace is more collaborative than ever. Employees are working together to achieve company objectives, so you'll get left in the dust if you don't have strong people skills!
Using these skills for LinkedIn helps recruiters learn more about how you'll fit into the company culture. If the role requires significant collaboration, it may be one of the biggest skill sets they look for.
Adaptability
Collaboration
Conflict resolution
Creativity
Initiative
Interpersonal communication
Leadership
Persuasion
Problem-solving
Time management
Analysis
These skills refer to your ability to interpret complex information. Analytical skills are important in many industries because it affects how you approach challenges. Employers want to see candidates who can think critically, apply what they learned, and find ways to resolve issues efficiently.
Here are some skills you should consider putting on your LinkedIn profile.
Analytical reasoning
Brainstorming
Data analysis
Data mining
Diagnostics
Forecasting
Metric interpretation
Organization
Reporting
Research
Theorizing
Troubleshooting
Design
Last but not least, we have design skills. This set of skills is most important if you're hoping to land a position that requires ample creativity, such as marketing or web design.
However, design skills come in handy in any job. Showcasing these on LinkedIn indicates that you're creative-minded, which can prove useful for even the most technical or business-focused position.
CAD
Computer design
Color theory
Creativity
Design-forward thinking
Graphic design
Interactive design
Photography
Storytelling
Software design
Typography
UI/UX
Visual communication
Web design
Tips for Your LinkedIn Skills List
Before you start adding as many skills as you can think of, hold the brakes. LinkedIn only allows you to add up to 50 skills to your public profile. As a result, you must be more strategic about what skills you choose and how you display them.
Here are a few tips that can make all the difference.
1. Keep Them Updated
Your skills will evolve as your career grows. That means you ensure that the list of skills on your LinkedIn profile is up to date.
Add new hard or soft skills as you master them. Most recruiters recommend updating your profile every six to twelve months.
2. Get Endorsements
Here's the thing about LinkedIn skills. They can help improve visibility and make your profile appear on search engines on and off the platform. Getting endorsements for important skills helps give them credibility and makes them more important to the LinkedIn algorithm.
Think of an endorsement as someone backing up those skills. Anyone can list off skills and make themselves appear more competitive in the job market than they truly are. The endorsement system aims to provide more validity, allowing your connections to vouch for the skills you have.
The more endorsements you have, the better. That means you should try to get endorsements for as many relevant skills as possible.
How do you do that? It's all about reaching out to your connections. Hopefully, you're already using the platform to create a network of people you've worked with or met in your career.
They can provide endorsements that recognize your proficiency. It's a mutually-beneficial act that can strengthen connections on the platform and help create more authenticity for employers and recruiters.
Don't be afraid to reach out to former managers, colleagues, mentors, and more. Focus on the people who have seen your work firsthand. They can only endorse the skills you've already listed on your profile, so it's a good idea to speak with those people to determine what they feel comfortable supporting.
You can also endorse their skills in return! Consider doing this with people you know to create a credible public profile that boosts your visibility among potential employers.
3. Add Plenty of Skills
Don't let the skill cap deter you from using every allowable slot. You can list up to 50 skills on your profile, and you should use all 50!
Some say that adding too many skills can distract from the core skills that matter. However, experts say that's not true. LinkedIn studies prove that adding plenty of skills improves your chances of getting noticed.
A big part of that comes down to discoverability on the platform. When you have all 50 skills and accompanying endorsements, you're more likely to appear when employers and recruiters look for people like you. That's what you want, so why impose an arbitrary limit?
Use every spot available.
That said, you must still be strategic in what skills you use. Avoid adding industry buzzwords and stick to the pre-populated skills LinkedIn suggests. Some LinkedIn users have tried that, but irrelevant skills that don't make sense to your industry may be a turn-off for employers.
Prioritize skills that are most relevant to your future career. Consider looking at job listings for the positions you want. Study those listings and pay attention to what skills they mention.
There are many ways to say that you have good communication skills or are a natural-born problem-solver. The key is choosing the vocabulary that hiring managers will most likely use. Studying other job listings will give you a better idea of what words have the most impact.
4. Reorder & Reprioritize
Our last tip is to reorder your LinkedIn skills based on priority. Here's where knowing your industry and viewing job listings make a difference.
If you have a specific job you'd like to have, do your research on it. Learn what employers are looking for and what skills they deem most valuable.
Then, look at your industry as a whole. Choose the most important skills in your field and prioritize those first.
Ideally, the most critical skills should be at the top of the list. Recruiters aren't going to sift through your profile with a fine-tooth comb. They may do that later on in the process, but they typically skim the details when they first view your profile.
By default, LinkedIn only displays the top 3 skills without asking to see more. Select a blend of the top 3 skills that relate to your future career move (and are in demand). These are the most important 3 skills you want someone reviewing your profile to notice.
Drag and drop the most relevant skills to the top to ensure you're highlighting your core strengths. It puts the most important information at the forefront, ensuring employers and recruiters see what matters.
That's not to say that other skills are inferior, but they may be considered less important on an employer's list of priorities when hiring. Focus on your experience, cater your profile to get the job you want, and create a skills list that stands out to employers.
You can easily change the order of skills as your needs change and even delete old skills that are no longer relevant. For example, you might be in the early stages of your career now. So, you focus on core skills and competencies to help you land an entry-level position.
But as you progress in your career, you may want to explore leadership opportunities. In that case, you'd be wise to reprioritize leadership and business skills on your LinkedIn profile.
5. Insert Skills Within Experience
LinkedIn says "You can also add different skills to each experience, which will appear under the Skills section as well."
It's up to you to highlight the most relevant skills you used under each job experience to draw attention to them. This helps recruiters see exactly where you used certain skills which helps them assess how recently and how long you've been using certain skills.
It's a good idea to pepper these desirable skills throughout your LinkedIn profile to ensure they are discovered.
So as you are refreshing your LinkedIn Skills section, also go back and add those high-impact, relevant skills under each job in your work experience.
Conclusion
Now that you know some example skills to use for your LinkedIn profile, it's time to put together a list that applies to you. Once you have the skills ready to do, add them to your profile and start seeking endorsements.
It won't take long to start seeing results!

Hannah Morgan speaks and writes about job search and career strategies. She founded CareerSherpa.net to educate professionals on how to maneuver through today's job search process. Hannah was nominated as a LinkedIn Top Voice in Job Search and Careers and is a regular contributor to US News & World Report. She has been quoted by media outlets, including Forbes, USA Today, Money Magazine, Huffington Post, as well as many other publications. She is also author of The Infographic Resume and co-author of Social Networking for Business Success.