Working with a recruiter is something that many job-seekers consider at some point. After all, having someone help you find a job can be quite appealing!
But is it worth it?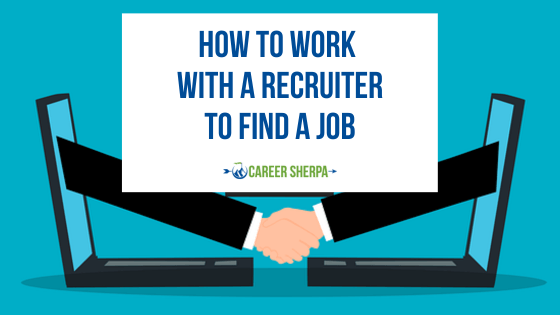 This guide will help you understand the role recruiters play, if they can help you, and how you should approach your working relationship.
Table of contents
What Do Recruiters Do?
If you're considering working with a recruiter, it's important to understand what they do and what they don't. There's actually a fair amount of confusion about a recruiter's role in the hiring process, so let's take a moment to clarify.
First, there are in-house recruiters, also referred to as talent acquisition. They work directly for the organization and their job is to fill a variety of positions across departments. This article is NOT about in-house recruiters. In fact, most of the benefits discussed are not true for internal recruiters.
Next, recruiters are different from staffing agencies. Staffing agencies have recruiters on their staff and typically work for multiple companies. Most agencies represent industries and work with specific expertise, acting as a middleman between employers and job-seekers. They can match qualified candidates with the right job.
Last and most importantly, there are retained recruiters. These recruiters might work for a recruiting firm or may be self-employed. Employers turn to these external recruiters to find qualified candidates to fill their open positions.
So what makes a retained recruiter different from a staffing agency?
A recruiter generally has more in-depth knowledge about an employer's needs. They know the ins and outs of the hiring process, have direct connections with hiring decision-makers, and fully understand the organization's long-term objectives. This is an important distinction because it often makes recruiters more thorough in matching candidates with jobs.
Recruiters do not work on behalf of job-seekers. Instead, they have the company's best interests in mind. They're laser-focused on finding people to fill roles.
The Advantages of Working with a Recruiter
There's a lot to gain from working with a recruiter. While they are hired by companies to find the right talent, they benefit from working closely with job seekers who have the skills and experience their client companies are looking for.
Using a recruiter to find a job isn't for everyone, and you'll run into people with strong opinions going both ways. However, there are a few undeniable benefits of establishing a professional relationship with recruiters.
A More Focused Job Search
Let's face it: Finding a job alone is no easy feat. In the modern job market, people send in hundreds of applications, spending months or years searching for the right position before getting an opportunity. It can sometimes feel like sending your resume into the void and hoping for the best.
When you work with a recruiter, that's not the case.
Recruiters have a direct line to potential employers. If your resume looks like a good match and you present yourself well, recruiters can get your resume in the right hands, allowing you to experience a more direct or focused job hunt than those who don't use a recruiter.
More Insight Into Available Opportunities
Another major perk of working with recruiters is learning more about opportunities that aren't publicly posted. In many cases, employers will turn to recruiters before they ever make a job listing. Here are some instances employers use recruiters: the employer doesn't have the bandwidth to recruit for a specific role, it's a high-profile role that requires more time and attention, or to replace an existing employee confidentially. That means you may learn about available jobs before hundreds of applicants submit their resumes.
This benefit is a huge boon because it allows you to get to the front of the line for jobs. Many people get new job offers before an open position goes public. It's mutually beneficial, helping the company fill a role quickly while considering a much smaller pool of candidates.
Honest Feedback
Recruiters want to fill roles. While they ultimately represent employers, they want to connect you to a job that works for your needs. Your success during the job search is also a recruiter's success.
As a result, recruiters will not hesitate to provide honest feedback about your candidacy and expectations before submitting your resume. They can guide you in the right direction, helping you become a more competitive applicant. That may include assisting you with your resume and interview preparation. Many recruiters will let you know where you stand among other applicants, giving you an edge that can work in your favor.
More Industry and Company Knowledge
Because recruiters work closely with employers, they tend to have more insight into every detail you care about. For example, because they have a retained relationship with the employer, they know precisely what skills and competencies companies want out of a new hire. They may recommend you brush up on certain skills to meet hiring requirements.
Recruiters can also help you learn about salary expectations and overall market demand. Their insight is more valuable than most realize.
Professional Support
Finally, working with a recruiter is like having someone on your team. They're there to answer questions and provide support throughout the hiring process. If you have solid skills and desirable experience, recruiters will work with you and may even present you to other client employers if an offer doesn't come through.
That alone is worth its weight in gold.
How to Work with a Recruiter to Find a Job
Working with a recruiter can be a rewarding experience that leads to the next big break in your career, but there are no guarantees.
To ensure that your professional relationship benefits you, follow these tips.
1. Connect with a Recruiter Before You Need Them
The first thing you should do if you're considering working with a recruiter is to reach out early. Many job-seekers make the mistake of treating recruiters as a last-ditch effort. Waiting until you're unemployed and desperate for a job won't yield the desired results.
Instead, make the decision to work with a recruiter as early as possible and reach out before you actually need them. These professionals need to do considerable work before they can present you with opportunities. They have to learn about your background, what skills you're bringing to the table, and more.
They use all that information to see if you are a match for any of the jobs they are trying to fill. The process can take time, so the earlier you reach out, the better. If they don't have any jobs that match now, be sure to stay in touch with the recruiter in case something becomes available in the future. Timing is everything.
Always reach out before you're unemployed. The best time to contact a recruiter is when you still have a job and are exploring new options.
2. Reach Out to a Recruiter
Take the first step and reach out to recruiters. You might have heard about recruiters contacting people when they already have a job they're happy with. That can certainly happen, but it's not as widespread as you think.
In most cases, the job-seeker has to make the first contact. Research recruiters based on the types of roles they recruit for, the industries they specialize in or sometimes you can uncover what companies they have a retained relationship with. You can often find them on LinkedIn, Twitter, and other social media platforms. Many recruiters also have websites.
Research their website or feed to see what types of jobs they are recruiting for and reach out via email to introduce yourself and have an introductory conversation to see if they are a match.
Generally, recruiters have an intake process where you can provide information about your work experience. You may also have to submit a resume, like when applying for a job. As mentioned earlier, all this information is crucial and helps recruiters match you to a job that meets your qualifications.
3. Prepare & Ask Questions
Finding the right recruiter requires asking the right questions. When people have horror stories about working with recruiters, it's usually because they don't understand how a recruiter works and have unmet expectations. Think of this experience as dating. You want to ask questions, figure out what a recruiter can do for you, and ensure this relationship is a good fit.
Research the recruiter before your initial meeting. Evaluate how they present themselves online and how they respond to comments on LinkedIn. Also, take note of the types of jobs they have promoted. You'll want to prepare questions to ask the recruiter so you understand how they work and their style (here's a list to get you started).
There's no end to what you can ask, and good recruiters are more than willing to answer. Ideally, you should inquire about their experience in the industry, what they've done for the company they work for, and how often they place candidates in roles similar to the ones you want.
You can also ask about the industry at large. Take the opportunity to learn more about your standing in the job market and what you can do to get a competitive edge.
Recruiters are there to help you. Don't be afraid to ask questions!
4. Be Honest About What You're Looking for
Another important tip to remember when working with a recruiter is, to be honest and upfront.
A recruiter can't help you land your dream job unless you're 100 percent honest about what you want. Talk about the type of work you want, where you see your career going, and any other important detail affecting your willingness to take a job.
You should also be honest about your past work experience. Recruiters need to know if there are any skeletons in your closet. They may be able to help you craft interview answers to overcome any past missteps. There's no need to fluff the truth or exaggerate to make yourself look better.
Honesty is the best policy, and being open about everything in your past, present, and future career can make a huge difference. Not only does it set the stage for success, but it helps recruiters do their job and match you with the most suitable opportunities.
5. Ask About How You Can Be a More Competitive Candidate
Here's where using a recruiter to find a job pays off. One of the biggest advantages of this relationship is that you can receive constructive criticism. Be open to it and listen to the recommendations they provide.
Always ask about where you stand among other candidates. Recruiters can't always tell you everything, but they can certainly give you tips on improving. They may request that you revamp your resume, take a few courses to learn new skills, or gain certifications.
Sometimes, their recommendations might be as simple as changing the wording on your resume to stand out more. You never know, so it pays to ask.
Recruiters will always provide constructive criticism when you ask for it. Don't take their feedback personally; remember they want to see you succeed and land a job. Because they have more insight into what the company is looking for and its hiring process, their feedback can make all the difference.
Keep in mind, feedback after the interview is only available if the employer has provided it to the recruiter. Any delays or lack of feedback at this point is due to the employer's lack of communication with the recruiter.
6. Get Back to Them Quickly
When a recruiter reaches out about a job opportunity, get back to them as soon as possible.
Be courteous and respect the recruiter's time. While they are mediators between employers and job-seekers, they still have a lot of work to do. Treat communications like you would when speaking to hiring managers directly.
Be prompt, quickly respond to calls or emails, and keep communications brief.
If you wait too long to get back to a recruiter, they could easily move on to someone else. They likely have many job-seekers in their network, so waiting to return an email can cost you an opportunity.
7. Remember That They Won't Do Everything for You
One of the biggest misconceptions about working with a recruiter is that they do all the work. Some people believe they can put their fates in the hands of recruiters while they sit back and wait for a job offer. Spoiler alert: That's not how it works!
Recruiters will do a lot for you. They're there to provide support, offer feedback, and connect you with potential employers. Do not expect recruiters to hold your hand throughout the hiring process. Recruiters have many jobs to fill and many job-seekers to work with.
Recruiters aren't supporting you out of the goodness in their hearts. They are doing it to make the placement and make their commission. Money is their motivator. Closing the job requisition is their motivator. Pleasing the client is their motivator. Making you happy is low on their list of priorities.
Don't make the mistake of thinking you can rest on your laurels. Always have a multi-pronged job search going – use job boards, network, and work with more than one recruiter. Recruiters do a lot of heavy lifting, but you're responsible for your job search.
You can't expect to show up to a job interview unprepared and land a job. Not only does that look bad on you, but it can also reflect poorly on a recruiter. It's common for recruiters to ditch job-seekers entirely if they don't show the initiative to maximize every opportunity.
8. Be Direct When Communicating Your Desired Salary
Another thing you shouldn't be coy about is your desired salary. Every job-seeker has an idea about what they're realistically looking for. Communicate a reasonable range to your recruiter.
Understanding your desired salary is crucial for recruiters because it helps them find opportunities that better fit your needs. No recruiter wants to undervalue you or have you go through a hiring process only to reject an offer because the salary didn't meet your expectations.
Once again, being honest and upfront is a must.
Communicate your desired salary relatively early. The recruiter will help you understand where that figure lies within the industry and your experience level. If they believe that it's too high or unreasonable, they'll let you know.
That said, recruiters will also respect your desired salary if it's within a reasonable range. If you're explicit about what you want, it'll help them rule out low-paying jobs, saving everyone time and frustration.
9. Keep an Open Line of Communication Once You've Found a Job
Our last tip is an important one. Keep the lines of communication open, even after you get a job. Your recruiter is part of your professional network, so consider adding them to your LinkedIn account and keeping in touch.
Why? You never know when you'll want to work with them again in the future. What if you decide to make a career-related move in the next few years? Or need to make a sudden change in a few months?
Remaining in contact with a recruiter who helped you previously could be your fast-track ticket to a new position. They already know what you're capable of, and you experienced firsthand that the recruiter does a fine job helping job-seekers.
They could do the same for you in the future. Don't cut them out. Keeping in touch will keep the rapport going and may even motivate them to help you find the right fit again the next time.
Should You Consider Working with a Recruiter?
Whether or not you should work with a recruiter depends on many factors, such as personal preference or whether recruiters service your occupation or industry.
You have a lot to gain from recruiters. The benefits are plentiful. Working with a recruiter means working with someone with deep knowledge of open opportunities. They're actively working to fill open positions and if your skills match, they would love to help place you in a new job they are trying to fill.
Recruiters are also a valuable source of constructive criticism and can help you become a more competitive candidate.
All those benefits aside, working with a recruiter isn't for everyone.
Generally, they're best if you have a clear career path planned for your future. Working with a recruiter can be great when you know what you want, have reasonable expectations, and want to advance your career.
However, recruiters are not the best solution if you want to switch careers, are new to the field, or don't have much work experience.
No matter where you fall on that spectrum, do your research and take the time to find a recruiter who can help you. Success hinges on how well you work with a recruiter and how receptive you are to the process. Take time to find someone who checks off all the boxes; they could put you well on your way to your next big opportunity.
Conclusion
As you can see, there are a number of benefits that come from working with a recruiter. So if you think it's the right move for you, don't be afraid to get the process started.
Get in touch with one, ask lots of questions, and be honest. This new relationship could lead to the next big step in your career!

Hannah Morgan speaks and writes about job search and career strategies. She founded CareerSherpa.net to educate professionals on how to maneuver through today's job search process. Hannah was nominated as a LinkedIn Top Voice in Job Search and Careers and is a regular contributor to US News & World Report. She has been quoted by media outlets, including Forbes, USA Today, Money Magazine, Huffington Post, as well as many other publications. She is also author of The Infographic Resume and co-author of Social Networking for Business Success.