Here are hiring trends and job search nuances you want to understand and adapt to as you continue to search for new opportunities.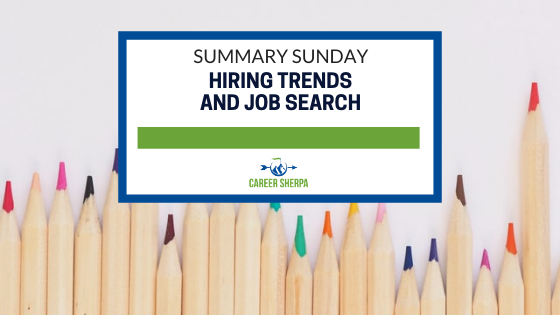 The US and global hiring won't return to "normal" (or the way it was headed before COVID-19.) There are new hiring trends and job search changes you'll want to understand and adapt to.
What you can do is learn what's happening, what industries are ramping up hiring and adjust your targets to market needs.
This week's summary should help by showing you:
Hiring trends according to LinkedIn
How to get your job search unstuck (according to recruiters)
Interview tips and data
Your LinkedIn profile
One mental shift you should make
But there's one more thing I'm worrying about (and excuse the typo)…
HIRING TRENDS
Guy Berger, Ph.D. | LinkedIn Economist
It's interesting to note the global hiring trends based on LinkedIn's Hiring Index. I'm watching China, Singapore, France and Italy who were some of the first countries to be hit by COVID-19.
JOB SEARCH
Is Your Job Search Stuck? 4 Recruiter Tips To Move Forward
by Kelly Dingee | Fistful of Talent
The 4 recruiters tips include how to address your resume, what recruiters are looking for, jump on the networking train and avoid 3rd party recruiters.
INTERVIEWING
How To Ace Your Next Online Job Interview
by Mary Halton | TED
Dr. Dawn Graham shares tips on being a better interviewee!
Golden State Warriors co-owner: This job interview question filters out 'boring' Ivy League 'box-checkers' and finds 'genius'
by Catherine Clifford | CNBC
Spoiler: Here's the question, but please read the article to understand why this question is asked.
'Think about something you deeply love. Take a few minutes to prepare and then teach it to me,'
Study Finds Salary-History Bans Boost Pay for African-Americans, Women
by Amara Omeokwe | Wall Street Journal
The evidence is here. Please, stop asking for salary history!
LINKEDIN
The LinkedIn Profile Headline is the MOST Important Section, According to 46% of People Polled
by Bob McIntosh | Things Career Related
Bob ran a poll on LinkedIn and of the 1,189 people who voted, 46% of the voters chose the Headline over Experience, 30%, and About, 24%.
REMOTE WORK
18 Companies That Have Switched to Long-Term Remote Work and Are Hiring Now
by Emily Courtney | FlexJobs
Here's why Work From Home (WFH) and Remote work is not going away any time soon…
"According to a Global Workplace Analytics survey of employees working remotely during the pandemic, 68% remark that they are very successful when working from home, and 77% say they feel "fully productive" working from their home office. And, of the 3,000 respondents, 77% want to continue working from home at least one day a week."
WELL-BEING
One Mental Shift That Will Increase Your Resilience Today
by Kathy Caprino | Forbes
I fully believe in this and it works for me!
Did You Miss These?
How To Stay Motivated During Job Search
Spice Up the Old Elevator Pitch
How to Prepare for an Interview

Hannah Morgan speaks and writes about job search and career strategies. She founded CareerSherpa.net to educate professionals on how to maneuver through today's job search process. Hannah was nominated as a LinkedIn Top Voice in Job Search and Careers and is a regular contributor to US News & World Report. She has been quoted by media outlets, including Forbes, USA Today, Money Magazine, Huffington Post, as well as many other publications. She is also author of The Infographic Resume and co-author of Social Networking for Business Success.