If you have been using the same old elevator pitch (45 second commercial) with the same old results, let's try something different.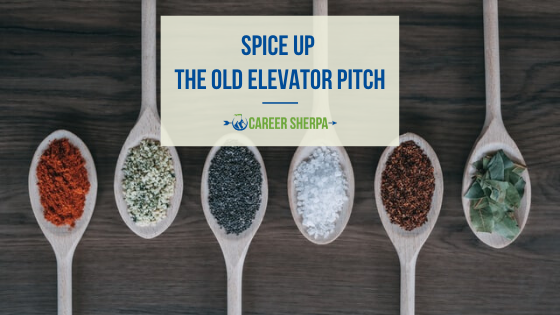 Companies define their benefits and so should you. You have a value proposition. In order to define your value, let's think about how companies define their value and benefits and use that to help you pull out your own:
Create a strong differential between you and your competitors
Increase not only the quantity but the quality of prospective leads
Gain market share in your targeted segments
Assist you in enhancing tools that will help you close more business
Improve your operation efficiency
Does your pitch answer these questions?
What do you do?
What do you offer?
What makes you special and unique? (Relative to the person you're meeting.)
What is your goal/objective? What do you WANT to do?
What impact do you have? What results do you create?
How do you create positive results?
You may not have time or you may not be able to include ALL of the answers to these questions.
What is most important for the person you are speaking with to learn about you? You can't tell them everything.
Sample Value Proposition
An experienced project manager, I've had success meeting deadlines on high-impact projects. Within the last two years, I saved hundreds of thousands of dollars and boosted revenue by $1.2 million. I was thrilled to earn widespread company recognition for these achievements. I'm a leader who has brought together colleagues from different disciplines to work as a team to achieve corporate goals.
Now For The Micro Pitch
The micro pitch is a short (10 to 20 seconds), attention-grabbing conversation-starter. I think it's what you really want to use the next time someone asks you about your work.
Learn how to create yours here.
Pitches For Different Circumstances
Sometimes you'll run into someone in a supermarket, other times you'll be asked to introduce yourself to a group.
Read Using the Right Pitch at the Right Time
Assess the circumstances and your audience and provide them with the most relevant and important information in your elevator pitch. Consider it an ice breaker.
Read more about elevator pitches
Your Summary, Profile and Pitch

Hannah Morgan speaks and writes about job search and career strategies. She founded CareerSherpa.net to educate professionals on how to maneuver through today's job search process. Hannah was nominated as a LinkedIn Top Voice in Job Search and Careers and is a regular contributor to US News & World Report. She has been quoted by media outlets, including Forbes, USA Today, Money Magazine, Huffington Post, as well as many other publications. She is also author of The Infographic Resume and co-author of Social Networking for Business Success.