Fine-tuning your message is one of the most important parts of prepping for job search.
Your LinkedIn summary, profile and pitch, highlight your most marketable assets in a way that entices the reader and listener and leaves them wanting to learn more!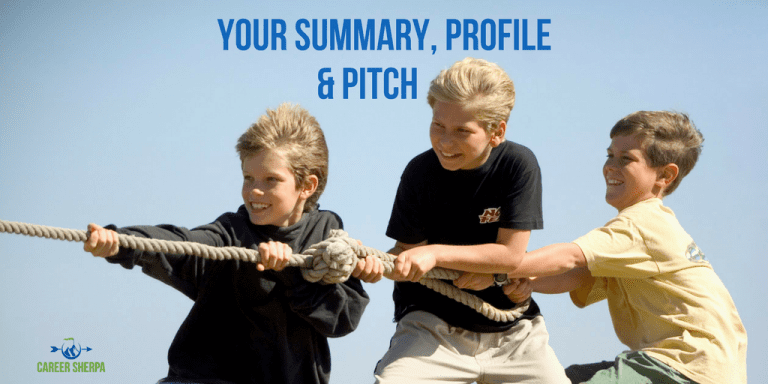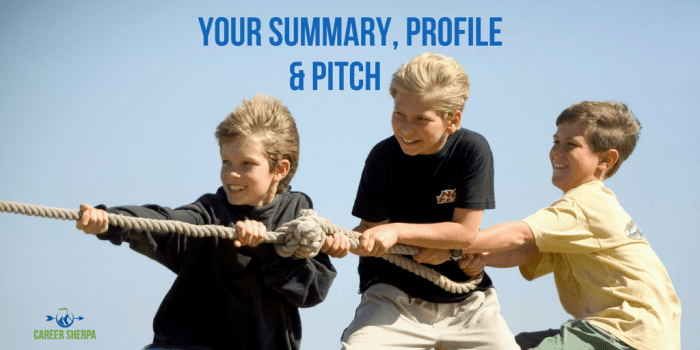 Your goal is to draw them in! So begin by deciding what you want to highlight.
Inventory Your Assets
Start by creating a list of all of your assets including:
personality traits
technical skills
work-related processes and procedures
industry experience
projects
accomplishments
Personality Traits
You can use this list to select the top 2-3 words someone would use to describe you. You don't have to use them all, but you do want to make sure you use an example or two that shows the trait in action.
| | | |
| --- | --- | --- |
| Accountable | Adaptable | Adventurous |
| Alert | Ambitious | Appropriate |
| Assertive | Astute | Attentive |
| Authentic | Aware | Bravery |
| Calm | Candid | Capable |
| Certain | Charismatic | Clear |
| Collaborative | Committed | Communicator |
| Compassion | Comradeship | Connected |
| Conscious | Considerate | Consistent |
| Contributes | Cooperative | Courageous |
| Creative | Curious | Dedicated |
| Determined | Diplomatic | Directive |
| Disciplined | Dynamic | Easygoing |
| Effective | Efficient | Empathetic |
| Empowers | Energetic | Enthusiastic |
| Ethical | Excited | Expressive |
| Facilitates | Fairness | Faithful |
| Fearless | Flexible | Friendly |
| Generative | Generosity | Gratitude |
| Happy | Hard Working | Honest |
| Honorable | Humorous | Imaginative |
| Immaculate | Independent | Initiates |
| Innovative | Inquiring | Inquiring |
| Integrates | Integrity | Intelligent |
| Intentional | Interested | Intimate |
| Joyful | Knowledgeable | Leading |
| Listener | Lively | Logical |
| Loving | Loyal | Manages Time Well |
| Networker | Nurturing | Open-Minded |
| Optimism | Organized | Patient |
| Peaceful | Planner | Playful |
| Poised | Polite | Powerful |
| Practical | Presents Self Well | Proactive |
| Problem-Solver | Productive | Punctual |
| Reliable | Resourceful | Responsible |
| Self-confident | Self-generating | Self-reliant |
| Sense of Humor | Sensual | Serves Others |
| Sincere | Skillful | Spiritual |
| Spontaneous | Stable | Strong |
| Successful | Supportive | Tactful |
| Trusting | Trustworthy | Truthful |
| Versatile | Vibrant | Warm |
| Willing | Wise | Zealous |
Technical Skills and Work-Related Processes/Procedures
These are work related things you know how to do.
If you were in accounting, you would know about these: month-end and year-end reports, bank reconciliation, general ledger, fixed assets, trial balance.
Each occupation has its own list of must-know skills. You can also check job descriptions to make sure your inventory is complete.
And if you are missing any in-demand skills, make a note and plan on developing or acquiring those skills ASAP.
Industry Experience
What industries have you been exposed to? Your breadth and depth of industry knowledge is what will help differentiate you. Create a list of all the industries you feel knowledgeable about.
Projects
Create a list of the projects you've worked on. What was their purpose and what was your role? You don't need to mention them all, but if there are any reoccurring patterns you should include that. For example, if you were regularly tasked with streamlining processes or developing new workflows, that would be important to call attention to.
Accomplishments
Every day you made a difference. These are called accomplishments and they can be big or small. If you are looking for a way to recall your past accomplishments, take a look at this list.
Personal Brand Statement or Value Proposition
Now lets spin this stuff to make it interesting to your audience.
Yes, your audience determines your message, not you.
You need to state your value in terms that are meaningful to others. Which means you have to understand what their problems are and how you can solve them.
In order to do this, you need to answer three questions:
1. What problem do you solve (Look at your projects and accomplishments)
2.  How you do it uniquely (look at your personality traits)
3. Whom you do it for (check industry listing or projects)
If you want to learn more about creating your personal branding statement (and see a link to examples, you can go here.)
The Summary On Your Resume
Every resume written today needs a summary. It may just be keywords or it may be a short paragraph, either way, it needs to convey your message. Based on the job requirements, you may have to fine-tune your summary to include the right words (as long as you do not lie.)
Your LinkedIn Summary
Your LinkedIn summary is more robust, thorough and static than your resume summary. LinkedIn says your summary shares "information about your mission, accomplishments, and goals." Your summary can use up to 2,000 characters (that's a lot of words!)
Please don't copy and paste the exact same summary from your resume into your LinkedIn profile. Someone looking at your LinkedIn profile wants to learn more about you than what they can find on your resume. This is your opportunity to state what is important to you (values, work ethic, and what motivates you).
Start by cutting and pasting your summary from your resume (if you must) but go back and add the words "I" , "me" and "my" to make it more personal.
Include interests, stories, examples of your work to help the reader understand what makes you tick!
Your Pitch
Your pitch may include many of the elements above. It too, needs to be adjusted based on your audience.
The pitch you use while introducing yourself at a gathering with family and friends would be different from the pitch you deliver in an interview. The formula is likely the same, but the words you chose to use need to be adapted.
Here's a formula:
What do you do? What do you offer? What makes you special and unique? (Relative to the person you're meeting.)
What is your goal/objective? What do you WANT to do?
What impact do you have? What results do you create?
How do you create positive results?
Well, do you have something started? This isn't easy and it isn't set in stone. Continue to refine your summary, profile and pitch!

Hannah Morgan speaks and writes about job search and career strategies. She founded CareerSherpa.net to educate professionals on how to maneuver through today's job search process. Hannah was nominated as a LinkedIn Top Voice in Job Search and Careers and is a regular contributor to US News & World Report. She has been quoted by media outlets, including Forbes, USA Today, Money Magazine, Huffington Post, as well as many other publications. She is also author of The Infographic Resume and co-author of Social Networking for Business Success.