How to stay motivated during job search is the number one issue facing job seekers today.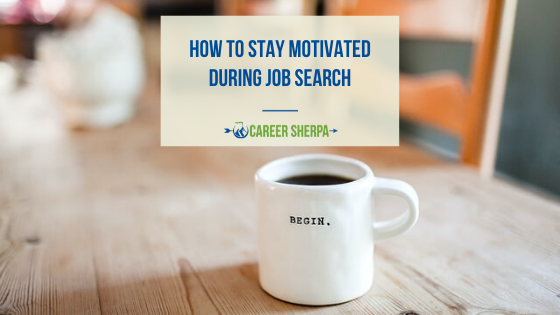 It's hard to stay motivated during job search.
It takes longer to find a job when fewer companies are hiring or have a hiring freeze. And time has a way of chiseling away at your confidence and motivation. 
It's lonely not having a team to work along side.
There aren't any concrete measurables to work towards.
But job search isn't the only time in your life you've needed to restore motivation.
How do people stay motivated when they go through regular life events? Like any of these:
A woman in labor
A marathon competitor
A visit to the dentist for a new filling
A weekend with the in-laws 
They can tolerate and get through these things because there was an end and they knew that the event wouldn't last forever. Neither will your job search.
Setting Specific Goals
Does it take motivation to reach your goals? Yes. While I am not an expert in this area (I am not the best goal-setter), I do know that the more specific the goal the clearer it will be for you to set a course and follow it. 
When you look at some of the things you've endured, you survived all those as well (these are mine, maybe not yours).
Finding a spouse
Accumulating money in your savings account
Buying your first house
Getting your 1,000th Twitter follower
Losing 25 pounds
Giving up alcohol
Break It Down
Staying motivated can be achieved by feeling satisfied. 
To feel satisfied, break your goals into bite-size, achievable pieces. 
If the long term goal is to find a job, what are the incremental steps you will take to get there? 
Lots of networking conversations
Lots of interviews
Lots of resumes submitted
Lots of rejection
"Lots" is a number you will have to establish for yourself.  It varies but the larger the number, the more chances you have of reaching your long-term goal.  
Read more about setting job search goals here.
Reward Yourself For Small Wins
Reward yourself for achieving the short term goals. Don't let the nay-sayers beat you down. Hang with people (job seekers) that are moving forward and continue to move toward your goals.
And you don't have to job search alone! Find a group or form a group.
Read Don't Job Search Alone and Job Search Is Social.
Keep The Hope
The short answer is, that staying motivated is personal. You control it based on your expectations.
Be hopeful.
There is a light at the end of the tunnel. 
I've written about motivation on Mondays for quite a while. Here are some of those articles:
Motivation Monday: A Reminder, Push & Pick-Me-Up
Motivation Monday: Prime The Pump
Motivation Monday: Productivity Challenge
Or you can go over to the sidebar and search the CATEGORIES for "motivation."

Hannah Morgan speaks and writes about job search and career strategies. She founded CareerSherpa.net to educate professionals on how to maneuver through today's job search process. Hannah was nominated as a LinkedIn Top Voice in Job Search and Careers and is a regular contributor to US News & World Report. She has been quoted by media outlets, including Forbes, USA Today, Money Magazine, Huffington Post, as well as many other publications. She is also author of The Infographic Resume and co-author of Social Networking for Business Success.