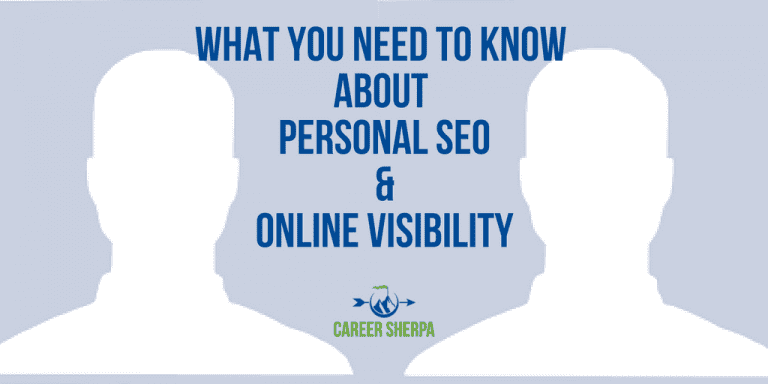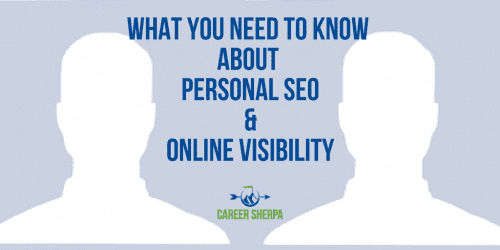 Isn't it time you brush up or immerse yourself in learning how to job search more effectively?
Almost every recruiter will search for you online at some point during the hiring process. Don't believe me? Just look at Jobvite's Recruiter Nation report, SilkRoad's Report, CareerBuilder's Recruiting Report, or google "social recruiting". What all these reports point to is that the information recruiters find online about candidates can and does influence hiring decisions.
If you are thinking, "I don't care what someone finds" or "I don't want anything about me online" then you may be missing out on opportunities and that's a shame.
Personal SEO (Search Engine Optimization) and Personal Online Reputation Management
These may be new terms to you and you may not know exactly what they mean. But I don't want you to dismiss them because they are so important to your job search. Without an understanding of  what these terms mean, or what actions you need to take, you'll become a dinosaur, and that's not going to help you.
The steps you take to improve and manage your online reputation aren't difficult. You just need to know how.  That's why I'm sharing this incredible free resource not normally available to the public.
Career Planning & Adult Development Journal Summer 2016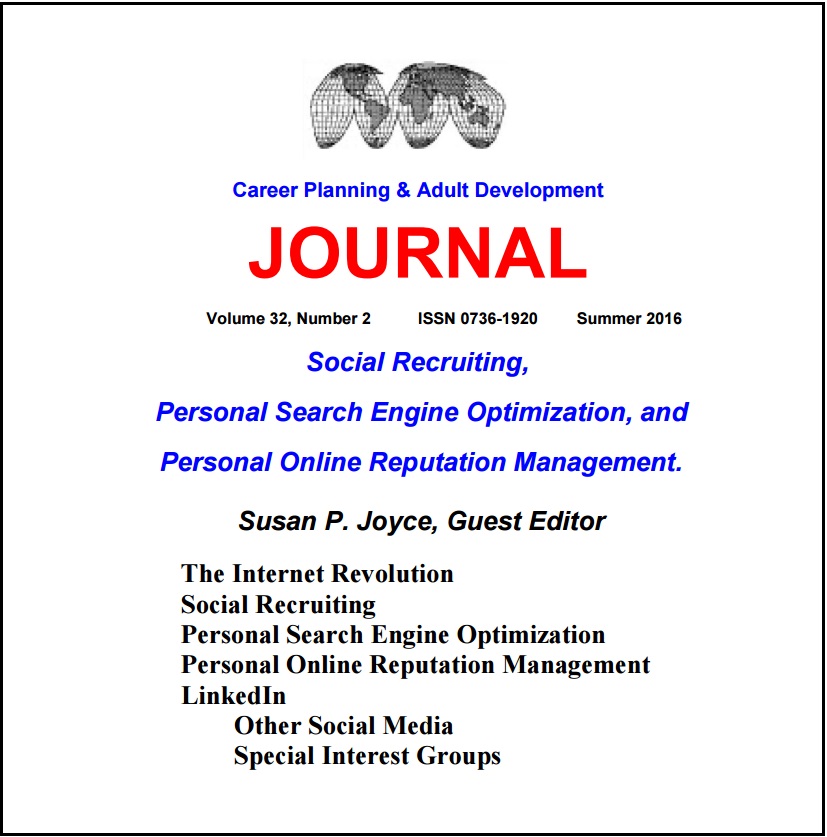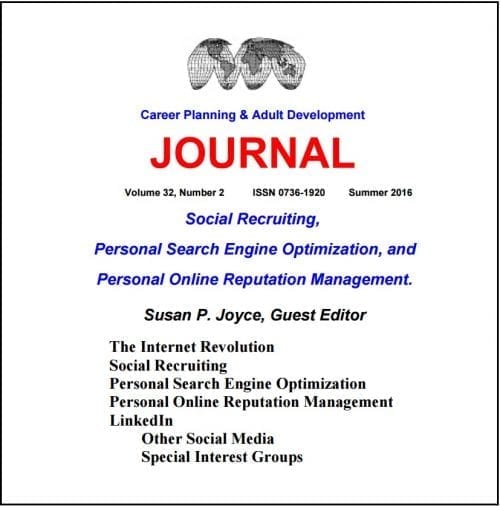 This issue was compiled by Guest Editor Susan P. Joyce, President NETability, Inc. who owns and operates Job-Hunt.org and CareerCoachCafe.
It contains articles written by some of the top career professionals including: Susan P. Joyce, Richard N. Bolles (author of "What Color is Your Parachute?), Meg Guiseppi, Jeff Lipschultz, Martin Yate, Phyllis Mufson, Ed Han, Camille Carboneau Roberts, Chandlee Bryan, Debra Wheatman, Laura Smith-Proulx, Kathleen Lyons, Rosalind Joffe, Kate Duttro, Debra Osborn, Adam Miller, Shae McCain, Jacqueline Gabbard Belle, and me.
The Resource You Must Read
But what you really care about is that it includes 27 chapters (and 228 pages) on how technology has impacted recruiting and your job search. You'll find chapters to help you understand that Google is the new resume, how to use keywords for personal Search Engine Optimization (SEO), how to improve your LinkedIn profile and other social media usage. Plus specific advice for new graduates, Boomers (or more seasoned professionals), Veterans and other special interest groups. Allow me to share just some of the valuable chapters:
The Internet Revolution: Digital Disruption in Recruiting and Job Search by Susan P. Joyce
Recruiters' Selection Process Starts (and Ends) with Your Personal Brand by Jeff Lipschultz
How Social Recruiting Impacts Job Search by Hannah Morgan
Are Keywords the Foundation for Career Success? By Martin Yate
Use Social Media to Manage Your Online Reputation and Support Your Brand by Debra Wheatman
Online Presence for Mature Job Seekers: Getting Started by Phyllis Mufson
So whether you are a career or job search coach, work in a career center or are just someone who wants to stay up to speed on today's hiring and job search trends, I think you'll benefit from this resource.

Hannah Morgan speaks and writes about job search and career strategies. She founded CareerSherpa.net to educate professionals on how to maneuver through today's job search process. Hannah was nominated as a LinkedIn Top Voice in Job Search and Careers and is a regular contributor to US News & World Report. She has been quoted by media outlets, including Forbes, USA Today, Money Magazine, Huffington Post, as well as many other publications. She is also author of The Infographic Resume and co-author of Social Networking for Business Success.