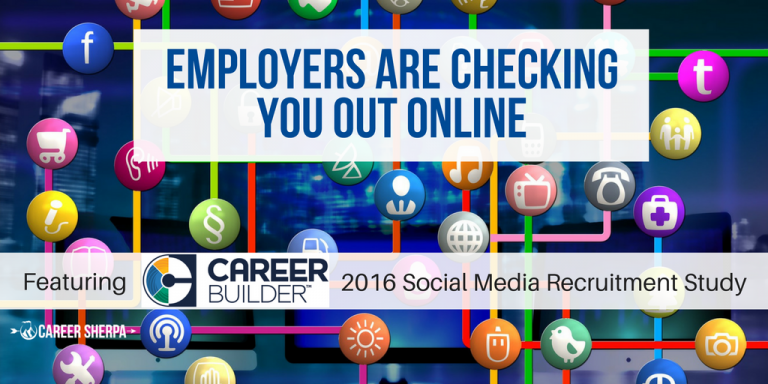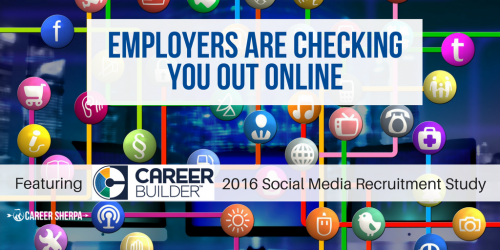 How and where employers look for new employees has changed. Employers are checking you out online. You can control what they find, if you understand how they are using the information. 
Social Recruiting Is A Thing
Social recruiting is the act of sourcing and researching candidates through social media and online profiles. Using job boards and resume databases is costly and doesn't always have the most up-to-date information on a candidate. LinkedIn is one of the social networks recruiters use but believe it or not, not all candidates are on LinkedIn. Recruiters turn to Facebook, Twitter, Instagram, SnapChat and various other niche networks.
Recruiters also use Xray and Boolean searches to search for very specific candidates by using complex search criteria. They can search within forums, social networks and across the internet. They are going to look where they know they can find the right talent.
Some companies are getting proactive in their recruiting and are building talent communities which serve as a pipeline of potential candidates.
Not only are employers sourcing candidates online, they are also researching them online.
Ready to update your job search strategy and rely a little less on job advertisements posted on job boards?
Employers Are Checking You Out Online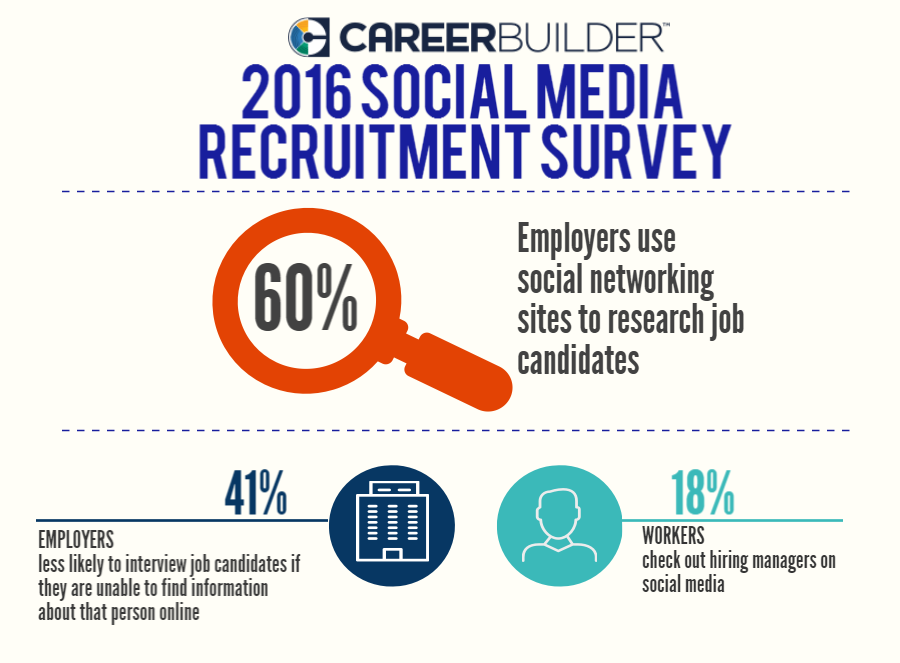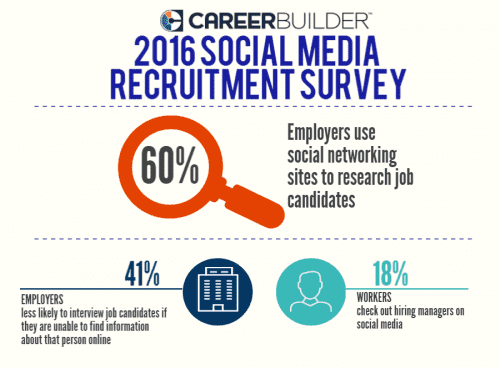 60% of employers are researching people online (according to CareerBuilder's 2016 Social Media Recruitment Survey)!
And other sources (Jobvite & SilkRoad) report even higher percentages of employers using social networking sites to source and vet candidates.
Why??
"Tools such as Facebook and Twitter enable employers to get a glimpse of who candidates are outside the confines of a resume or cover letter."

-Rosemary Haefner, chief human resources officer of CareerBuilder
This opens the door for you.
Year's ago, the only way you would ever be considered for a job was because you submitted a resume. And if the employer had any question about you, they would either call you or move on to the next candidate. As you can imagine, picking up the phone and calling people takes time, some recruiters just didn't make the time.
You now have more ways to show your work experience, skills, personality and successes!
Here's what you need to know about how employers use social networks.
How Employers Use Social Networks To Research Candidates
According to CareerBuilder's social recruiting study:
Most hiring managers aren't intentionally looking for negatives. Six in ten employers who currently use social networking sites to research job candidates (60 percent) are "looking for information that supports their qualifications for the job," according to the survey. For some occupations, this could include a professional portfolio.
Do you have an online portfolio or personal website? They are simple to create and often free. Here's how.
What Are Employers Looking For When Researching Candidates via Social Networks
Over half of hiring managers want to see if the candidate has a professional online persona, 30% want to see what other people are posting about the candidate, and 21% admit they're looking for reasons not to hire the candidate.
Give employers what they are looking for! Here's how to improve your online visibility.
Before you jump the gun and say, "see, I knew they were looking for a reason NOT to hire people", know this. 32% of employers found a reason to hire someone based on the candidates' presence on social networks.
Can I Really Get Hired Using Social Networks
Let's be real. You will have to pass the interview process before anyone offers you a job. But here are the things employers found online that tipped the scales to favor the candidates they hired.
Candidate's background information supported job qualifications
Candidate's site conveyed a professional image
Candidate's personality came across as a good fit with company culture
Candidate was well-rounded, showed a wide range of interests
Candidate had great communication skills
How are you currently providing proof?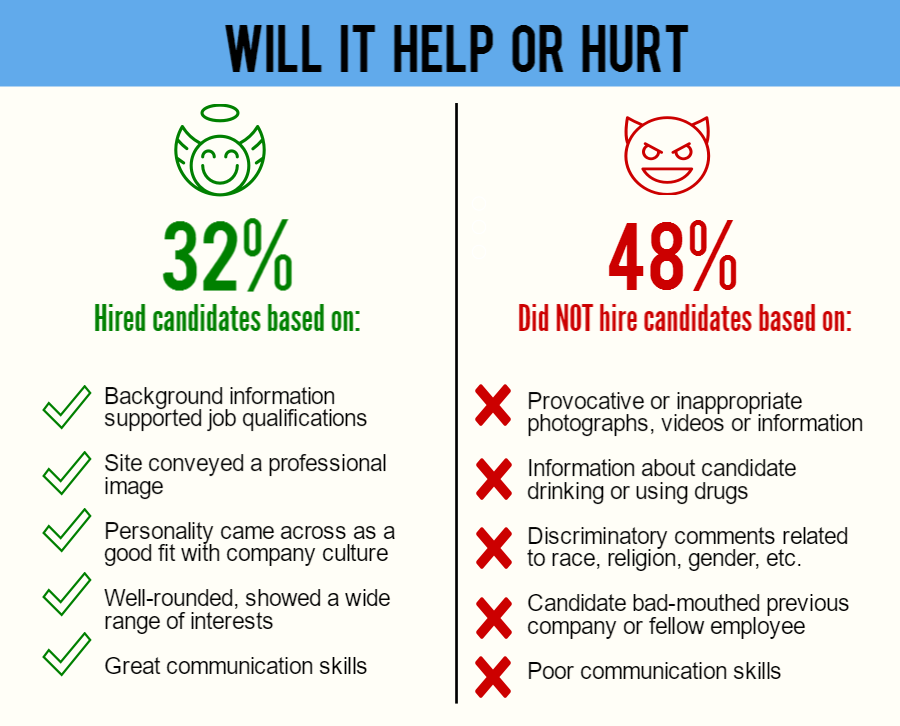 Don't Tarnish Your Online Reputation
These are the reasons 49% of employers decided not to go with a certain candidate. It should be pretty obvious to most people that you shouldn't post this kind of stuff online. But it still happens.
Provocative or inappropriate photographs, videos or information
Information about candidate drinking or using drugs
Discriminatory comments related to race, religion, gender, etc.
Candidate bad-mouthed previous company or fellow employee
Poor communication skills
What are you doing to clean up your online reputation?
INFOGRAPHIC

Hannah Morgan speaks and writes about job search and career strategies. She founded CareerSherpa.net to educate professionals on how to maneuver through today's job search process. Hannah was nominated as a LinkedIn Top Voice in Job Search and Careers and is a regular contributor to US News & World Report. She has been quoted by media outlets, including Forbes, USA Today, Money Magazine, Huffington Post, as well as many other publications. She is also author of The Infographic Resume and co-author of Social Networking for Business Success.