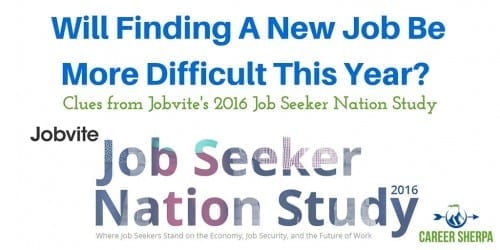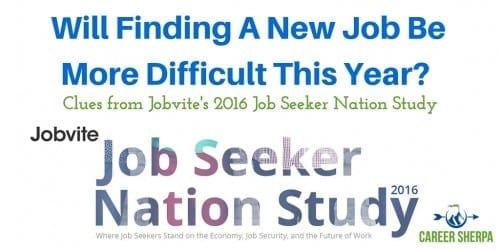 Jobvite released their 2016 Job Seeker Nation study for the 7th year. And yes, job seekers say they expect it will be harder to find a new job this time around!
It's important to understand what your competition is doing in order to outpace them. I've attempted to capture some of the key take-aways from this year's study to help give you the competitive advantage and make it EASIER to find your next great role!
SATISFIED DOES NOT MEAN NOT-SEEKING
Just because you are satisfied with your job, doesn't give you permission to stick your head in the sand. The Jobvite study proves this, and this is good news! You always want to have choices and your next career move should be on your terms.  Being laid off or suddenly finding yourself without a job stinks!
74% of those surveyed reported they were satisfied with their jobs but were open to new opportunities.
FINDING A NEW JOB MIGHT BE HARDER
38% said it is harder to find a job this year than last year. (Which was the same percent as reported in 2015). Nothing has changed here. It is unclear what will specifically make finding a new job harder, however.
My guess is that people are looking for a new role with more responsibility or requires greater skill set and this usually means there are fewer of these types of jobs available than entry level or lower level jobs. Typically, jobs higher up in an organization are filled by promoting an internal candidate and therefore don't get posted. And this means, job seekers may not see as many mid- to high-level jobs on job boards. Thus, it may appear harder to find that next level job. (The key to finding any job is through networking…which seems harder!)
FINDING THE NEXT FULFILLING JOB
How do job seekers think they'll find their next great job? The same way they found their last one- by networking
"[T]o find that perfect job, employee referrals reign supreme. 24% say that employee referrals helped them find their most fulfilling job." -Jobvite
Almost 50% of respondents reported using social media to find their most recent job. Which sites did they use?
67% used Facebook
35% used Twitter
(No information was published this year about the  other social networks used!)
What we do know from Jobvite's Recruiter Nation Study 2015 is that this is where recruiters are looking for candidates:
LinkedIn, Facebook and Twitter are the top three social networks recruiters are using…but don't dismiss the up-and-coming social media platforms Instagram and Snapchat!
CLEANING UP SOCIAL
The Internet is your resume! So it is good to see job seekers cleaning up their social media profiles. Yet these numbers are not high enough. If 74% are open to new opportunities, this clean up should be done by everyone of them. You can outshine the competition by updating your social media profiles and including the right keywords in your profile and including a link to your LinkedIn profile (or personal website if you have one).
RESEARCHING ORGANIZATIONS
Social media is also helpful in conducting research about a company. Job seekers use it to learn about employees' experience/skills, finding mutual connections and to get a sense of company culture. I hope you get some ideas from this!
DON'T WAIT FOR THE INTERVIEW
There is so much you need to learn about a job and most of it can be done BEFORE the interview.  Almost half of those surveyed weighed information from the interview as making the biggest impression of a job. 36% said conversations with others and company reputation made a impact, the same as online research. I would think conversations with people would matter a lot. Maybe more job seekers should try doing this!
39% credit the initial contact with the company as an important impression. But wait, job seekers say it's unfair when a recruiter doesn't invite them in for an interview based on the phone screen. Isn't judging a company based on initial contact pretty similar?  It's important for both job seeker and organizations to note that first impressions mean a lot!
MOBILE ISN'T ALWAYS BETTER
Everyone likes to find the easy button. Mobile is easy, but it isn't always better. Job seekers use their mobile to look for jobs in some startling places, like at work or in the bathroom…
Multi-tasking is dangerous! If you are not giving your job search your full, undivided attention, you may make mistakes. The quality of your messages matters. And let's not forget, mobile apps often don't have the same functionality as the desktop version. So sure, look for jobs from your mobile, apply with your mobile, send emails from your mobile. Just double and triple check your work! And remember, your odds of landing a job you apply to on a job board are slim (around 15% of jobs are filled through job boards!)
GET A GIG
Maybe what you need is a side gig instead of a new job. That seems to be a rising trend with 36% reporting a side gig as a second-income. Companies like Uber, TaskRabbit and Airbnb make taking on a second job easier and can fit with your schedule. Plus, side-gigs provide you with a greater sense of income stability.
WHAT WILL YOU DO DIFFERENTLY?
Here are some of the ways you can improve your job search:
Spend time nurturing connections inside companies where you might like to work.
Clean up your social profiles
Be attentive to detail when using your mobile device to communicate
Conduct as much research as possible about companies you apply to (before the interview)
* On behalf of Jobvite, the polling company, Inc., conducted a nationwide online omnibus survey, fielded February 5-8, 2016. Of the 2,305 adults (aged 18+) polled, 1,386 were participants in the U.S. labor force.

Hannah Morgan speaks and writes about job search and career strategies. She founded CareerSherpa.net to educate professionals on how to maneuver through today's job search process. Hannah was nominated as a LinkedIn Top Voice in Job Search and Careers and is a regular contributor to US News & World Report. She has been quoted by media outlets, including Forbes, USA Today, Money Magazine, Huffington Post, as well as many other publications. She is also author of The Infographic Resume and co-author of Social Networking for Business Success.