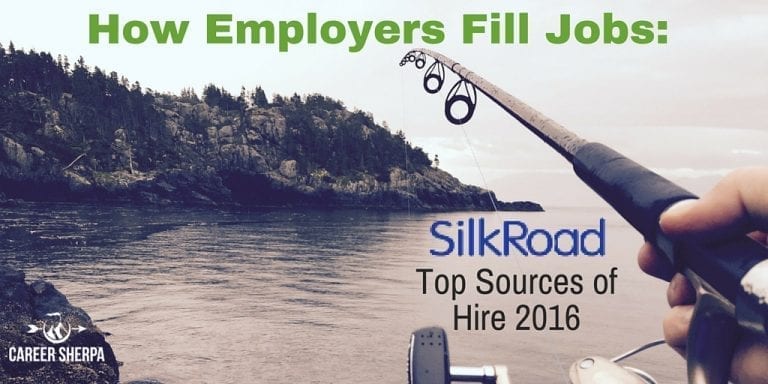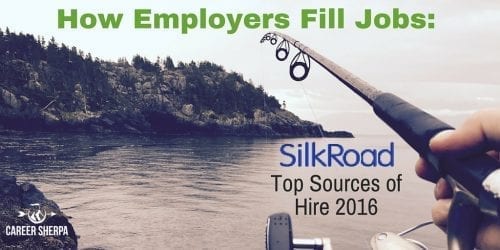 You may not really care how employers fill jobs in 2016. You just want a simple, fast, efficient way to submit your qualifications for an open job. But what if you could beat the odds by searching for a job differently? You can.
Let's look at the data provided by thousands of employers to see how they made over 300 thousand hires in the past year. SilkRoad, an end-to-end HR system (meaning a system for talent acquisition, talent development, a talent portal and HRMS), released their fifth Top Sources of Hire  Report (2016) which analyzed data from  1,200 companies, ranging from small to large employers. It also included anonymous data pulled from SilkRoad's applicant tracking system.
How Employers Filled Jobs in 2016
You won't be surprised by this information. The top three sources of hire last year were
Employee referrals (22%)
Job search engines (19%)
Job boards (12%)
What You Need To Know
Get referred. The best way to increase your odds of getting a job offer is to be a referred candidate. (You've heard this before and I've provided tips on how to get referred here.)
What's The Difference Between A Job Search Engine and a Job Board?
So what's the difference between these two things?
Job Search Engines include Indeed and Simply Hired. These platforms pull job postings from many different sites/sources including job boards, online classified advertisements, and association and employer websites.
Job Boards include CareerBuilder, Monster, Craigslist, LinkedIn, and Glassdoor (just to name a few). Companies pay money to post jobs on these platforms.
Job Search Engines Outperform the Boards
Hands down, Indeed leads to more hires than all the other job sites. When analyzing sources of hiring within job search engines and job boards, 58% of hires came from Indeed! Pretty powerful.
What You Need To Know
Invest more of your time using Indeed and less time on the other boards. One caveat, there are niche or specialty job boards for certain occupations and industries. Though they may not make the list here, due to smaller numbers of hires, niche job boards are absolutely worth your time.
Focus Your Search
Because you are searching online, you'll want to prioritize how you invest your time across all the different activities. By the way, there is such a thing as offline sources of hire which include campus recruiting, agencies, walk-ins, and events. These sources provide far fewer hires (22%) as compared to online (78%).
From all online sources, here are the top four sources of hire:
Employee Referral (28%)
Indeed (24%)
Current Employee (15%)*
Customer Career Site/Website (14%)
*Current employee means an employee was selected for the job as in a promotion or internal hire.
What You Need To Know
First, continue to find people who work inside companies with opportunities you are interested in. Next, create job alerts on Indeed and monitor jobs posted by companies you are interested in. And finally, go to company websites and monitor or set alerts for jobs you are interested in so you don't miss out of them. And remember, if you are unhappy with your current job, often a move to a new department or new role can be just the fix needed to reinvigorate your career.
External and Internal Sources of Hire. Which Is better?
First, let's see how SilkRoad has defined external and internal sources of hire.
| | |
| --- | --- |
| TOP EXTERNAL SOURCES OF HIRE | TOP INTERNAL SOURCES OF HIRE |
| Indeed | Employee Referral |
| Agency | Customer Career Site/Website |
| CareerBuilder | Current Employee |
| Campus Recruiting | Recruiter Sourced |
| Unspecified Job Board | General Referral |
| Craigslist | Former Employee |
| LinkedIn | Walk In |
| Job Fair | |
| Monster | |
And the winner is… INTERNAL SOURCES. 58% of hires attributed to these methods.
Every Employer and Job Seeker Is Unique
When looking at these results of how jobs are filled, there are always exceptions to the rules. Yes, you want to follow the rules, but you will also want to know how to appropriately break them in order to stand out.
Follow the instructions for every job you apply to. But that doesn't mean you can't go above and beyond and do more. For example, if you apply online, submitting your resume as a Word doc (when instructed to do so), that doesn't mean you can't find someone inside the company to act as a referral or even as an informant.
The best job search strategy is to appropriately diversify the methods you use. The next best thing to do is to try really, really hard!
Go after jobs with enthusiasm! This effort alone could help set you apart. Isn't that the whole point?
SilkRoad INFOGRAPHIC
Since a picture is worth a thousand words, check you SilkRoad's Source of Hire Infographic.

Hannah Morgan speaks and writes about job search and career strategies. She founded CareerSherpa.net to educate professionals on how to maneuver through today's job search process. Hannah was nominated as a LinkedIn Top Voice in Job Search and Careers and is a regular contributor to US News & World Report. She has been quoted by media outlets, including Forbes, USA Today, Money Magazine, Huffington Post, as well as many other publications. She is also author of The Infographic Resume and co-author of Social Networking for Business Success.