Reframe how you think about job interviews. Consider them a fact finding mission…not an interrogation!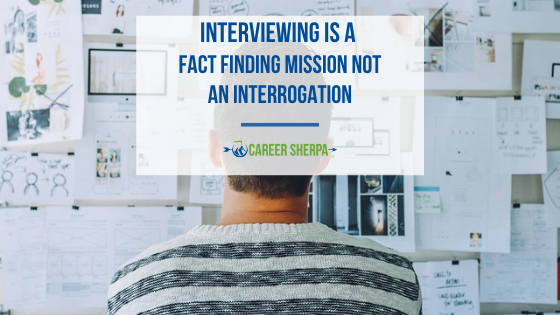 If you prepare for your upcoming job interview using a new mantra, then maybe you'll approach this event differently (less stressful).
Instead of thinking:
"I want this job! I need this job!"
change your mindset to:
"DO I WANT THIS JOB?"
The Interview Is A Fact-Finding Mission! NOT an Interrogation
I know how competitive the job market is. But, who wants to accept a job that isn't a good fit? To be clear, I am not recommending arrogance, but inquisitiveness.
Conduct thorough research on the company and the people you'll be interviewing with to help you determine the answers you are looking for. In other words, what is most important to you in a job, company, manager and co-workers.
During an interview, ask open-ended, non-leading questions to get the best answers, and add specific company questions as well. Be sure you ask questions to gain clarity on issues that are most important to you in a job, fit and culture.
Here are some questions that might be important to you:
What are the most significant factors affecting your business today?
What is the greatest demand for your services or product?
How do you differ from your competition?
Describe your star employee. What are the qualities of people who perform best in this?
If this company was known for 3 things as a workplace, what do you think those 3 would be?
What trends do you see in the future that will affect your organization and industry?
By asking these open-ended questions, you allow the interviewer to speak about the issues that are most important to them- right now. Listen carefully to which path they chose to take as they answer. You may think you know the answers, but the interviewer might have a different logic.
Asking questions shows interest, that's a good thing.
Having these pre-written questions with you during the interview will remind you of what you are supposed to be asking. (Yes, you can bring a list of questions! The interviewer is reading off a list so why can't you?) Those endorphins have a way of stealing your brain power and you may have difficulty remembering everything you wanted to ask.
Here are questions you could ask (though not all in one interview) to convert your job interview into a fact-finding mission.
The idea is to have a dialog with your interviewer. The flow should go something like this: They ask you a question. You provide an answer and ask them a question. A nice tennis match feel.
However, there may be times you'll have a conversation with an interviewer who is inexperienced and this can be quite challenging.
They may do all the talking as a result of their insecurity.
The best you can do is listen. Find ways to build rapport and be careful not to threaten their egos by interrupting too often.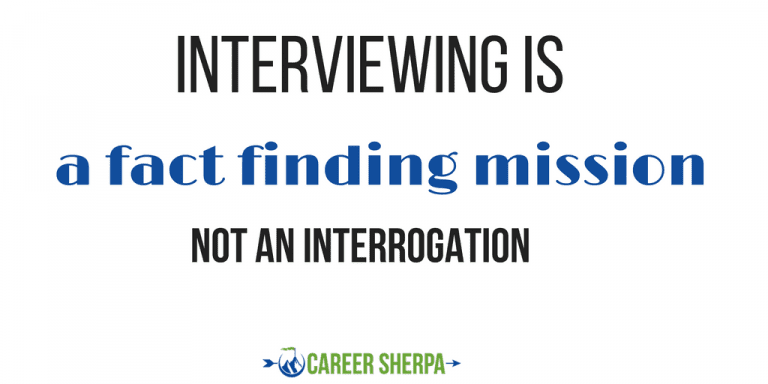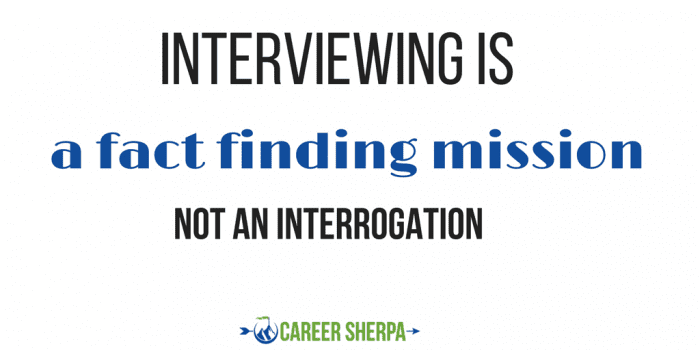 For more help interviewing, check out these articles:
Interviewing is an Exchange of Information
Do You Shine During Your Interview?

Hannah Morgan speaks and writes about job search and career strategies. She founded CareerSherpa.net to educate professionals on how to maneuver through today's job search process. Hannah was nominated as a LinkedIn Top Voice in Job Search and Careers and is a regular contributor to US News & World Report. She has been quoted by media outlets, including Forbes, USA Today, Money Magazine, Huffington Post, as well as many other publications. She is also author of The Infographic Resume and co-author of Social Networking for Business Success.