Having a great LinkedIn profile isn't enough – you need to be active on LinkedIn to attract attention and engage with your network (and beyond).
LinkedIn status updates are key to getting your profile noticed.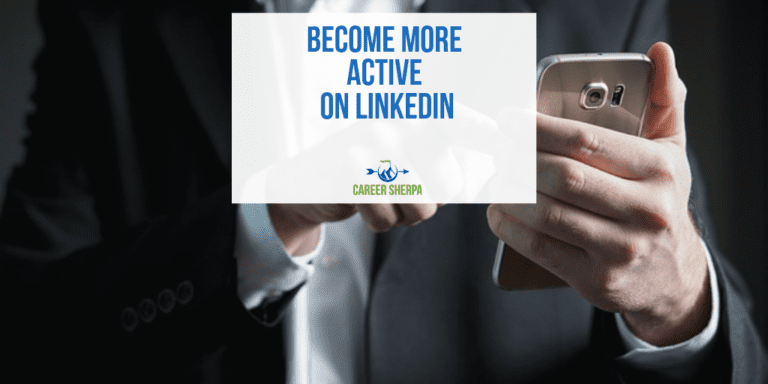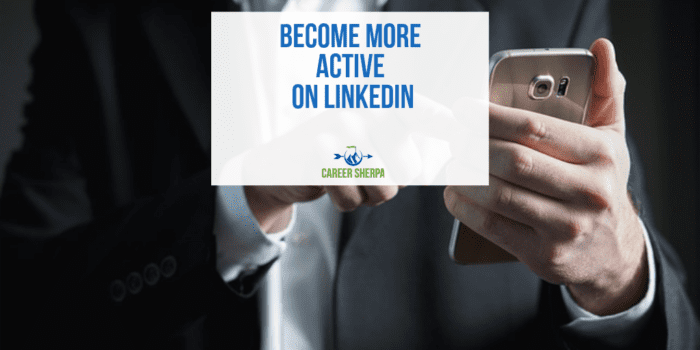 Become More Active On LinkedIn
Don't just set up your LinkedIn profile and forget it.
Sharing regular status updates and being active on LinkedIn will guarantee more people view your profile. And the more people who view your profile, the greater the chances of gaining new connections or future job opportunities.
If you want to see ideas of things you can post, check out 25 Inspiring Ideas for What To Post On LinkedIn
Topics For LinkedIn Status Updates
To help you understand what topics you should like, comment or share on LinkedIn to update your status, here's LinkedIn's 2017 Sophisticated Marketer's Guide data.
What topics do LinkedIn users care about?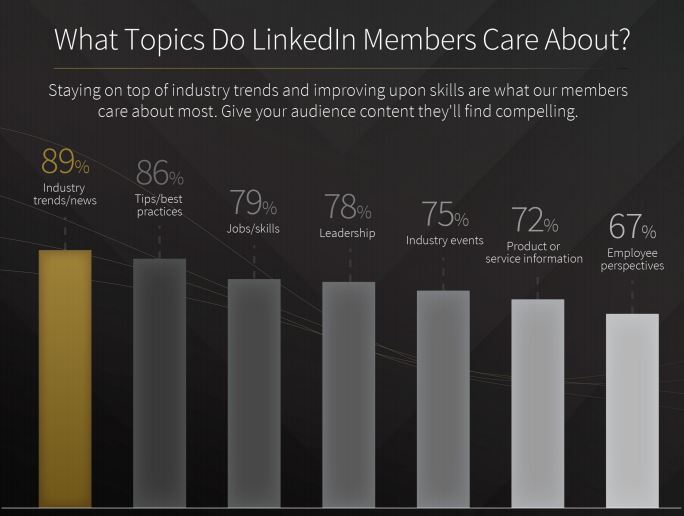 Industry Insights
Tips/Best Practices
Jobs/Skills
Leadership
Industry Events
Product or Service Information
Employee Perspectives
Why LinkedIn Users Like Content
When someone logs into LinkedIn, they engage (like, comment, or share) with content that hits one of these: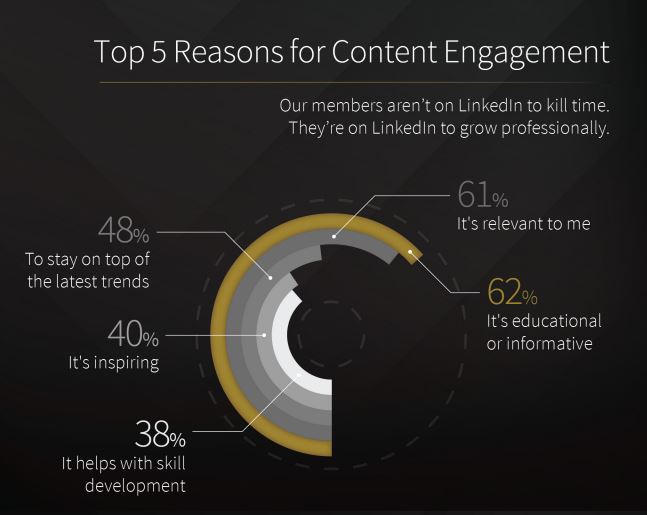 Educational or informative
Relevant
Keeps them on top of trends
Inspiring
Helps with skill development
As you think about what to share, be on the lookout for content on LinkedIn that addresses one (or more) of these benefits.
Who's Sharing Content on LinkedIn
You don't need to be an influencer to update your status on LinkedIn. Anyone can share engaging content. In fact, users reported engaging with content from a variety of sources.
This is your chance to jump in and begin adding updates to LinkedIn. Just make it inspirational and make sure it gets to the point!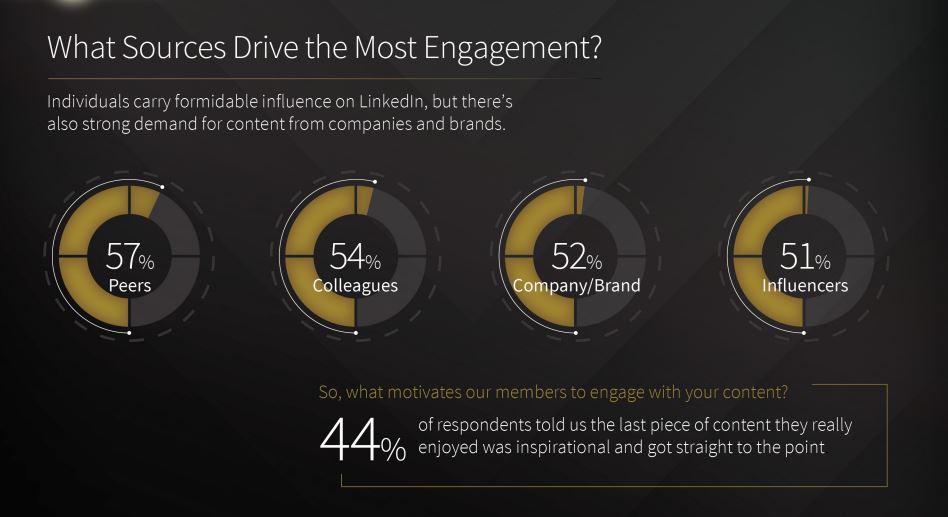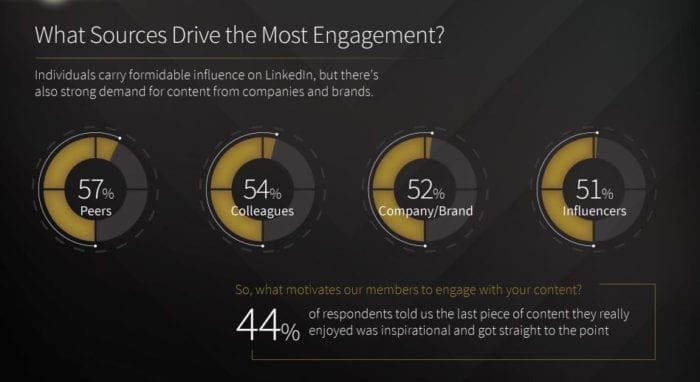 57% engaged with content from peers
54% engaged with content from colleagues
52% engaged with content from companies/brands
51% engaged with content from influencers
Be Active By Updating LinkedIn Status Regularly
Only 18% of LinkedIn users log in daily (according to Pew Research, 2016). And when someone does log in, you want your status update to show up in their feed.
Seeing your face and headline along with the career-relevant content you share keeps you top of mind.
If you are actively job searching, I highly recommend you like, comment or share one article a day.
At the end of the day, what you are doing when you are active on LinkedIn is building your reputation and personal brand so people know how to mentally categorize you and your work.
Sharing Status Updates and Commenting Helps Too
Sometimes you will come across a great article someone has shared. Use the share button to share it and in your introduction, give credit to the person who posted it by tagging them (using the @ and typing their name).
Even commenting on content people have shared on LinkedIn can help build new relationships and expand your profile's reach.
Check out How To Post Engaging Comments On LinkedIn
Anyone Can See How Active You Are
Can you know…you see anyone's LinkedIn activities (likes, comments, shares or articles written on LinkedIn)?
Go to someone's profile and scroll down until you see the Activity section. If they haven't had any activity in 90 days, you won't see anything. However, if they have liked, commented or shared content you will see their most recent activities. You can also choose to "see all" and take a look at all their activities.


This is a good way to gauge a person's engagement on LinkedIn. It is also a great way to research someone to see what they are saying to whom.
Reputation Tip: Just as you can view the activity of LinkedIn users, so can others view your activity. Keep this in mind as you leave comments and share content on LinkedIn.
Formula For Sharing LinkedIn Status Updates
On LinkedIn or any other social network, use this formula to diversify your status updates and activities and prevent you from being too promotional.
1/4 Industry and/or occupational news
1/4 Company/brand news
1/4 Promote people in your network (reshare, kudos, congratulations, etc.)
1/4 Promote yourself (attending an event, recognition, presenting, professional achievement, etc.)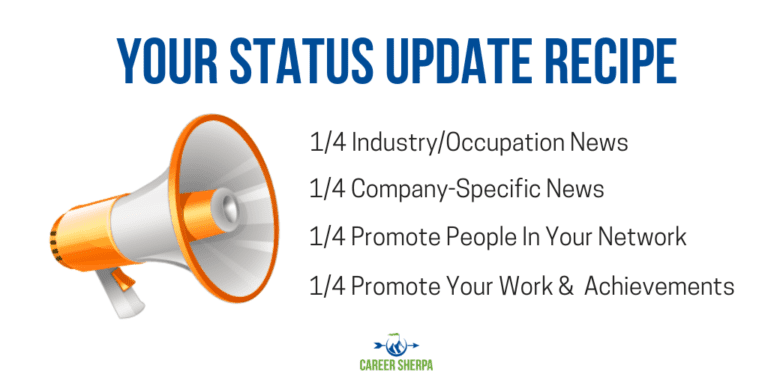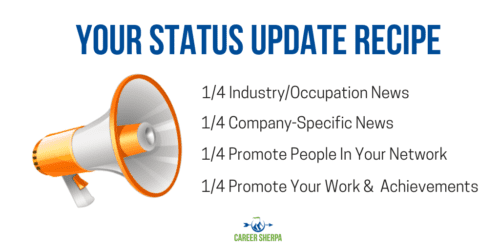 Get status update ideas: 10 LinkedIn Status Updates For Job Seekers
When thinking about updating your status, keep these additional points in mind:
Use visual images
Engage with people who comment on your posts
LinkedIn Native video performs well too!
If you need further guidance on how to share articles or update your LinkedIn status, check out this article: How To: 4 Ways To Update Your LinkedIn Status
Use LinkedIn To Get Your News & Updates
In order to post one status update a day, you need to have content to share. Reading and sharing relevant articles on LinkedIn makes it easier to share with your connections. Here are some ways to find interesting news:
LinkedIn suggests news and topics you may be interested in. It appears in a box at the top right of your home page.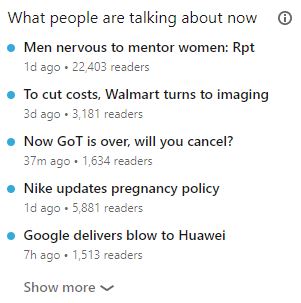 Skim your feed. This section shows the activities from your connections. And you can change the view from "Top" to "Recent" by clicking on the arrow.

You may be surprised by what you see with these two different views. (LinkedIn will default back to Top news).
Follow The Right Things
You can follow a person, company or hashtag to add content to your feed from that source. LinkedIn explains how to manage your feed here.
Follow People and Companies of Interest
If there are companies you are interested in, follow them so their posts show up in your feed. You can follow people instead of connecting.
You will find the "follow" option under the "more" button.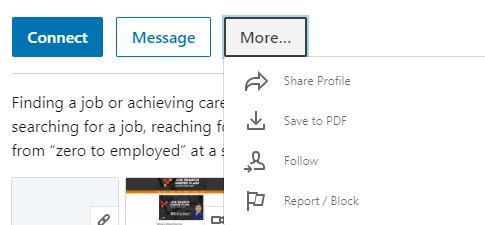 To learn more about connecting versus following, read The Difference Between Following and Connecting On LinkedIn.
Search & Follow Hashtags
Hashtags are categories or topics. You can search LinkedIn for hashtags that appear in articles or other people's status updates. Consider using 3 hashtags when you share articles too. This will help your shared content show up in search results.
Additional News Sources
If you don't want to rely on LinkedIn to serve all your news needs, then read this article with suggestions for industry news sources A Super Simple Way To Get News
Here's your challenge…post one of these ideas Monday – Friday for the next month!
25 Inspiring Ideas for What To Post On LinkedIn

Hannah Morgan speaks and writes about job search and career strategies. She founded CareerSherpa.net to educate professionals on how to maneuver through today's job search process. Hannah was nominated as a LinkedIn Top Voice in Job Search and Careers and is a regular contributor to US News & World Report. She has been quoted by media outlets, including Forbes, USA Today, Money Magazine, Huffington Post, as well as many other publications. She is also author of The Infographic Resume and co-author of Social Networking for Business Success.