Add Social Networking to your mix
Social media/social networking isn't just about finding posted jobs…it is about building relationships.  These are tools to help you create connections which can lead to referrals. These tools do not replace anything- they are a new vehicle to help you find connections, build new relationships and convey your message to a broader audience (faster, cheaper and more effectively).
There Are Many Ways to Search For A Job
You can search your favorite job board or site. This is probably where you spend most of you time and energy. But you can also:
visit a company's career page
talk to recruiters
or network.
What if you invested all the time you spend searching job boards networking? You can and without leaving the comfort of your home.
Use social media to interact and track down insiders who might be able to refer you.
You Don't Have Time?
So, if I asked you how many hours you spent last week engaged in job search activities, you would say…
And if I then asked you how you spent that time, you would say…?
Now I am going to suggest you track this stuff plus spend even more time in your job search! Why?
Have you thought about what you are doing and how you are spending your time in your job search?
How Do Companies Fill Most Openings?
I can tell you that almost 50% of new hires come from referrals, but you probably won't believe me. So, I encourage you to talk to anyone you know and ask them how their company found their most recent hire.  Chances are, the candidate they hired was a referral from someone.
This is why building relationships is so important to your job search activities and why I am going to suggest you spend more time than you have been.
Your Job Search Activities
The job searching activities haven't changed. However, incorporating the power of social networks into your backpack of resources is worth considering because employers are using social networks to source and hire! Here's proof you need to figure out social networking.
Pursuing Job Postings
Job boards like Indeed, Monster, CareerBuilder, LinkUp, Dice, etc. are still being used by employers.  Minimize the time you spend scouring the job boards by creating alerts.
Add the social fix: when you find a job posted on one of these sites and the employer is listed, go to the employers website, check out their careers or job opportunity page and see what is there.
Then, see if they have a Facebook, Twitter or LinkedIn button.  Follow them on all those platforms.
See what they are posting about themselves, find and follow people who work there, hopefully in the department or area you are seeking employment.
Building Connections
Now comes the fun part! Don't just send a stranger an invite to connect on LinkedIn. They don't know you…yet.
Reshare some of their Tweets with sincere praise or additional thoughts
Respond to their discussion within the LinkedIn groups they belong to
FYI: If you share a group with someone and they haven't changed the default security settings, you can send them an email through LinkedIn.
Learn about their culture on Facebook and again, you have the opportunity to add to their discussions.
Recruiters Have Jobs to Fill
Go to the job boards and see which recruiters are posting the kinds of jobs you are interested in.  Then go find and follow them like you did with employers.  All the same suggestions apply here.
Are you looking for a list of recruiters to follow on Twitter.  Here a list of recruiters I follow.  You can add this list to your own set of lists on Twitter.
Keep an eye out for Bullhorn.
This new form of job posting is being used by companies and outside recruiters too.
Once you see a job, you can do some neat things.
Directly apply for the job from the ad on Bullhorn…simple.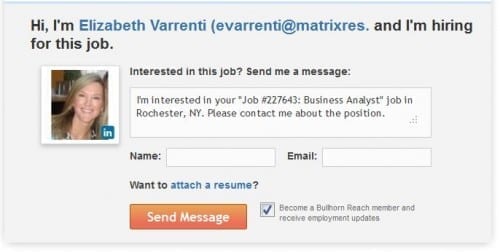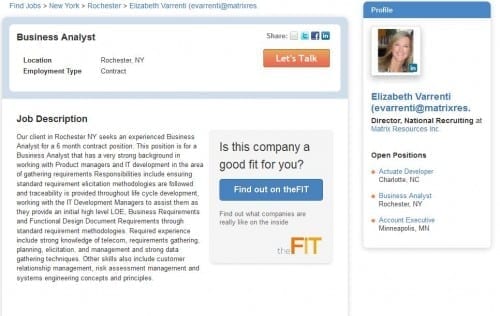 You can see what other positions that recruiter is trying to fill under their profile
You can easily share this posting on LinkedIn, Facebook, Twitter or by email.
I know several recruiters who are using this tool.  It seems to me like the right direction for filling positions!