It is hard to know what's working and what's not if you aren't tracking your job search activities and how you are spending your time.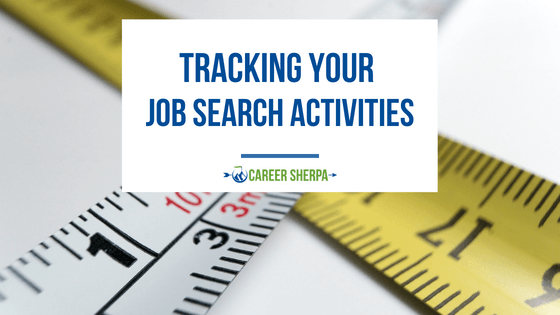 I remember asking a job seeker how many jobs they had applied for in the past week.
Their response: "A lot."
Probing further, I asked for a number – even a range. The person couldn't estimate how many. (This isn't unusual.)
How can you fix your job search if you don't know what's broken?
Weekly Assessment
In order for you to diagnose what is working and what isn't working in your job search, you'll want to ask yourself these questions weekly:
Looking back over the past week, what do you feel you've accomplished?
Where do you feel you fell short?
What will you do to fix or change this?
What are your goals for next week?
How will you accomplish them?
Is there an issue or problem you need advice on?
Setting and achieving goals, other than landing a job, will help you stay on track.
Tracking Activities
There are lots of ways to track your activities. You can create your own spreadsheet or use a system someone else has created. I don't like re-inventing wheels, so below are two solutions that work well!
Jibberjobber.com is a great job search tool. FREE. It is internet-based and user-friendly!
Huntr.co is a free tool that track contacts, notes, dates, tasks, documents, job descriptions, salaries, locations, company data and more.
Teal Job Tracker This free tool helps keep track of the jobs you've applied to and followup.
Orville Pierson wrote The Unwritten Rules of a Highly Effective Job Search. I've found his productivity chart to be super effective at tracking and evaluating job seeker activities!
Here's my version of Job Search KPI Tracker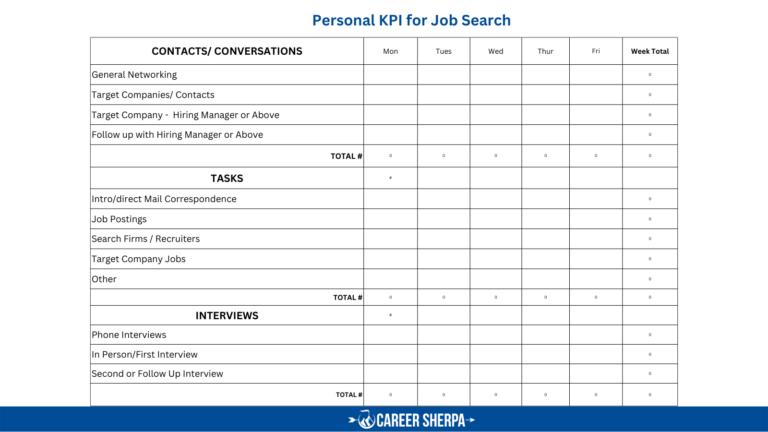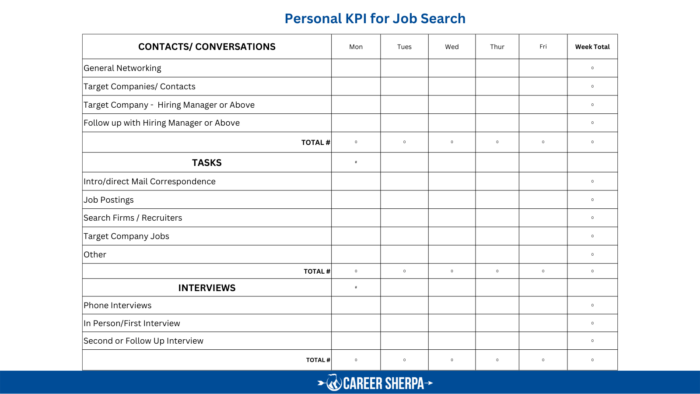 I've heard people complain that tracking this stuff is a job in itself. At first, yes, but after a while, it becomes easier.
Tracking Time
They say searching for a job is a full time job. There are many parallels between your job search and work. You need structure and goals. But I wouldn't suggest you overwork yourself.
30-40 hours a week is a good goal to work towards if you are unemployed.
If you are employed and looking, it will be challenging to carve out time, but strive for 3-5 hours a week.
Learn how to use time blocking to create a schedule for yourself by reading this Structure Your Week During Job Search
Tracking Networking Conversations
Keeping track of people you've spoken with or need to speak with and follow-up can be overwhelming. Read Tracking Your Networking Activities for more guidance.
Measuring Is Only A Part Of Your Job Search
To really get the most out of tracking your activities and time, meet regularly with an accountability partner and review it with them. Job seekers who try to do this solo have a very difficult time. They lose motivation when faced with rejection or indifference.

Hannah Morgan speaks and writes about job search and career strategies. She founded CareerSherpa.net to educate professionals on how to maneuver through today's job search process. Hannah was nominated as a LinkedIn Top Voice in Job Search and Careers and is a regular contributor to US News & World Report. She has been quoted by media outlets, including Forbes, USA Today, Money Magazine, Huffington Post, as well as many other publications. She is also author of The Infographic Resume and co-author of Social Networking for Business Success.