How many emails do you get a day? And what makes you open the message and skim its content?
Now think about how busy recruiters, HR professionals and other working professionals are. When you write an email, are you taking this into consideration?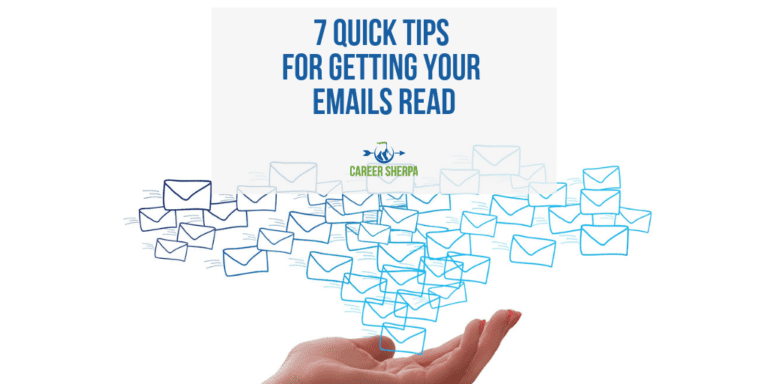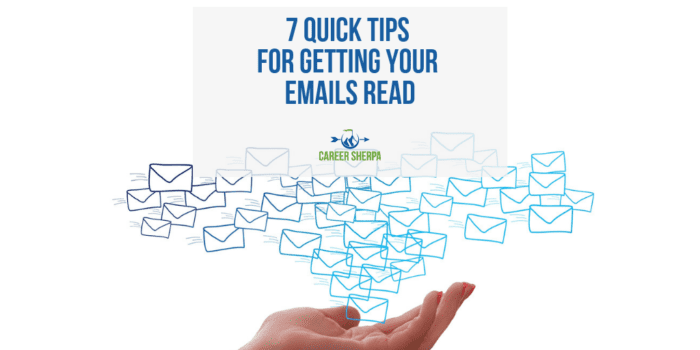 When you are in a job search, your emails usually ask the recipient to take some sort of action- look at your qualifications for a job, request an informational meeting, follow-up on a job interview or application. In all these instances, you are "selling" your email recipient on the benefits of taking the action.
Here are seven best practices gleaned from sales and marketing professionals that will increase the likelihood of your emails getting read and getting a response.
1. Include A Smart Subject Line
Every email must have a subject line, but what do you say to capture the reader's attention? It has to be geared toward the reader's needs.
When applying for a job, make it easy for the reader to categorize or search for your email. Your subject line should include the job title, job code, and your name.
When networking, use the referral name in your subject line, but only if you have permission to use their name! For example:
Jim Smith Says You're His Go-To Person for Training and Development
If you already know the person you are emailing, something like this may work:
Catching Up and Quick Question
If you don't know the person, but you would like to ask questions:
Requesting Your Expertise
2. Shorter Is Better
More than half of all emails are read first on a mobile phone or tablet, according to numerous recent studies. According to Marketing Tech Blog, the number of viewable characters in the subject line from a mobile device is between 33 and 44 characters. Therefore:
Keep your subject line between 25 to 40 characters or 5 to 8 words.
And as you know, reading long paragraphs on your mobile device requires concentration (and sometimes reading glasses). Your message needs to be short. Use concise bullet points to emphasize key points rather than long paragraphs. This tip works for those reading emails from the desktop, too!
Here are some more tips on preparing better cover letters.
3. Have A Snappy First Line
You want to entice your recipient to keep reading. Craft a standout first sentence. Instead of the email being all about you, your needs and desires, put the focus on the recipient's needs. Easier said than done, I know, so here are some examples.
When applying for a job, do more than the standard/boring "attached you will find my resume" opening line. You could start by highlighting how you helped your last company:
Saving customers is what I do. With over three years experience, I've kept hundreds of customers coming back for more by listening to what they really need.
When reaching out to network, include how the recipient will benefit (oh, and flattery will get you everywhere, as long as it is sincere):
Your recent article in Inc. about improving customer engagement got me thinking. I'd love to learn more and see if there are customers I may be able to send your way.
4. Clearly State Your Request
When you want the recipient of your email to take action on something, your request should be clear and easy. But don't make demands the recipient may not be capable of. This is especially true if you insist on a response from human resources when applying for a job. (It's not going to happen!) So be sure to state when YOU will follow-up as a pro-active measure.
If your request is time-sensitive, be sure to include the date and time by which you need a response or action. For example, if you are visiting a new city briefly, let your email recipient know the dates. However, do not use arbitrary dates or create a false sense of urgency.
Keep in mind the old journalism rule and make sure your message contains the answers to who, what, where, when, why and how.
5. Be Personal, But Not Too Casual
Emails can fall into one of two categories, sterile and void of personality or overly personal. Your email communication is your first opportunity to prove your communication skills and business etiquette and professionalism.
One secret to finding the right balance comes from an article by Henneke Duistermaat, on Copyblogger. Duistermaat, a copywriter and marketer suggests:
Write fast. Because that's how your enthusiasm and personality come through.
But don't stop there. Edit and refine your email to ensure its tone and formality is appropriate for the recipient.
This is where email etiquette comes into play.
Avoid slangy greetings like hey, yo or howdy.
Address someone you don't know by their full name.
Use good grammar, spelling and punctuation.
Don't use text-speak or abbreviations.
Don't use all caps
Chose a professional font and color for your email's text. See what not to do here.
6. Close Your Email Professionally
Always include your contact information, job title or tagline, phone number and links to your social media profiles in your email signature.
Here are some tips to craft a good email signature.
7. The Power of a P.S.
Back in the days when letters arrived in the mail, the postscript or "P.S." at the end of the letter was used by marketers as an attention-grabber. This may be true in emails too, as you tend to remember the last thing you read.
The P.S. could be a reminder of the deadline, the action you would like the recipient to take or a one-sentence summary of the benefits of taking action. A huge shout-out to Lea McLeod who recommends this approach.
P.S. What else have you done to get your emails read?

A version of this post originally appeared on US News & World Report On Careers

Hannah Morgan speaks and writes about job search and career strategies. She founded CareerSherpa.net to educate professionals on how to maneuver through today's job search process. Hannah was nominated as a LinkedIn Top Voice in Job Search and Careers and is a regular contributor to US News & World Report. She has been quoted by media outlets, including Forbes, USA Today, Money Magazine, Huffington Post, as well as many other publications. She is also author of The Infographic Resume and co-author of Social Networking for Business Success.