When writing your cover letter, you don't want to make mistakes that could turn off the recruiter or person receiving it.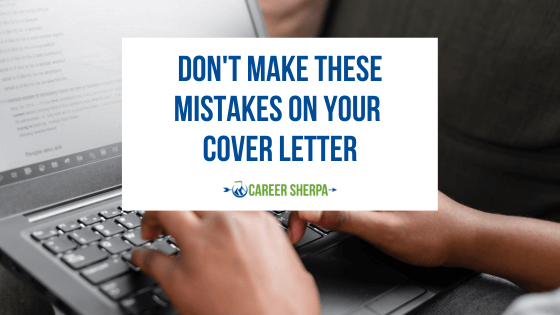 I am helping a friend find a Part-Time Office Administrator and have shared some of the basic job responsibilities with select groups on LinkedIn.  In my message,  I said:
For more details email me your resume and a super cover letter explaining why you are the perfect fit!
In my mind, I thought I was pretty clear that the cover letter should be super and explain why they are the perfect fit.  Perhaps I wasn't very clear.  This is one of the cover emails I received: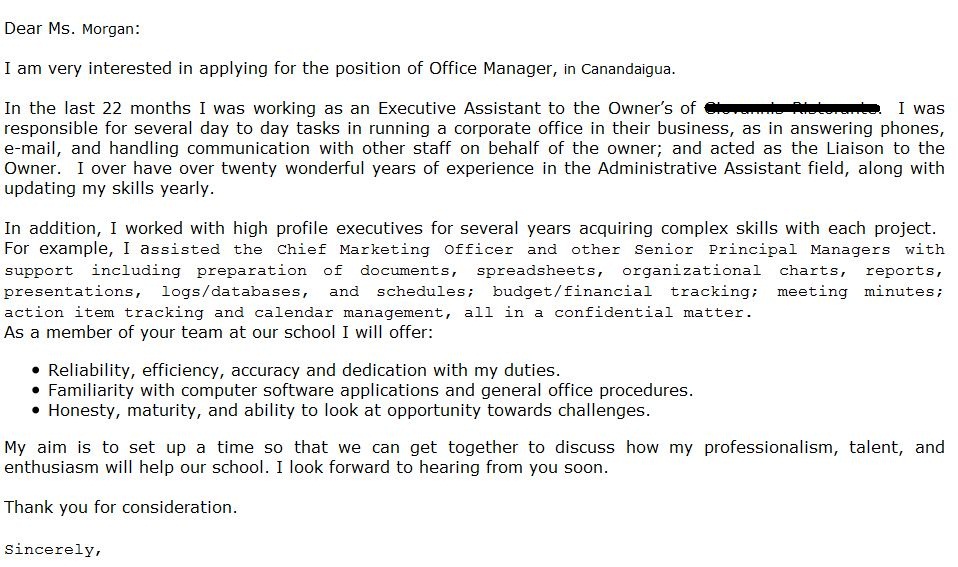 This is clearly a template and parts were victim of cut and paste.
How can I tell? Different font types and sizes appear throughout the email.
Here, I have highlighted 8 of the "thoughtless" mistakes that can be avoided.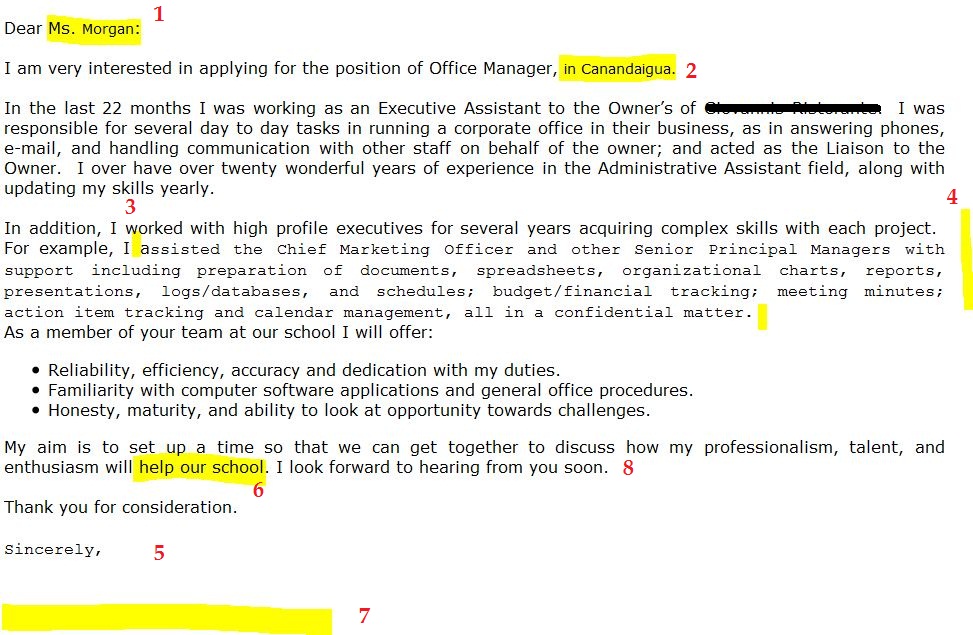 1. Different font style (appears smaller and this is the first thing I see when I open the email)
2. Again, different font style. Clearly typed in as part of a form or template.
3. Varying-sized text
4. & 5. This font style is different
6. Not sure what school this refers to, but it clearly has nothing to do with the job I was promoting.
7. The email had the person's name, but no telephone number or "signature" for me to easily contact the candidate or know anything more about the candidate.
8. This candidate expects me to call? Isn't she the one who is looking for the job? Shouldn't she be following up with me? She stated that her aim was to meet with me…
What a cover email/letter should contain:
Why you are interested in the job and the company
Who told you about the job (if applicable) or where you heard about it
Examples of specific skills mentioned in the job posting
Information that would make the reader believe you are genuinely interested in working for them
Using these points, you will show you know how to follow directions, you are a thoughtful communicator and will set you apart from the many job hunters out there.
Your cover letter might not get read, however, if it does, it should knock the readers' socks off, not bore them or annoy them.
For more help in writing a great cover letter, see this article:
Can We Talk About Your Cover Letter (tips to write a good one)

Hannah Morgan speaks and writes about job search and career strategies. She founded CareerSherpa.net to educate professionals on how to maneuver through today's job search process. Hannah was nominated as a LinkedIn Top Voice in Job Search and Careers and is a regular contributor to US News & World Report. She has been quoted by media outlets, including Forbes, USA Today, Money Magazine, Huffington Post, as well as many other publications. She is also author of The Infographic Resume and co-author of Social Networking for Business Success.