Follow these 12 timeless rules to build a better LinkedIn profile. Because your profile may be holding you back.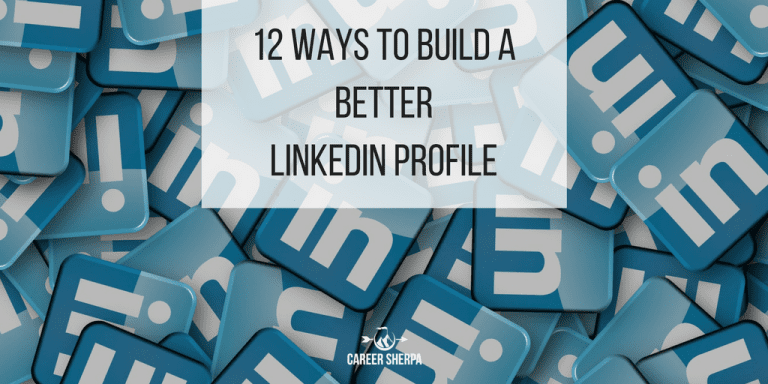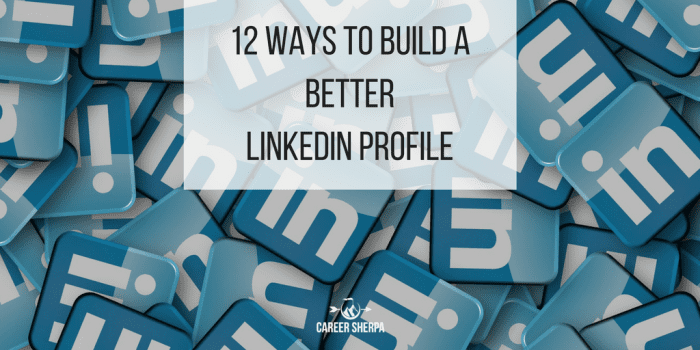 [Updated 2020]
LinkedIn's functionality and capability has changed over the years and perhaps that is why you'll find varying pieces of advice and wisdom. More and more, savvy recruiters and employers rely on LinkedIn to search for the right talent.
Here are 12 tips to build a better LinkedIn profile.
Tip 1: Get a decent headshot
Having a clear, professional, friendly-looking picture of you (and you alone) is expected. In fact, most profiles do have photos, so when I see a profile without one, my immediate and lasting impression is…why doesn't this person have a picture, for crying out loud? Really, is that the impression you want to leave? Here are some interesting stats on why you should have a photo. And upload a banner image too! It's great personal branding!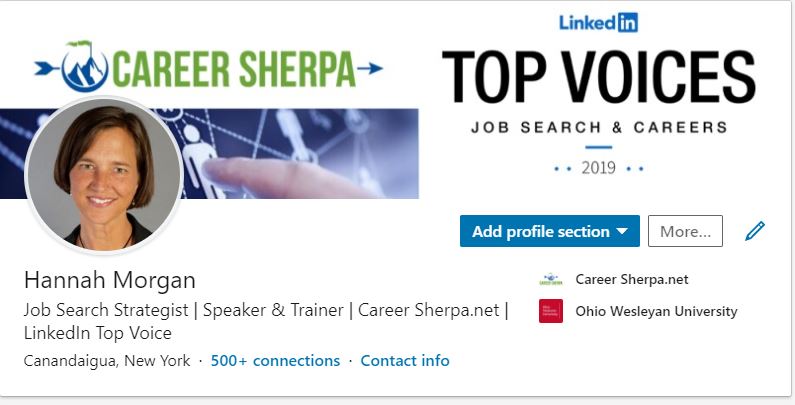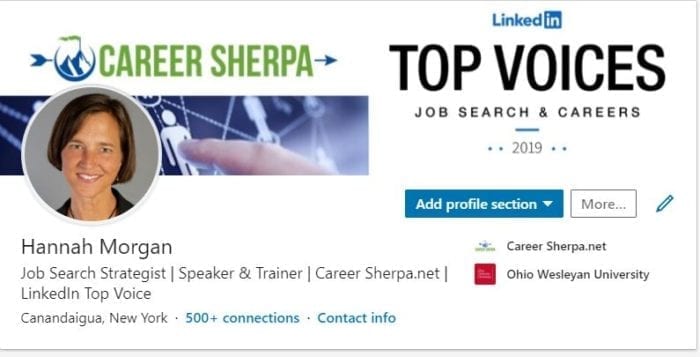 Tip 2:  Your professional headline should mean something
By default LinkedIn will use your most recent job title for you professional headline.
Don't do that!
This is one of the first things a visitor will see, so if the message isn't clear or exactly right, you could lose them.
Edit your headline to promote you in a meaningful way. You have 220 characters, use them wisely.   For examples of enticing headlines, check out these.

Tip 3:  Make your About/Summary sing
Your About/Summary, much like the summary on the back of a book jacket, is what compels people to read more and take interest.
While it's easy to want to cut and paste from the summary on your resume, don't. Tell your career story or at least answer the question "tell me about yourself" using complete sentences with pronouns. You have up to approximately 2,600 characters.
LinkedIn is a social network and people want to know you a little deeper. I see more and more summaries written in the first person, "I value.." "My lifelong dream…" . This makes it more personal. I am not suggesting it get too personal, just real enough so your true personality shines through.
What to put in your About section.
Tip 4: Keywords count
Employers and recruiters are masters of search. They know the key words they are looking for.
Do you use key words in your About/summary section? Have you added Specialties? Have you answered the question "Tell me about yourself?"
Because using both keywords and explaining your motivation, successes and skills is really important.
Research and use the right keywords for your industry and occupation. These are typically the specific skills required in job postings, and no, I am not talking about "hard-working", "dedicated", "trustworthy."
I am talking about software, terms and industry knowledge. Get familiar with this and begin to immediately incorporate them into your summary. If you don't use them…you don't have them.
Tip 5: Turn off your activity broadcasts
*
What is that, you may ask? Whenever you make changes to your profile (any change) every one of your contacts is notified.
If you are in stealth job search, you don't want to tip off your network as you make changes.
It is unfortunate, but all too often true, that people don't update their LinkedIn profile until they are ready to search. You can stop these activity broadcasts by changing your settings. Pssst: if you are already an active user of LinkedIn add people to your connections and regularly update your profile, this may not send any red flags.
*CLARIFICATION: Yes, you do want to ping your connections but with the right pings. Tons of updates to your profile all of a sudden is a sure sign you are looking for a new job. Once you have made edits to your profile, turn this notification BACK ON!
Tip 6: Update your status regularly
Your status updates/posts can show up in your network's home feed. Showing activity on LinkedIn improves your likelihood of being found or remembered, plus it makes for a better LinkedIn profile.
This is a super way to increase your network's awareness of you. It is also a great way to begin building your personal reputation.
Examples of things to update your status with? An event you will be attending- including the link; a great article about your industry or occupation; good news about your company, you or a colleague; recommendation of a book; anything that shows you are professionally committed. Check out this list of 20+ Inspiring Status Update Ideas for LinkedIn.
Tip 7: Add all your email addresses
If you have only listed your work email, you will absolutely want to include your personal emails as well.
What happens if you are unexpectedly asked to leave your employer? You no longer have access to your work email and therefore, lose access to your LinkedIn profile. While this can be fixed, it takes a bit of work on your part, so be smart and include your other email addresses.
Tip 8: Don't use the default Public Profile URL
If you haven't started including a link to your LinkedIn public profile, you should. Put it on your resume, your business cards and use it in your email signature. But before you do this, customize the URL so it just includes your name. It looks more professional.
Tip 9: Stop Hiding
You want to be visible. You want people to know if you've looked at their profile. Can you stop using "anonymous LinkedIn user"! And really, why don't you want me to know your last name? If you will be searching for new employment or are seeking employment, open up your profile and let people see who you are.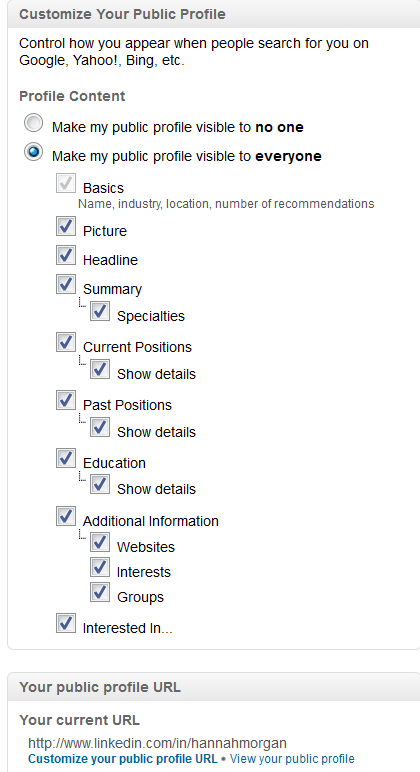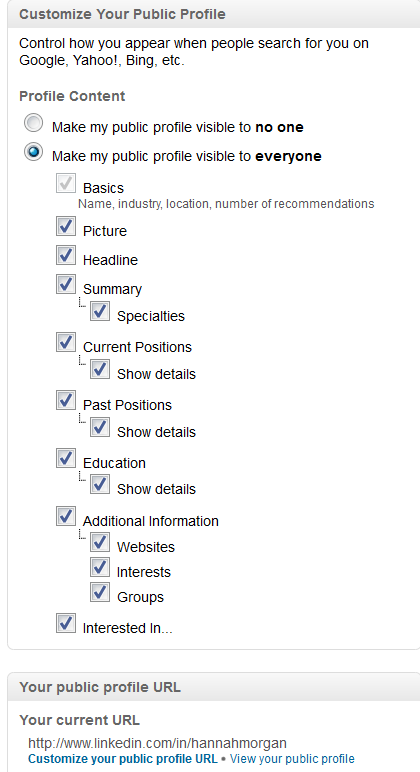 Tip 10: Enrich your profile with media
Showcase examples of your work using Slideshare or Box files. Maybe you have customer testimonials or letters of recommendation that you want to show off.
Create a presentation or scan the letter into Box for everyone to have access to. I use them on my profile. I wrote about using LinkedIn's apps in this post: Make your LinkedIn richer by embedding media.
Tip 11: Website links? Customize those too!
Instead of using LinkedIn's default title for linked websites/urls, "My company website" "Other website", you can edit their labels. They have to be short to be viewable. It really helps the viewer understand what they'll find if they decide to click through. (That's what you want, isn't it?)

Tip 12: Yes, you really should get recommendations
You can't be sure they will tip the scales in your favor, but you shouldn't discount them either. Give to get is the motto. Write a recommendation for a colleague, partner, vendor, manager… someone you worked with and genuinely would like to share your appreciation towards.
Wrapping Up
I really wanted this to be called, how to build a better mouse trap…because you want your profile to "catch" the viewer's attention…

Hannah Morgan speaks and writes about job search and career strategies. She founded CareerSherpa.net to educate professionals on how to maneuver through today's job search process. Hannah was nominated as a LinkedIn Top Voice in Job Search and Careers and is a regular contributor to US News & World Report. She has been quoted by media outlets, including Forbes, USA Today, Money Magazine, Huffington Post, as well as many other publications. She is also author of The Infographic Resume and co-author of Social Networking for Business Success.