Do you wonder what to put in your LinkedIn headline when unemployed? You're not alone!
Your headline should promote YOU, not your employment status, so check out these examples.
Updated August 2019.

LinkedIn Headline When Unemployed
By default, LinkedIn uses your current job title and company in your headline, but what happens when you're unemployed?
Your headline is more than your job title and employer. It should explain your most marketable qualifications.
Here's why.
Your LinkedIn headline and photo are the only parts of your profile that show up in search results within LinkedIn. Your headline answers that question.
However, a job title alone doesn't paint an enticing picture. Nor does it differentiate you from the other people with the same job title listed on LinkedIn.
Announcing You Are Looking?
Your headline seems like an obvious place to announce you are unemployed and looking for a new job. But is it?
I don't think so.
There is no reason to highlight the fact that you are unemployed, in transition, or looking for your next opportunity.
Recruiters will never search for candidates using "unemployed" or "in transition." The fact is, recruiters do not care if you are employed or unemployed. What they care about is whether you have the qualifications they are looking for. That's when they want to talk to you. The honest truth is that recruiters may not be as interested in you if you are unemployed. To better understand what recruiters look for in a LinkedIn profile, check out this article by Jobscan.
Some experts recommend using #ONO (open to new opportunities) in the headline, but I'm not convinced this makes any difference to recruiters or hiring managers.
If you wonder where to indicate you are looking for a new job, I've got that covered later in this post.
LinkedIn Headlines with Impact
Here are three examples of LinkedIn headlines for unemployed that show value.  They are conservative, yet still have an impact! Your headline can be up to 120 characters including spaces, therefore, every word counts! And take note, none include a reference to being unemployed, seeking new opportunities or looking!
Operations Manager. Skilled in warehousing, purchasing, P&L, inventory management and logistics
Helping clients find solutions to challenging problems in electronics design, test, measurement and fabrication
Creative HR exec and operations manager. Experience with diversity HR practices, entrepreneurship and strategic partnerships
Looking for more help crafting your headline?  Check out Fix Your LinkedIn Headline Today
Update Your Career Interests
Instead of stating your employment status on the front end, maybe updating it on the backend will make you feel more truthful.
Your Career Interests section allows you to specify you are open to new opportunities. It's under the "jobs" tab.
Only people with LinkedIn recruiting tools can see this information and only those who work outside your company.

Here is the information you can include in your Career Interests. There are six parts:
1. Write a note to recruiters explaining when you can start, why you are looking, or something else you think they need to know about you.

2.  Select where you are in your search. This helps recruiters understand your situation.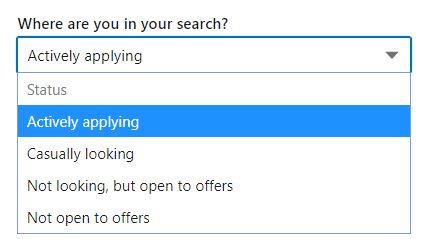 3.  Specify job titles you are interested in (use job titles LinkedIn suggests as you type)
4.  List cities where you want to work
5.  Answer if you are interested in remote work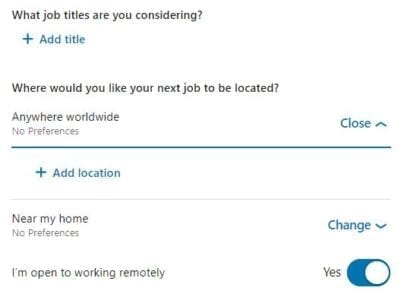 6.  Specify the terms of employment/types of jobs you are open to.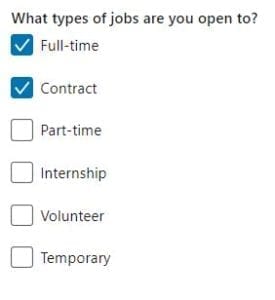 Using Career Interests is a much smarter way of signaling recruiters you are open to new opportunities.
The bottom line:
Your LinkedIn profile should market/promote YOU! Not your employment status, previous employer or education!

Hannah Morgan is one of this year's LinkedIn Top Voice in Job Search and Careers and a nationally recognized author and speaker on job search strategies.  She founded CareerSherpa.net to combine her career expertise with her love of writing, speaking and social media. Her mission is to educate professionals on how to maneuver through today's job search process.  Hannah is a regular contributor to US News & World Report. She has been quoted by media outlets, including Forbes, USA Today, Money Magazine, Huffington Post, MarketWatch, LifeHacker, The Muse, Business Insider, SmartBrief, Payscale as well as many other publications. She is also author of The Infographic Resume and co-author of Social Networking for Business Success.