They say a picture is worth a thousand words…what words does your LinkedIn profile picture shout?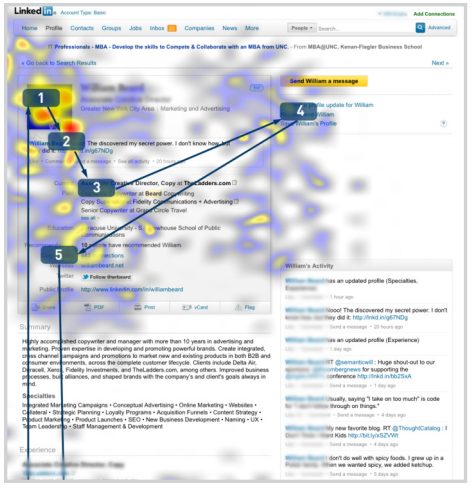 TheLadders eye tracking study found that 19% of recruiters' time is spent looking at your photo on LinkedIn. While we can complain and say that's descriminatory, the facts are the facts.  It may go all the way back to how are brains work. Subconsciously, humans looked at faces to determine whether the individual is a friend or foe. Blame it on dna.
Many of the job seekers I've spoken with believe that including a picture will encourage age discrimination.  Sad and maybe true.  But each person needs to think about this and make the appropriate choice for themselves, rather than using a blanket-excuse.
What message are you sending by NOT having a picture?
With the majority of profiles today having pictures, NOT having one can almost work against you. Is this what you want to say:
I do not have a picture and am too lazy/cheap to have one taken.
I am old/ugly and don't want people to see me.
I do not know how to upload a photo (read as, my technical skills are outdated) Learn how to upload your picture here!
There is another excuse/reason…I am a very private person and don't want to make my photo public.  Seriously? What are you hiding? Have you googled your name and seen what images/photos come up already, without your permission?  People hire people, not faceless avatars.
Urban legend has it that you're seven times more likely to be viewed for opportunities if you've got a picture on your LinkedIn Profile…
How old do you really look?
Do you look like Grandma Moses? Is it the grey hair you are worried about or is it the out of date glasses and hair style?  The easy solutions would be to lose the glasses and dye the hair, IF these are really your concerns.  What are you really afraid of?
Hire a Professional
With the magic of Photoshop and other editing tools, your photo doesn't have to harm your chances.
Advice from others:
These are some posts from others I think you may enjoy skimming for information and insight on this topic:
LinkedIn Profile Pictures: Should You Display Your Photo from Neal Schaffer of Windmill Marketing.
Does My LinkedIn Profile Really Need a Photo from Meg Guiseppi of Executive Career Branding.
Your LinkedIn Profile Picture May Be Killing Your Job Prospects from Joshua Waldman of CareerEnlightenment.
The Bigger Picture (pun intended!)
And my final words are about managing your career! LinkedIn isn't just a job search tool! Many professionals use it to develop new business, solve problems and interact with others. If you look at the long term investment (bigger picture), having a picture helps people "see" you.  It helps establish trust through transparency. It is about being authentic and real!  Other words of wisdom…use your image consistently across the different social mediums. It makes it easier for others to recognize you! (Sometimes they call it personal branding…)
So what is your reason for not having a photo and making it public?