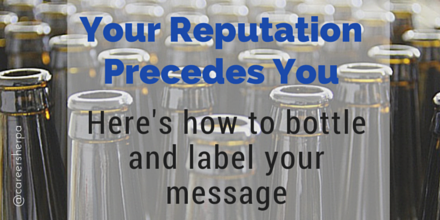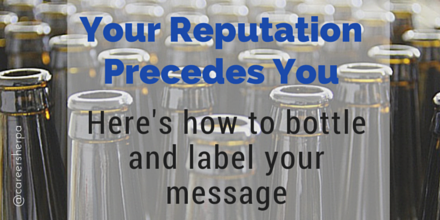 We all have a reputation…something we are known for by those people we call friends. It could be a skill, a personal quality, or an interest. Isn't it time you shared it with a greater audience? Here's a trick to bottle and label your professional and personal reputation. 
There's a lot of talk about personal branding and while the definition varies widely, the basic gist is that you should be able to bottle and label your professional and personal reputation. This is no easy feat (as you may have already discovered).
Testimonials Help Tell Your Story
But sometimes we tend to over-think it. Your reputation is right under your nose. Gather up the emails of praise or recognition you've received from colleagues (customers, co-workers, supervisors, volunteer leaders, groups, etc). Awards? Certifications?
Do they tell a story? This is your reputation. You and only you, are  on the receiving end of all this great feedback. It is your responsibility to share the data and information.
Compile the testimonials in a PowerPoint presentation (or if you prefer, Prezi or Keynote). Put only one endorsement per page. (Leave off the last name if you haven't asked permission to share.) Now add logos, pictures, images appropriate for each slide. Voila. You have just completed documenting your reputation.  Review, finesse and get feedback from those you trust and respect.
Once you're satisfied with the results, create a free Slideshare account and upload your presentation.
Name your presentation
At the very least, include your name in the title of the presentation. You may also include your occupation. Slideshare will also give you the opportunity to tag your presentation. This is how you someone may find you, so be sure your tags include key skills you want to be known for.
Share on LinkedIn
Consider LinkedIn your online portfolio! It is also the place where 93% of recruiters are going to find talent! You can add your Slideshare presentation to your LinkedIn profile (if you've been given the update) by clicking on the blue box.
Bonus:
Slideshare tracks how many people have viewed your presentation. They will send you occasional email updates telling you how many people have viewed your presentations!
What Are You Waiting For?
None of this is too complicated or difficult, so why haven't you done it yet? What are you waiting for? Why are you concealing this great story about you? There are a bunch of great articles in this post about privacy and your job search!
If you are looking for additional help building out your on-line reputation, check out this presentation with ideas about other places to place your message!

Hannah Morgan speaks and writes about job search and career strategies. She founded CareerSherpa.net to educate professionals on how to maneuver through today's job search process. Hannah was nominated as a LinkedIn Top Voice in Job Search and Careers and is a regular contributor to US News & World Report. She has been quoted by media outlets, including Forbes, USA Today, Money Magazine, Huffington Post, as well as many other publications. She is also author of The Infographic Resume and co-author of Social Networking for Business Success.