As college Freshmen begin unpacking their stuff and moving into dorms across the country, I wanted to share some important information.
Your reputation begins today. It is too important and can't wait until senior year!
As the wise Warren Buffet said:
It takes 20 years to build a reputation and five minutes to ruin it. If you think about that, you'll do things differently.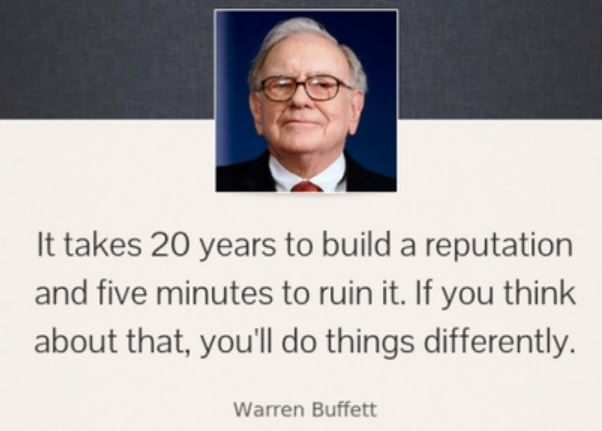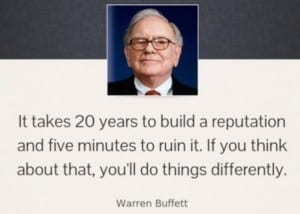 "It" Begins the Day You Arrive On Campus
"It" is your reputation. And your reputation is how people perceive you and/or what you are known for.
What better time to give careful thought to your image and character. In many respects, freshman year is a time of new beginnings. The slate has been wiped clean with your set of new friends.
Your reputation begins today!
Online- Your Reputation Is Already Out There- Keep It Clean
Profanity, photos, extremism…these things damage your reputation, so keep it clean online. Heck, in person too.
I realize Facebook may be the "weapon of choice" to keep in contact with friends. Please make sure you have chosen the appropriate privacy settings for your status updates. Usually this is "friends." And be careful when posting from your mobile device, those privacy settings can sometimes change and you don't want to send updates to the entire Facebook universe accidentally.
Your Parent's Didn't Tell You This…
There are three things your parents probably didn't tell you.
1) Get a job, internship, co-op every year! You need work experience because your future employer expects it. It is one thing to get good grades and another thing to have good work ethic and apply what you've learned. No excuses, get work experience!
2) Join on-campus activities! Clubs, groups, sororities, whatever. Become involved on campus. These activities provide leadership opportunities, build interpersonal communication, and build your network!
3) Link with people! Don't wait until senior year to begin thinking about who you know who can help you find a job. Begin building these connections on LINKEDIN today. Oh, you don't have a LinkedIn profile? Go get one and connect with the professors, alumni, group leaders and people you will work with!
Build Your Portfolio
The experiences you will have over the next for years can be documented in your online portfolio! Don't just tuck those awards and projects in a folder- post them to your online portfolio (either on LinkedIn or on your own website!) This becomes visual proof that you have skills and experience!
Congratulations and Good Luck
Make it the best four years ever! But never forget, perception is reality! Be the best you possible!
And begin building your reputation today!
PS: I delivered this message to RIT freshmen last year and will be delivering it again to them today! This was last year's shot from the stage at over 2,000 freshmen. And here is a link to the video of my presentation!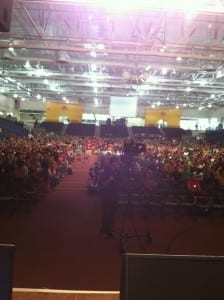 Hannah Morgan speaks and writes about job search and career strategies. She founded CareerSherpa.net to educate professionals on how to maneuver through today's job search process. Hannah was nominated as a LinkedIn Top Voice in Job Search and Careers and is a regular contributor to US News & World Report. She has been quoted by media outlets, including Forbes, USA Today, Money Magazine, Huffington Post, as well as many other publications. She is also author of The Infographic Resume and co-author of Social Networking for Business Success.