Virtual networking advice should include actionable steps not just theory. Here is virtual networking advice from 29 career experts you can actually use.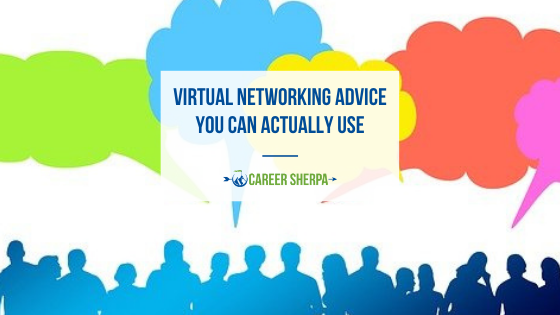 Networking virtually may have become the new normal for everyone – those working and those not working.
We all learned a lot about how to build relationships with people using social networks, online events and Zoom.
To help you refine your virtual networking strategies and just get more comfortable with meeting people online, I reached out to my career and job search colleagues and friends to ask for their best tips and virtual networking advice. You'll find tips, insights and advice about:
Where to network virtually
Who are good people to network with online
How to find people to virtually network with
What to say when reaching out
How to overcome your fear/dislike of networking online
Who and how to engage with people on LinkedIn
And mistakes to avoid when networking virtually
A Must-Have Skill
Learning how to network online is a new skill we all need to develop as we move forward in our careers.
Actually, virtual networking is a complex set of skills. It's a combination of written communication skills, being aware of the situation (the forum/platform) and empathetic to those you are communicating with or who can see what you are saying. It's knowing when to be humble and knowing when to take credit. Sure, personal branding and getting your message out is important but virtual networking means you embrace the idea of giving and not just taking. You also communicate like a real human with compassion, civility and imperfections.
As an introvert (I know many of you are too), I have found networking virtually is much more comfortable than attending those large, in-person events. I pick and choose when, where and who I want to meet. And as long as I've psyched myself up for the networking encounter, I'm ready! Well, almost.
Many thanks to these experts for sharing their virtual networking advice: Brenda Meller, Jacob Share, Terrence Seamon, Brenda Abdilla, Bob McIntosh, Loren Greiff, Biron Clark, Jessica Sweet, Mark Anthony Dyson, Andy Foote, Matthew Warzel, Kenneth Lang, Nii Ato Bentsi-Enchill, Austin Belcak, Erin Kennedy, Shelley Piedmont, Dorothy Dalton, Jessica Hernandez, Adrienne Tom, Lisa Rangel, Meg Guiseppi, Virginia Franco, Lezlie Garr, Donna Serdula, Jack Kelly, Dawn Graham, Donna Svei, Susan P. Joyce, Ashley Watkins.
WHERE TO NETWORK VIRTUALLY
People Who Are Active
People Who Can Help Your Career
Experts & Thought Leaders
WHAT TO SAY WHEN REACHING OUT
BUT BEFORE YOU CONNECT ON LINKEDIN…
REACH OUT MORE THAN ONCE
PREPARATION, ORGANIZATION & RESEARCH
ENGAGE ONLINE
MAKE A BOLD MOVE
MISTAKES TO AVOID
PRACTICAL VIRTUAL NETWORKING ADVICE
NEED MORE VIRTUAL NETWORKING ADVICE?
Not only can you follow all the experts who contributed on LinkedIn and/or their websites, but you can also get more virtual networking advice in these articles:
What You Need To Know About Searching For A New Job In 2021