This week's summary addresses some of the sides of a multifaceted job search. Your job search is made up of actions, strategies, emotions and so many other elements.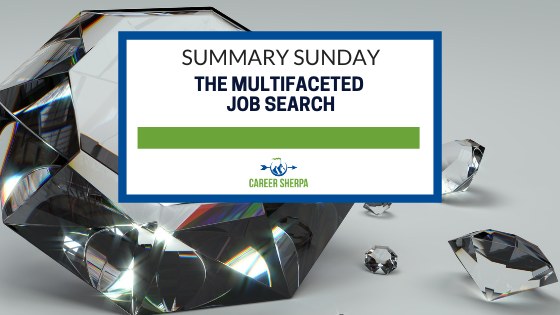 I often say
If job search were as easy as throwing your resume out there, you would already have a job by now.
You see, job search is complicated.
Yes, sure, you have to write a resume. But then what?
Selling yourself isn't easy, especially when there are a lot of other people out there looking for work.
And I don't need to tell you that job search takes a lot out of you mentally. It drains confidence and makes you second guess your goals and qualifications.
The multifaceted job search includes defining what's next, taking care of yourself emotionally and physically, learning how to negotiate what you're worth, developing new, in-demand skills, and adjusting for the future.
One thing I hear a lot is "I just want a stable job."
(When you find that stable job, let me know, I want one too.)
What I've come to realize is that stability comes from owning your career (your skills, knowledge and aligning your purpose). No one can take this away. You own your skills and knowledge. It's up to you to decide how to repackage it and take it where ever you want to go.
You can't put your job search or career on autopilot and expect you'll get where you want to go. It takes monitoring and evaluating trends and the economic landscape. It requires growing and adapting. And this is what you'll find in this week's multifaceted job search roundup.
JOB SEARCH
How to Get Back On Your Feet After Losing Your Job | The Balance Careers
7 Secrets to Keeping Your Spirits Up During Your Job Search | SkillCrush
NEGOTIATION
Getting the pay you deserve during the pandemic | Get Hired, LinkedIn
REENTERING THE WORKFORCE
The Overlooked Talent Pool: Women Reentering the Workforce | Inc.
WELL-BEING
COVID-Brain is a thing now. If you have difficulty focusing (I know I do) then perhaps some of these ideas will help.
How to Maintain Focus Despite Distractions | ATD
TRENDS IN CAREER DEVELOPMENT
What this points out is that workers at all levels now have access to training they need and want. And they are taking advantage of it! So have you signed up for any of these online courses?
The 20 Most Popular LinkedIn Learning Courses of the Year | LinkedIn
WORLD OF WORK – THE ECONOMY
How COVID-19 created a new kind of consumer in just 90 days | Fast Company
I shared and included this article because it's important to understand the shifts that are occurring in our world and to think about what opportunities they create for future job opportunities. Do you think this will have an impact on your specific career? Could it open the door for future opportunities. For example, if you have a retail background, what skills could you develop that would allow you to help retail employers reach more digital consumers?
Did You See These?
6 SIMPLE WAYS TO FIND CONTACTS INSIDE COMPANIES
DECISION MAKING…DOES IT COME FROM THE HEAD OR THE HEART?
THE RECRUITING PROCESS: 9 THINGS JOB SEEKERS SHOULD KNOW

Hannah Morgan speaks and writes about job search and career strategies. She founded CareerSherpa.net to educate professionals on how to maneuver through today's job search process. Hannah was nominated as a LinkedIn Top Voice in Job Search and Careers and is a regular contributor to US News & World Report. She has been quoted by media outlets, including Forbes, USA Today, Money Magazine, Huffington Post, as well as many other publications. She is also author of The Infographic Resume and co-author of Social Networking for Business Success.