Before the internet, finding a contact name of someone inside a company required a lot of work. Today, there are tools you can use to simplify the sleuthing process and find people inside a company you would like to work for!
[UPDATED January 2018]
LinkedIn
Of course, LinkedIn is the go-to tool for finding people.
Basic and Advanced Search
From the top search menu, type in the name of the person or company you want to search. You may want to start with company search to see who you know inside the company first. Those are your strongest allies.

Look over to the right and you'll see the options to refine your search criteria by first name, last name, company (past or present), job title,  industry, location, and school. Note this easy way to search for connections of a specific person. You can also search for people by level of connection (1st, 2nd, 3rd).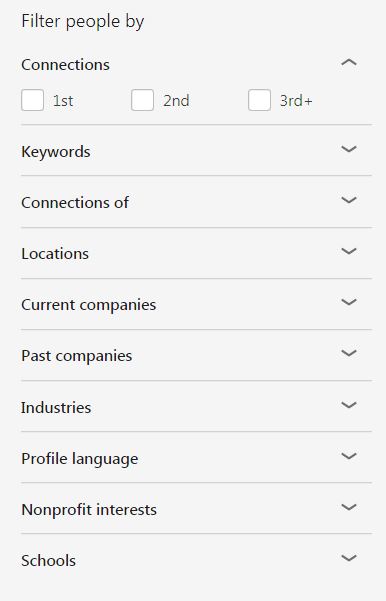 Google
Who would have thought that a simple Google search might uncover someone's email address. Well, it's worth a try! Just type in the person's name and the word email and see what shows up!
FaceBook
You're thinking "but Facebook isn't professional." We all know this. But when push comes to shove, who are the people most willing to help? Your friends and family. So try searching Facebook to find names of people you want to connect with. Then ask a friend for an intro via email. Because you can. You will see the people with mutual connections first, but don't overlook the option to search "Find all people named…" at the bottom.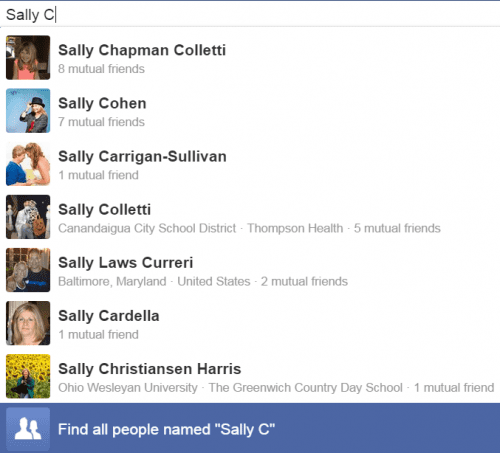 Twitter
Twitter, as you may know, is my favorite network! It is open and I've said before, people using Twitter are generally pretty open to networking, otherwise, they wouldn't be there. There are at least two options for searching for people on Twitter.
First, use the search box. Note: look down below to see the option to "Search for all people for Sally"
If this doesn't work, you can try the Twitter's Advanced Search (it isn't easy to find it, so I linked it there for you). For best results, enter the person's name in the "this exact phrase" box. If or when you find someone, send them a tweet which may look like this: "Would love to talk with you about XYZ company @Sally S"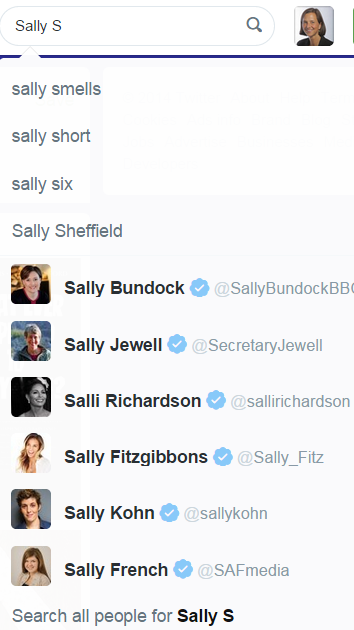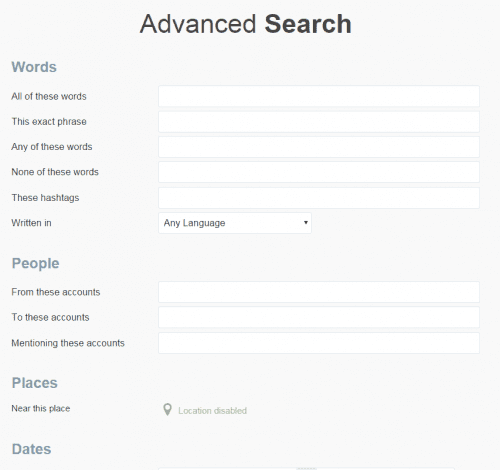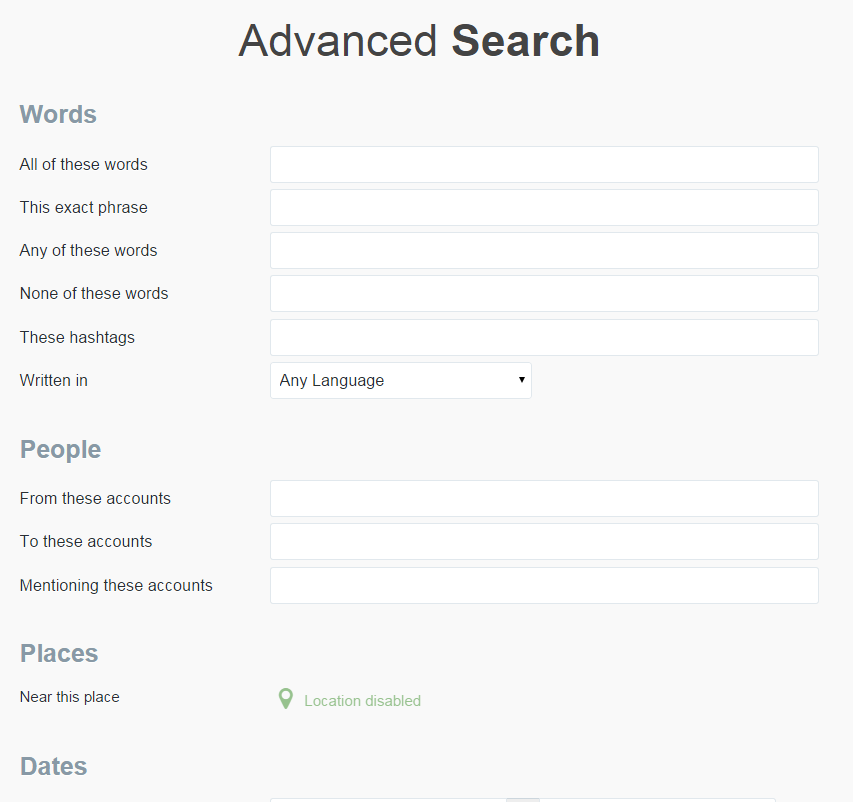 Google Plus
Google Plus is another open network! Many people with Gmail accounts will have a minimal Google Plus account.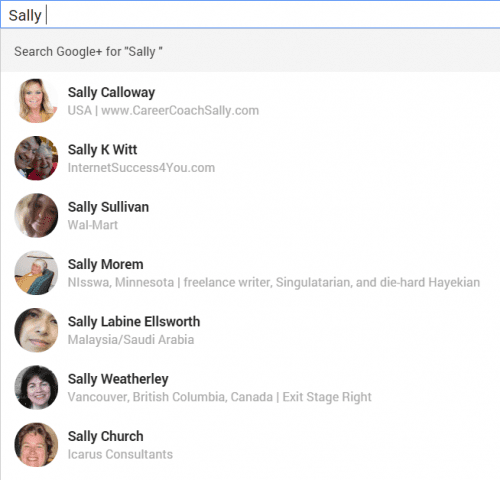 No email Address, No Problem
Recruit'em…a tool Donna Svei wrote about here with instructions, is a great alternative to messing around with x-ray search and boolean.
So if I ever hear you say, "I don't know anyone inside a company" again, I'm going to scream! Find them, ask for an introduction via email and call them! Voila, you're connected!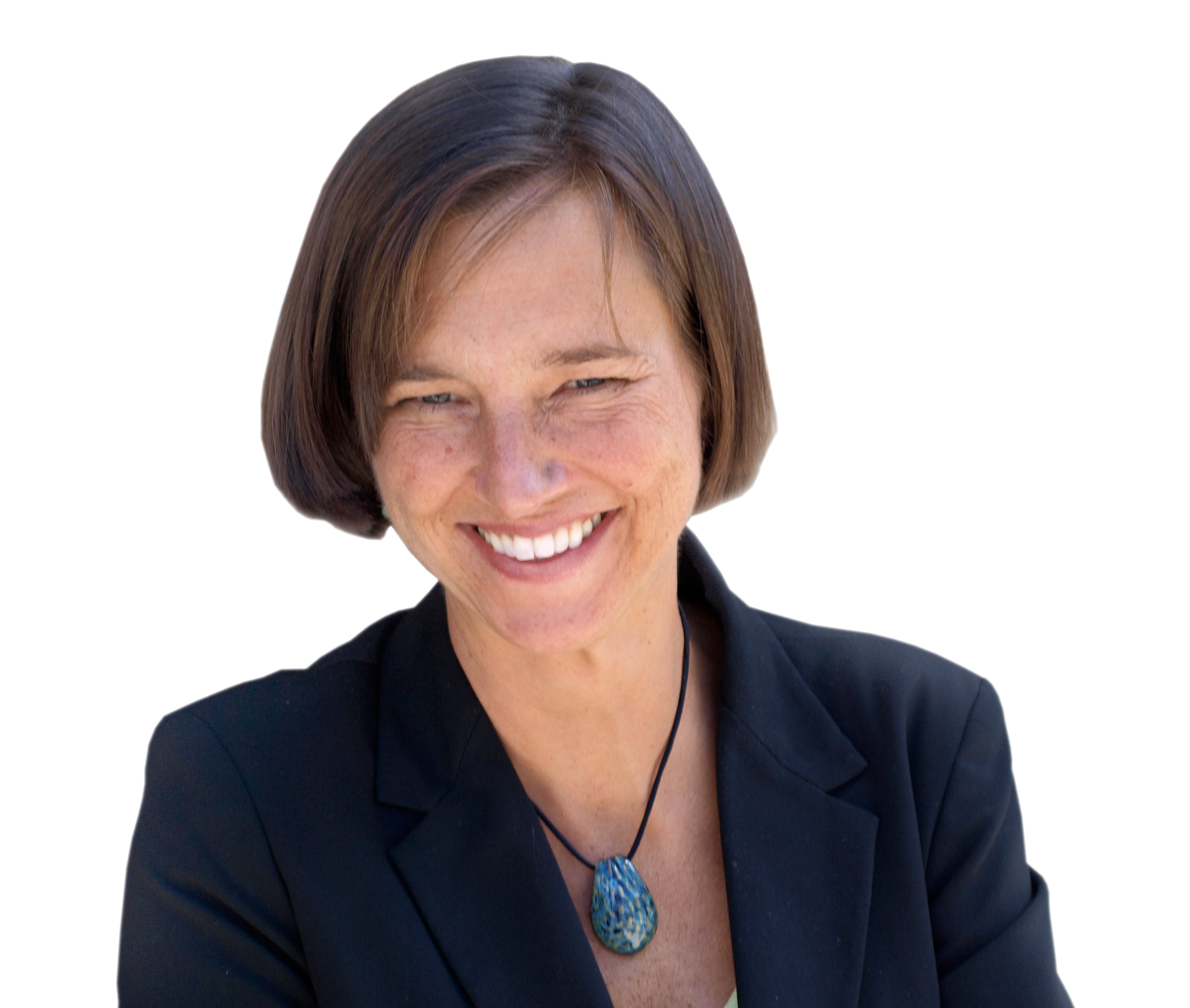 Hannah Morgan is a nationally recognized author and speaker on job search strategies.  She founded CareerSherpa.net to combine her career expertise with her love of writing, speaking and social media. Her mission is to educate professionals on how to maneuver through today's job search process.  Hannah is a regular contributor to US News & World Report. She has been quoted by media outlets, including Forbes, USA Today, Money Magazine, Huffington Post, Aol Jobs, LifeHacker, The Muse, Business Insider, SmartBrief, Payscale as well as many other publications. She is also author of The Infographic Resume and co-author of Social Networking for Business Success.