Now seems like a good time to reevaluate what's important to you in a career/job. Keep in mind, it is never too late to learn, grow and change!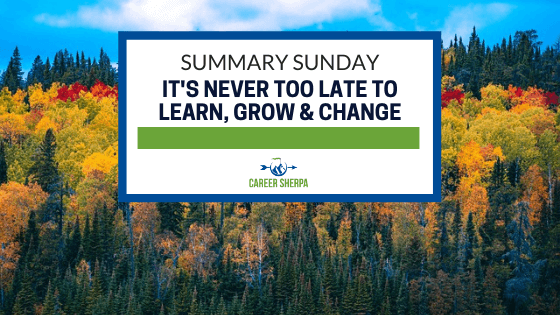 The Great Resignation has many contributing factors. It's a "perfect storm" of colliding priorities and values.
The other point to consider is that not everyone wants a career. Some people are perfectly happy going to work and collecting a paycheck.
Except when the work, environment, customers, clients, managers, and/or co-workers don't make the person happy.
If you are one of the 59% (according to LinkedIn's Workforce Confidence Index mentioned below) who are thinking about shifting jobs, careers or industries, you'll need to think about how you'll do it, when you'll do it and where you'll go. Map out a plan.
If you are over age 45, you also can make a shift, but you need to understand the biases. You also need to embrace a learning mindset. (See article below)
This week's summary is a collection of interesting articles about job search trends, interviewing LinkedIn, career and technology predictions.
JOB SEARCH TRENDS
Job Seekers Bet On a Fresh Start: 59% Now Consider Switching Industries | LinkedIn Editor, George Anders
Call it The Great Resignation or The Great Readjustment or "Reshuffle," see why job seekers are thinking of leaving their jobs according to the most recent LinkedIn Workforce Confidence Index.
Meeting the Midcareer Moment | Generations
"The key takeaway from a global survey—the first of its kind—is to provide an in-depth view of individuals age 45-60 seeking or working in entry-level and intermediate roles."
Hiring managers have a negative view of age 45+ job seekers.
But employers rate highly the job performance of people age 45+ they hire.
Job requirements have gone up
Training is valued by employers and 45+ individuals who have successfully switched.
But those who need it the most are hesitant to pursue training.
Learn about the biases and what YOU can do to overcome them!
JOB SEARCH
The following two articles address a similar approach to proactive job search.
Guess Who Can Get You a Job Interview In Just 20 Minutes? | Ask The Headhunter
Instead of chasing after job postings, why not target companies you want to work for but don't have advertised jobs yet? Can it work? Absolutely. See an example and read Nick Corcodolis' advice.
How To Write A Letter Of Interest + Effective Samples | CareerSherpa.net
Here's how to write a very specific letter to a person (not HR/recruiter) at a company you are interested in working for but that doesn't have a job listing.
* Note: This isn't a cover letter and resume. It is just a letter that explains how your skills/experience might help the organization. You are asking for a conversation.
INTERVIEWING
It's official, "What is your greatest weakness?" is the most difficult question among 4 | Things Career Related
See what the top 4 most disliked job interview questions are and what some job search experts recommend candidates say/do to prepare for them.
LINKEDIN
LinkedIn Skills — New Optimization Information | Donna Svei on LinkedIn
"Last week, LinkedIn Engineering published a report that included a section about skills standardization."
See why it's important to include the appropriate skills.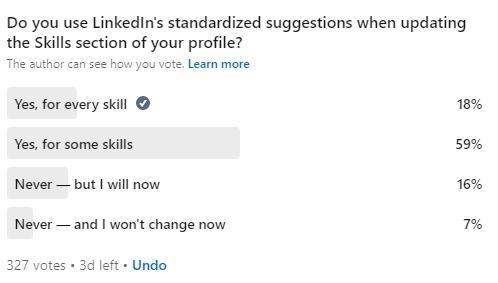 CAREER
9 Hidden Ways to Build Relationships At Work | Fast Company
Not only is this great advice for remote or hybrid workers, it's equally true for job seekers (who are also remote).
Here's why this is important. We are all craving human connection, even introverts! So rather than wait for it to happen, make the first move!
PREDICTIONS
Top 10 Tech Trends That Will Shape the Coming Decade, According to McKinsey | World Economic Forum
An interesting and complex summary of how technology will impact our economy and lives in the future.
We'll experience more technological progress in the coming decade than we did in the preceding 100 years put together, says McKinsey.
And 10 tech trends will dominate this shifting landscape.
Understanding the effects of this change can help avoid nasty shocks to the system, for both individuals and organizations.
Businesses that are making the most of advances in tech are also in a good place to make the most in terms of return on their investments.
CareerBrandVideos™
Stand out. Be Remembered. Attract Opportunities.
Customized Done-for-You Videos for Job Search, Career & Entrepreneurs.
DID YOU MISS THESE?

Hannah Morgan speaks and writes about job search and career strategies. She founded CareerSherpa.net to educate professionals on how to maneuver through today's job search process. Hannah was nominated as a LinkedIn Top Voice in Job Search and Careers and is a regular contributor to US News & World Report. She has been quoted by media outlets, including Forbes, USA Today, Money Magazine, Huffington Post, as well as many other publications. She is also author of The Infographic Resume and co-author of Social Networking for Business Success.