You've been asked to provide a list of references for a job…yikes! Who do you ask to be a reference and what should your list look like? Never fear. It's all covered here.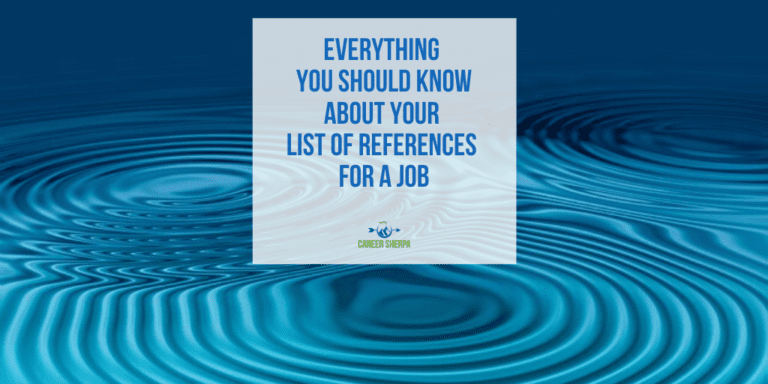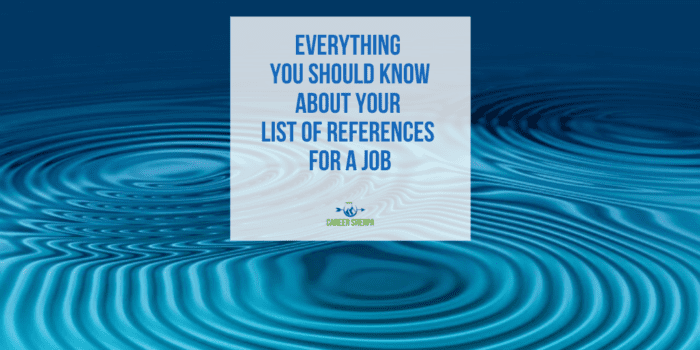 Once upon a time, you used the statement "References Available Upon Request" on your resume.
This statement is no longer necessary. Everyone knows you'll provide references when asked. See what a modern resume looks like.
In fact, when you apply for a job, you might sometimes be asked to provide reference names and contact information. (Don't provide that information on an application though. Type in "will supply during interview.")
So what does your list of references include?
Your Reference List Is More Than Names and Contact Info
Technically, all you need to supply is the name and contact information for your references.
However, there is one question every hiring manager has when reading your list of references- "How does this person know your work?"
Answer that question and you'll make your list of references more valuable!
Who To List As A Reference
Putting together the right list of references for a job will increase the chances of your landing the position. Choose carefully!
Anyone you do decide to list should speak positively about you.
Manager or Past Boss
Typically, references are managers or supervisors who you've reported into. But that doesn't always apply.
What if your past manager didn't like you (or you didn't get along or you aren't sure they'd say great things about you.)
If this is the case, select a peer or colleague, or someone else in the organization you worked closely with.
Colleague or Peer
Someone you used to work with may know better than your manager.
Volunteer Leaders
If you actively volunteered somewhere or served on a committee, a reference from someone in that organization can show skills other than those you used in a paid job.
Direct Reports
If you managed people, they can serve as a reference on how you manage and lead.
Others
Pick the people who will say the best things about your work ethic and skills as they relate to the job you are applying to.
If you don't have a lot of work experience, you could choose a professor you had a strong relationship with. If you have a strong working relationship with a client, they could serve as a reference. Or, you could even choose someone you have a strong working relationship with or someone (other than a relative) who can speak to your strengths.
How To Ask Someone To Be A Reference
Great, you've identified 3-5 people who will make good references, now you have to get their permission.
Never assume someone will be a reference for a job and list them. You need to ask first.
If you can identify 5 people contact them all. This gives you the flexibility of selecting the best 3 for each job you apply to.
Send each reference an email or call them and ask if they would be willing to serve as a reference. Also tell them you will keep them updated on any jobs that might be contacting them. Be sure to keep them updated on jobs where you've submitted your references.
Some employers have a policy that states employees can't provide professional references. However, they can serve as a personal reference. Just make note of that in your reference list.
What Information To Include On Your Reference List
All you need to do is describe your relationship with each of your references. When you provide a one-sentence description of how each person knows your work, it will help in the outreach and questioning during a reference check.
There's another reason this is important. The references you list may not work at the same company any longer, due to the fact that people change jobs so frequently.
When you describe how the person knows your work, indicate what role they held and how long they've known you and your work.
If there was an important project, you may want to reference that as well.
How To Format Your Reference List
Your list of references for a job should look similar to your resume. In other words, use the same header and font style you used on your resume.
List-of-References-example-2021

When To Share Your List of References
The best and most applicable time to share your references is during the job interview when you are asked for them.
This may happen during the first interview as part steps in the employer's hiring process or it may happen later in the interviewing process.
When an employer asks to check references, that usually is a good sign. Checking references is a time-consuming process or costs money or both.
Once you've been told the employer is going to check your references, contact each reference and give them a head's up. Let them know the company, job title and the key qualifications the job is looking for so your reference is prepared and equipped to speak to those skills.

Hannah Morgan speaks and writes about job search and career strategies. She founded CareerSherpa.net to educate professionals on how to maneuver through today's job search process. Hannah was nominated as a LinkedIn Top Voice in Job Search and Careers and is a regular contributor to US News & World Report. She has been quoted by media outlets, including Forbes, USA Today, Money Magazine, Huffington Post, as well as many other publications. She is also author of The Infographic Resume and co-author of Social Networking for Business Success.