Employers are hiring but layoffs are still happening and older workers struggle to find new jobs.
If you've been impacted by a downsizing or want to fight age discrimination, this Summary Sunday is for you.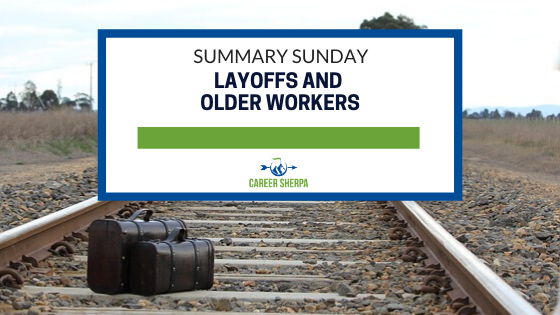 Just because you've been laid off and you're older, doesn't mean it's the end of the road for your career.
Even in today's "booming" economy, layoffs happen and older job seekers are having trouble finding new jobs. In both cases, you'll need to learn some new job search tricks.
Job search today is competitive and challenging and you want to have access to the most current information to help you win.
This week's summary will help those laid off, especially older workers, better compete for new jobs:
Understand how the hiring process works
How to prepare for job interviews
Learn about messaging tools, infographics and shareable content to help show you're not too old to adapt!
JOB SEARCH
Why Many Professionals In Their Late 30s, 40s And 50s Are Not Benefiting From The Tight Job Market
by Jack Kelly, werecruit.io | Forbes
As you read this, you might nod your head and say, "YES, that's what happened to me!" But to be honest, this happened in 2010 and has been going on ever since. The "why" isn't clearly answered. But, in reading this, I hope you realize you aren't alone.
5 Things You Will Never Know About the Hiring Process
by Marc Miller | Career Pivot
This is one of the most important articles you should read. Especially if you've been laid off and are an older worker. Marc says we often MSU (make stuff up) or assume we understand how the hiring process works. You don't! Read this!
This Is What Happens When Employers Can't Ask Job Applicants About Salary History
by Andrew Keshner | MarketWatch
"Workers who did not show potential employers their pay history had double-digit jumps in their wages and were able to bargain better wages than workers who revealed their past pay"… Read the full article understand why this is such good news!
Please Don't Apply To Every Open Job You Like At A Single Company
by Monica Torres | HuffPost
When a company has many job postings and you want to work for them, do NOT apply for them all. Instead, follow this advice. More importantly, understand how applying to multiple jobs in one company can work against you.
INTERVIEWING
How To Prepare For a Job Interview? Make Sure You Do These 23 Things
by Ashley Jones | TheLadders
This is a long to-do list and you may already be doing some of these. But in case you need an updated reminder, check this out.
How to Sell Yourself in an Interview: 12 Tactics
by Biron Clark | Career Sidekick
More great advice on how to help you win over the interviewer. These are mostly strategies not found in the previous article so you want to read them both!
How To Answer the Single Most Challenging Interview Question With Confidence
by Amanda Augustine, TopResume | Fast Company
"So, why are you looking for a new job " (or something similar) is a difficult question to answer if you've been fired, laid off or let go. Understand why employers ask this question and what you can do to truthfully answer it without shooting yourself in the foot.
TIPS & TOOLS
How to Create Clutter-Free Infographics With Lots of Information
by Mahnoor Sheikh | Visme
"Infographics are a great way to present facts, statistics, and other data in a visual form." If you are thinking of creating an infographic resume or any infographic, and don't have design skills, read this! Using infographics is a great way for older workers to show their grasp of newer marketing concepts.
3 Savvy Ways to Make Shareable Content
by Peg Fitzpatrick | Peg Fitzpatrick
While you probably don't have your own blog, you can blog on LinkedIn, so many of these tips apply. Sharing status updates on social media (LinkedIn, Twitter, Facebook, Pinterest) brings awareness about what you do to your network/connections. And being active on social media can help fight the stigma of being old or not embracing technology.
State of Messaging 2020
by Zendesk
Thanks to Hung Lee's newsletter, Recruiting Brainfood, I found this article. It's important to understand how professionals communicate and what tools are being used. You don't want to be left out because you only communicate via email. Stay up to date on communication tools being used today.
In Case You Missed It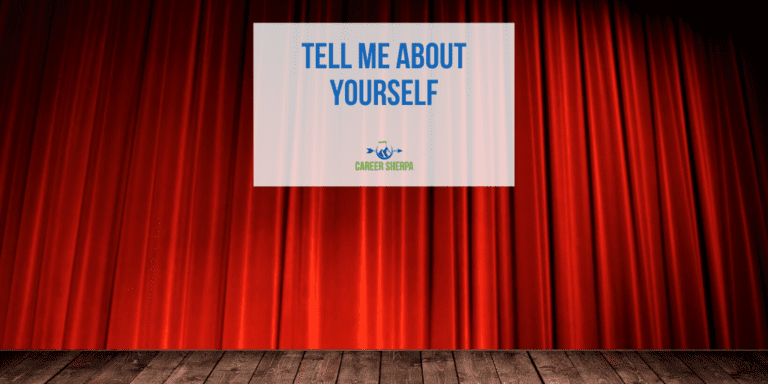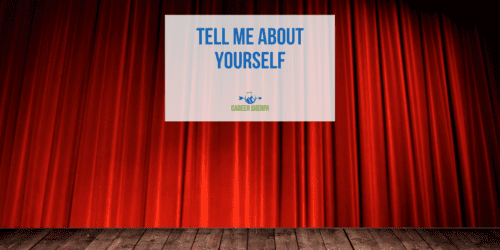 During a job interview, you'll need to overcome the stage-fright associated with answering the "tell me about yourself" question. Here's help.

Hannah Morgan speaks and writes about job search and career strategies. She founded CareerSherpa.net to educate professionals on how to maneuver through today's job search process. Hannah was nominated as a LinkedIn Top Voice in Job Search and Careers and is a regular contributor to US News & World Report. She has been quoted by media outlets, including Forbes, USA Today, Money Magazine, Huffington Post, as well as many other publications. She is also author of The Infographic Resume and co-author of Social Networking for Business Success.