When it comes to job search, there are always new tools and updated ways of accomplishing things. Staying on top of these trends can speed up and/or improve your job search. That's what Summary Sunday is all about.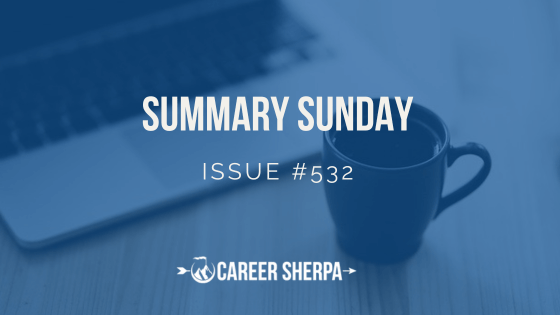 In this week's summary, you'll find curated articles about:
LinkedIn's About section, Headline and skill identification tool
Questions to ask yourself before you change careers
How to sneak out for a job interview when employed
Employers regret hauling workers back to the office
15 factors that drive your career direction
A new AI job search tool
I hope you will follow some of these talented experts and writers to keep yourself up to date!
LINKEDIN
Mastering Executive Job Search: The Power of a Strong LinkedIn About Section | Career Impressions
This post features the benefits of a strong LinkedIn About section plus examples. If you haven't refreshed your About section recently, this will provide examples and convince you to take action.
Beware "Enhance Your Profile," a LinkedIn Beta feature | Donna Svei
This is a review of a new Beta feature on LinkedIn. Spoiler, Svei does NOT recommend using it! But it's good to know about it. Your LinkedIn headline should be future-oriented, showcase expertise, and include a clickbait item. Learn more from Donna Svei about creating a better headline here.
Future Of Skills | LinkedIn
Are you looking for a way to research current skills for your occupation? LinkedIn has the tool – Future of Skills.
Instructions: "Select an industry or job to see how skills have changed, and what new skills workers in this field can build to stay ahead of the changing world of work."
This data comes from "the anonymized and aggregated profile information of LinkedIn's 800 million members around the world." In other words, it's the skills in their profiles.
CAREER PIVOT
What to Ask Yourself Before a Career Pivot | Harvard Business Review
Sometimes there are reasons why you want to change careers. It isn't easy but people do it every day and you can too! There are questions to ask yourself in this article and actions to take to help you determine if and what your next move may look like.
EMPLOYED AND LOOKING
3 Secrets For Taking Time Off For Job Interviews | The Interview Guys
If you are employed and looking for a job, then scheduling interviews can be something you worry about. Here is an article with three things you should take into consideration when scheduling a job interview that won't tip off your boss.
FLEXIBLE WORK
80% of bosses say they regret earlier return-to-office plans | CNBC
If only they had a better understanding of employees' office attendance, use of office amenities and other factors, bosses may have initially made a different decision, finds one survey.
"As of July, 59% of full-time employees are back to being 100% on-site, while 29% are in a hybrid arrangement and 12% are completely remote, according to new data from WFH Research."
CAREER
Map Out Your Life's Journey | Frank Sonnenberg
Have you mapped out what you want from your career in the next five years? Use these 15 factors as guideposts as you map your journey through life.
JOB SEARCH
There's a new AI job search tool in town. Have you heard about it? I have not tested it yet, however, I know one of the founders. It includes a resume optimizer, job match, company match, personal AI chat coach and more. It may be worth testing the components of this no-cost tool.
Personalized insights from AI analysis of your skills + workforce trends
Guidance on where to work based on multi-year hiring patterns
The best jobs + resume fixes for you based on machine learning analysis of 150M work profiles
JOB SEARCH VISUAL
Here are 4 things you should do before each and every job interview.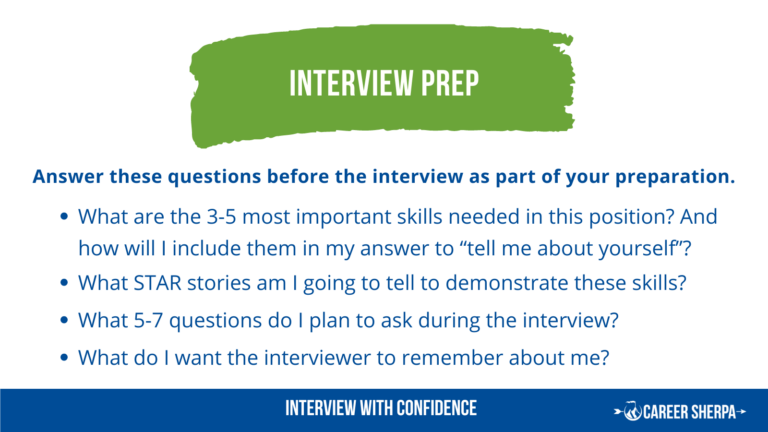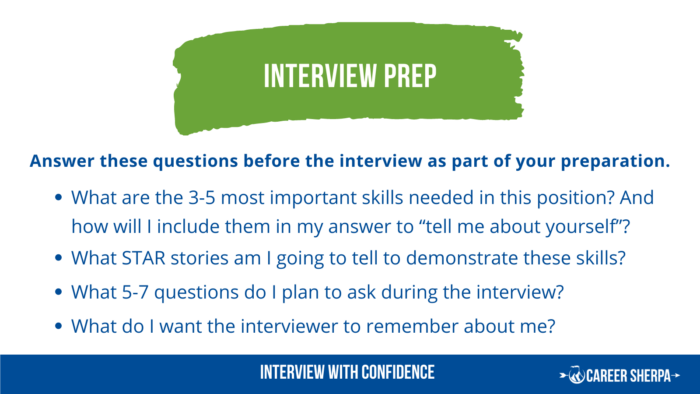 DID YOU MISS THESE
5 Networking Tips To Help You Do It Better
How To Answer "Tell Me About Yourself" (With Examples)
15 Video Interview Tips You Need To Remember In 2023

Hannah Morgan speaks and writes about job search and career strategies. She founded CareerSherpa.net to educate professionals on how to maneuver through today's job search process. Hannah was nominated as a LinkedIn Top Voice in Job Search and Careers and is a regular contributor to US News & World Report. She has been quoted by media outlets, including Forbes, USA Today, Money Magazine, Huffington Post, as well as many other publications. She is also author of The Infographic Resume and co-author of Social Networking for Business Success.