Video interviews aren't going anywhere, so you need to make yourself familiar with the process and be able to make a lasting impression through your computer!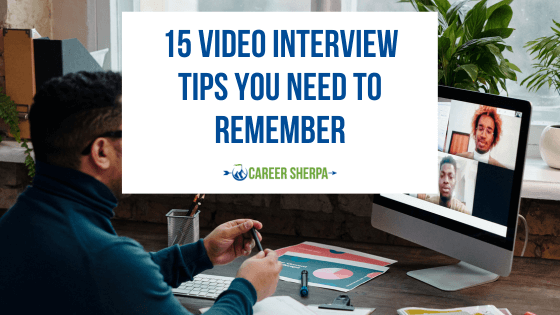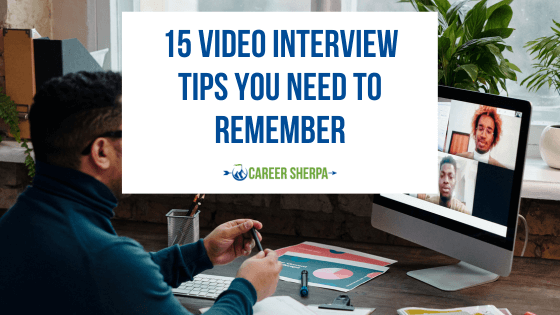 This list of video interview tips will help you perform well and get more job offers in the age of remote work.
Why It's Important to Be Comfortable with Video Interviews
Video interviews can seem a little strange at first. Many would much rather go in for in-person interviews than risk potentially awkward interactions on camera. But these days, more and more hiring managers are using video interviewers as part of the hiring process.
Video interviews are more accessible, eliminating the need to find transportation to the office and cutting back on wasted time.
It's more efficient for both hiring managers and candidates. Plus, it opens doors for employers to interview out-of-state candidates or those who couldn't otherwise come in for an in-person meeting.
That means getting comfortable with video interviews is a must these days. Whether an employer uses this technique in only the early parts of the hiring process or for every interview, knowing how to knock these virtual conversations out of the park can significantly improve your chances of getting a job offer.
It's a chance to show off your personality, answer every question an interviewer has, and leave a lasting impression from the comfort of your home.
Tips for Video Interviews
Don't let the medium fool you into thinking that video interviews are more relaxed or impersonal. These interviews are just as important and formal as real-world meetings.
However, there are a few extra hurdles to overcome. Here are a few video interview tips to ensure that things go as smoothly as possible.
1. Get Familiar with the Platform You'll Be Using
Our first tip for video interviews is paramount. You must familiarize yourself with whatever platform you'll be using.
Many different apps are available, and the interviewer may request that you use a specific one. There's the ever-popular Zoom, Google Meet, Microsoft Teams, and even FaceTime.
Before you schedule your interview, ask the hiring manager what platforms they prefer. Some might have some flexibility and use all the popular video messaging platforms. Others will require you to download and get an account with the software they use regularly.
If you're unfamiliar with the platform they request, spend a few hours finding your bearings. Set up your account, get logged in, and do a few test calls. You want to get comfortable adjusting settings and using the platform to its full potential.
Don't wait until the interview day to see what the video platform is about. The last thing you want is to experience technical difficulties during your conversation. You need to know enough about the software to address problems as they arise.
Here's a bonus tip: Open the software before your interview starts. Launch the program and ensure everything runs smoothly at least 15 minutes before your video interview.
2. Make Sure Your Internet is Working
Have you ever experienced Internet service disruptions? They can severely limit your ability to hop onto a video chat. That's the worst-case scenario for a job interview!
You can't plan for everything. Service interruptions happen, and there's not much you can do to avoid them entirely.
However, you can take steps to ensure that your connection speed is reliable and fast.
Consider forgoing the wireless connection entirely if possible and rely on a wired connection instead. Wired connections are more stable and aren't prone to issues like signal weakness.
Another thing you can do is disconnect any devices that use up considerable bandwidth. We're talking about security cameras, always-on devices, streaming boxes, etc. You should also pause downloads or background processes that consume too much of your bandwidth.
The goal is to devote as much of your connection to that video interview as possible to minimize the risk of interruptions.
3. Do the Interview in a Well-Lit Area
Consider how lighting might affect how you look during your interview. Fortunately, most video platforms have a preview box to show you what the interviewer sees. Use that feature to your advantage.
Set your computer up in a well-lit area. Brightly lit rooms or spaces with considerable natural light work best.
Pay attention to how the light hits your face. You want to avoid any ugly shadows that could affect how interviewers see you. Not only are shadows unflattering, but they prevent the people you're talking to from reading your facial expressions.
Once you find a good light source, position yourself in front of it. You can also set up additional lamps to illuminate your face from all sides.
Aim to be well-lit without oversaturating your face with light. Consider the time of day this video chat will occur and plan wisely. It's always a good idea to check on lighting the day before so you're not scrambling to make corrections minutes before the meeting.
4. Find a Quiet Spot for the Interview
Here's another video interview tip that's critical. Remember that your microphone doesn't just pick up your voice. Even if you have high-quality gear like a lavalier mic, there's a good chance it'll pick up other noise.
Noise is a huge distraction for you and your interviewer. It can prevent you from hearing the interviewer correctly, resulting in misguided answers or wasted time. Tons of background noise also comes off as unprofessional!
Go into a quiet room and avoid creating a bad impression.
If you have a home office, shut the doors to keep pets and kids out. It's also a good idea to turn off anything in your home that produces considerable noise, such as a dishwasher or washing machine.
The quieter it is, the better.
5. Think About What's in the Shot
Want to avoid potentially embarrassing moments during your video interview? Make sure the shot is clean and professional. That means paying attention to what's behind you.
There's nothing worse than trying to ace an interview when there's a pile of clothes or tons of trash behind you in the frame. It's distracting and paints a less-than-flattering picture of who you are to hiring managers. Sitting on your bed with the laptop on the mattress isn't a good look either. This discussion is about leaving a positive impression, so ensure the shot doesn't work against you!
Once again, setting up the software and doing a mock call pays off. You can see what the interviewer will see long before the meeting occurs, giving you plenty of chances to choose a better spot or clean up any messes behind you.
Ideally, your backdrop will be clean and neutral. For example, you can put your back against a bare wall. You can show off some of the room if it's clean and well-organized. A fancy bookshelf behind your desk in your home office is a great example that may make you look more put-together and professional.
The most important thing is that you have nothing distracting or embarrassing in the shot. Scrutinize that preview window and remove anything that could even remotely come off the wrong way.
6. Do the Interview on Your Computer
Most video communication platforms these days are available on multiple devices. For example, you can often download apps and log into your account on phones and tablets. While those alternatives can be convenient, we recommend sticking to your computer.
There are a few reasons for this.
First, doing the interview on a mobile device forces you to rely on Wi-Fi. No matter how reliable your connection usually is, there's always the risk of interruptions that could cause video or audio quality issues.
Secondly, using your computer is more professional. Video interviews can easily teeter on the line between relaxed and professional. This isn't a fun chat with your friends. It's an interview for a job that will further your career.
Treat it that way! Sitting at your computer gives you better posture and more control over what interviewers see.
Imagine holding your phone or tablet up for an hour during the meeting. Eventually, your arm will tire, or you'll shift positions and cause the camera to shake around.
Avoid that by doing interviews exclusively on your computer.
7. Charge Your Computer
Here's a potential issue that many people overlook.
You need to charge your computer fully before the interview. Stopping the conversation to grab a charger should always be avoided. It disrupts the flow of the discussion and comes off as unprofessional.
If it's possible, keep your computer plugged in throughout the interview. When you do that, you eliminate the power-disruption factor.
If you can't stay plugged in, remember to fully charge your battery before your scheduled interview.
8. Practice Good Body Language
One of the most challenging aspects of a video interview is that you're not in the same room as the person you're talking to. There's no handshake before the interview commences and no way to exchange energy to keep the conversation lively. All you have is your voice and your body language.
Be mindful of how you sit. Don't slouch over or be too relaxed. Sit or stand up straight to convey a sense of confidence and decorum.
Using your face to express your thoughts and ideas is also important. Words go a long way, but your interviewer will pay attention to your body language to look for those non-verbal cues. They're judging your confidence, authenticity, overall interest, and more.
Staring blankly at a screen as you respond to the interviewer's questions makes it difficult to get a feel for your personality. Nod your head and smile when the interviewer or hiring manager is speaking. Use facial expressions to emphasize your emotions and highlight key points you want them to remember.
Smiling and nodding goes a long way. You want to show interest in the conversation and reassure interviewers that you're fully engaged in the meeting.
9. Don't Speak Too Fast
Speaking clearly is important in any interview setting, but it's crucial when you're talking to someone over a video connection. And out of all the video interview tips listed here, this one tends to be the hardest for people to adjust to.
Avoid the urge to speak too quickly in an attempt to get the interview over with. Rushing through answers is something that interviewers will notice, and they won't like it! Take your time as if you were in the same room.
As we mentioned earlier, engage in an active conversation and use your body language to your advantage.
Another important tip is to speak relatively slowly. You don't have to slow down to the point where your speech sounds unnatural, but take breaths and be mindful of how quickly your words come out.
Speaking too fast presents two major problems. First, it makes you look frazzled and somewhat intimidated by the process. You may be nervous, but you must exude confidence during a job interview. That applies to video interviews, too.
Another issue is latency. There's always a small delay when communicating via video chat. Even with fast connection speeds, slight latency exists.
If you speak a mile a minute, there's a risk that the audio and video quality will dip. It may even drop entirely for a brief moment.
Even half-second drops will make it difficult for interviewers to understand what you're trying to say. Take things slow and speak like you normally would.
10. Mute Yourself When Needed
Most video call programs have a mute button. Take a second to familiarize yourself with how it works, and get comfortable toggling it on and off.
As you can guess, this simple feature mutes your microphone. It might seem counterproductive, but the mute function is handy when trying to be professional.
Imagine what your interviewer would hear if your dog suddenly burst through your home office door! Not only would they hear the dog's barks and whines, but they'd listen to you scolding it. The same thing could happen with kids, unaware family members, etc.
That mute button on the ready will ensure you can silence the call and avoid sudden disruption. Of course, you'll have to deal with the noise, but at least the interviewer won't hear anything.
You can also use the mute function for coughs, sneezes, and other unexpected noises. While those usually aren't a big deal, they can cause a sudden spike in volume on your interviewer's end. Just click the mute button before you sneeze, and turn it back off to keep the conversation going.
11. Look at the Camera
When speaking to someone over the net, it's human nature to stare at the screen. You want to read their body language as much as they're reading yours.
However, looking at the screen creates a disconnect. On most computers, the webcam is above the screen. As a result, looking directly at what's happening on the screen makes it look like you're staring down.
This makes it harder for interviewers to see your eyes and read your expressions. It's an awkward thing that you must try to overcome. Also, be sure your camera is at eye level and that you aren't looking down at your device.
You can look at the screen occasionally. But when speaking, make a habit of focusing on the camera instead.
12. Wear Something Professional
It's important to treat your video interview as an in-person interview. Would you show up to a job interview in pajamas?
This is a professional conversation that could lead to amazing career opportunities. It deserves the same level of professionalism from head to toe.
Consider doing a little research about the job and finding an outfit that matches. For example, you may want to don a business casual ensemble if the job requires typical office attire.
A good rule of thumb is to wear an outfit one level above the company's standard dress code. If the employer asks for business casual from employees, you should wear business formal.
Don't make the mistake of only dressing from the waist up. While your camera can only see the upper part of your body, you never know when you'll have to get up. There's nothing more laughable than seeing someone get up to grab a document while wearing business formal up top and casual pajamas down below!
Dress from head to toe. It looks great, covers all your bases, and helps you get the right mindset for the interview.
13. Focus on the conversation
Even though you are interviewing from the comfort of your own computer, you want to give the conversation your full attention.
Eliminate and avoid distractions from texts on your phone or alerts on your computer. The best solution is to mute your phone and turn off new message alerts and other notifications on your computer so the noise doesn't interfere with the interview.
Avoid distractions and stay focused to show you are paying attention during the interview.
14. Do Some Research Ahead of Time
Our final video interview tip is to perform some research before the big day.
This is something you should do regardless of whether it's an in-person or video interview. You want to know as much as possible about the company to mold your responses to questions accordingly. Preparation is key to sounding confident and prepared.
With video interviews, it's wise to look up the specific person you'll speak with. Research what they do, what part they play in the hiring process, and more. That information will help you develop solid answers while giving you some background knowledge to establish a good rapport.
How you answer questions from an HR representative may differ from your approach when speaking with a hiring manager. Do your research and prepare as much as you can.
15. Have Your Materials Accessible
One of the advantages of a video interview is that it's a bit like an open-book test. Print your resume, notes, the job posting, and list of questions you want to ask so you can easily reference them during the video interview.
If you want, you can even post them behind your camera so you can look at them without looking away.
Having these notes is not a replacement for knowing what's on your resume. They are simply there as a reminder in case you need them.
Conclusion
These video interview tips will help you feel confident and make a lasting impression. Many of them aren't challenging to implement, so it's just about making them a habit during your next round of virtual interviews.
Like any other part of the job search, a little preparation goes a long way.

Hannah Morgan speaks and writes about job search and career strategies. She founded CareerSherpa.net to educate professionals on how to maneuver through today's job search process. Hannah was nominated as a LinkedIn Top Voice in Job Search and Careers and is a regular contributor to US News & World Report. She has been quoted by media outlets, including Forbes, USA Today, Money Magazine, Huffington Post, as well as many other publications. She is also author of The Infographic Resume and co-author of Social Networking for Business Success.