Searching for a new job takes patience, persistence and know-how. Uplevel your search by applying modern job search strategies.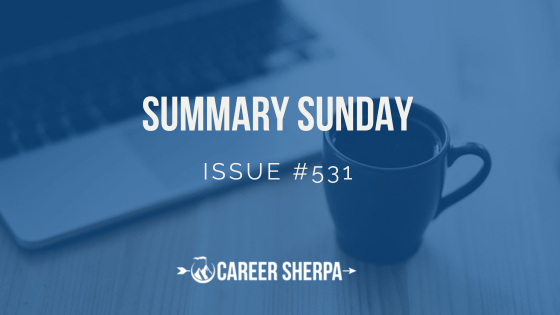 In this week's summary, you'll learn about:
How to find your "why"
Questions for informational interviews
How LinkedIn ranks profiles
What you need to know about LinkedIn Creator
How remote, hybrid and in-person workers spend their time at work
Practice having uncomfortable conversations
Work-Life balance is a flawed goal
Hiring timeframes by industry and level
There is a lot of job search advice out there. Rather than get distracted by fast-talking tiktokers, listen to proven advice from people who have been doing this longer than a minute.
PERSONAL BRANDING
How to Define Your Purpose | William Arruda
Do you know your why? What guides you to do what you do? Purpose is one of the six drivers of your personal brand. Try some of the exercises in this post (with video) so you can articulate your unique value.
NETWORKING
2 simple but crazy powerful questions to nail your informational interviews | Alan Stein
Informational interviews provide you the opportunity to ask questions. Make sure you add these two to the conversation (preferably near the end).
LINKEDIN
LinkedIn ranks Member Search results based on a hierarchy of Employment type | Kevin D. Turner
If you are currently unemployed, what do you put in the Experience section of your profile for your current role? This post explains your options. Turner writes: "The real issue is not a complete profile; it's how the [LinkedIn database] and Search process Values the current position and presents it in the results."
How to Become a LinkedIn Creator | Buffer
If you want to become recognized for your expertise, one way to do that is to create content. Yet this can be overwhelming. LinkedIn Creator offers tools to help you attract a following by creating content… but first, you have to grow an engaged audience on LinkedIn. This article explains the three core elements to consider: Relevance, Expertise, and Engagement.
WORK FROM HOME
Working Time Split On A Typical Work Day | WFH Research
Since the pandemic, this newsletter has been a valuable source of trends and sentiment around WFH sentiment and topics. This month's issue compares how in-person, remote and hybrid workers spend their workday.
Fully in-person and fully-remote workers both spent just over 75% of their working time doing individual work, with the rest split about evenly in small or large meetings. Hybrid workers, instead, spent only about half their time doing individual work and half in meetings.
CAREER
Try THIS the Next Time You Have an Uncomfortable Conversation | Simon Sinek
Practice having difficult or uncomfortable conversations using the FBI framework Sinek explains in this video!
Why Work-Life Balance Is the Wrong Goal | Psychology Today
Set a new goal of work-life integration instead of "balance." This explains the five ways to begin the journey to a less stressful life. You'll discover how to define and pursue the things that are most important to you.
HIRING TRENDS
Who hires fastest? New LinkedIn data ranks 10 key job functions | LinkedIn Workforce Report
Some jobs just take longer to fill. This analysis of LinkedIn data breaks down the length of time to get hired by job function and by seniority. Consulting roles take 62.9 days to fill while marketing takes only 48.6 days. VP/Partner roles take 51.2 days to fill while entry jobs take 46.5 days.
Note: For hiring by function, time to fill is calculated as the interval between the date when a job is listed on LinkedIn and the subsequent date it has been confirmed as filled by the hirer on LinkedIn. For hiring by seniority, time to hire is calculated as the interval between the date of a job application on LinkedIn and the subsequent start date for that job, as posted on the applicant's LinkedIn profile.
JOB SEARCH VISUAL
Here's Week 1 of your job search challenge. Stay tuned for Week 2.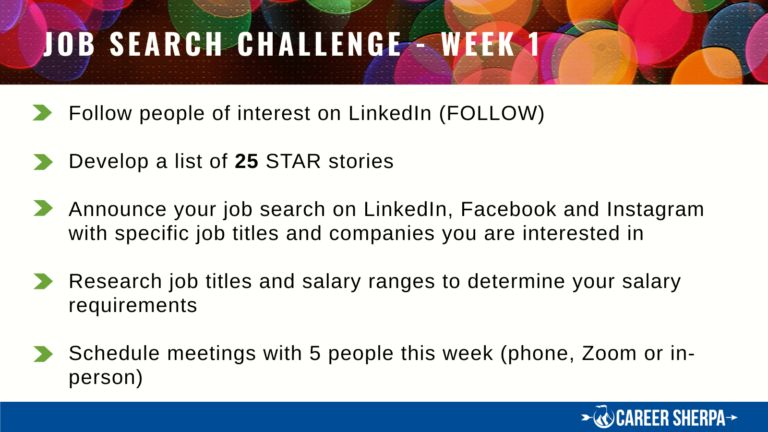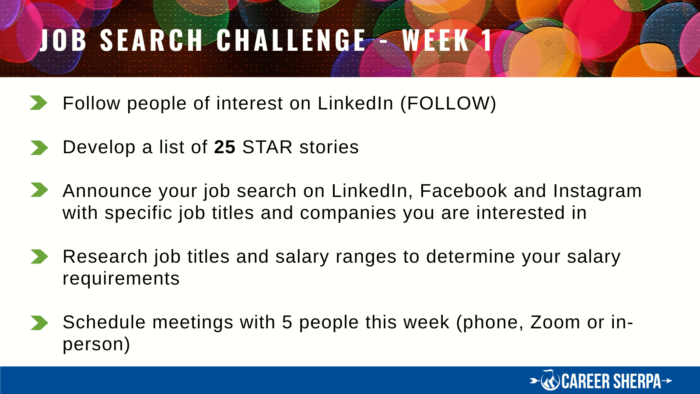 DID YOU MISS THESE
3 Options To Update Your LinkedIn Job Title and Employer When Unemployed
32 Good Informational Interview Questions To Ask
15 Video Interview Tips You Need To Remember In 2023

Hannah Morgan speaks and writes about job search and career strategies. She founded CareerSherpa.net to educate professionals on how to maneuver through today's job search process. Hannah was nominated as a LinkedIn Top Voice in Job Search and Careers and is a regular contributor to US News & World Report. She has been quoted by media outlets, including Forbes, USA Today, Money Magazine, Huffington Post, as well as many other publications. She is also author of The Infographic Resume and co-author of Social Networking for Business Success.