Everyone is looking for the easiest way to get things done. But easy is not the same as best or most effective. This is true of your job search and managing your career.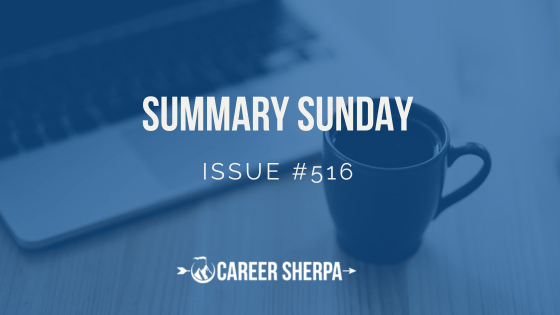 If you are going on a road trip, you would plug in your destination and follow the route. It's almost inconceivable that you would just get in your car and started driving south.
Having clarity and a plan for your job search is not easier, but it is faster! So in this week's summary, you'll find articles that will help you understand how to build plans for your job search.
Actions to take during a prolonged job search
Steps you should take when starting your job search
Create a job search plan
3 LinkedIn tools you may not know about
Tips to leverage LinkedIn for job search
4 Important workplace trends
Top career podcasts for 2023
ChatGPT for job search
Make networking feel good
If you like any of these articles, please follow the author/publisher! And please feel free to share with those who would benefit!
JOB SEARCH
Keeping Your Confidence Up During a Lengthy Job Search | Harvard Business Review
Here are 5 proven actions you can take that will help you endure the emotional ups and downs of job search!
Need a New Job? Avoid This Costly Mistake in Your Search Strategy! | My Career GPS
It may sound counter-intuitive but do not start your job search by updating your resume. Instead, follow these steps laid out by job search coach Shelley Piedmont.
How to Navigate Your Next Job Search | Teal
Follow these steps, use their free tools and download this job search planning tool to get your job search on track and to stay productive.
LINKEDIN
3 (slightly hidden) LinkedIn Tools to Help You Show Up More in Search | Virginia Franco Resumes
Using the best keywords and correct job titles is really important when writing your LinkedIn profile. Use these tools to update your profile and attract my recruiters.
How To Leverage LinkedIn For Job Search | Ed Han
What if you had a simple checklist of things you could do on LinkedIn to help amplify your profile and see better traction during your job search? Take note of the 8 items listed plus read the comments for more help. PS: Ed is a recruiter!
WORKPLACE TRENDS
When negotiating starting salaries, most U.S. women and men don't ask for higher pay | Pew Research
Based on February 2023 research, Pew reveals that 60% of all workers did NOT ask for higher pay when they were last hired. See the data broken down by male vs female and by age.
Layoffs via Zoom are here to stay | Axios
Companies are hiring using Zoom. They are also firing using Zoom. There's never an easy way to do this, but if it does happen, you'll know you aren't the only one being let go virtually.
Hybrid work ramps up as employers push in-office time over work from home | Yahoo Finance
Kerry Hannon explains the shift from fully remote to hybrid work.
Note: "In February, 41% of workers with jobs that can be done remotely have a hybrid schedule, up from 35% in January 2022" according to new Pew research.
Is There a Right Way to Monitor Worker Productivity? | Kellogg Insight
This conversation explores the realities and pros and cons of monitoring employee productivity. It features examples of how some companies are doing it and why it's challenging to figure out how to measure productivity.
PODCASTS
Your Guide to the Top Career Podcasts of 2023 | Mac's List
If you listen to podcasts or want to find some to help with your job search or career, here's a vetted list of solid podcasts.
MENTIONS
How To Leverage AI And Use ChatGPT In Your Job Search, According To Résumé Writers And Career Coaches | Forbes
Jack Kelly invited career coaches and resume writers to supply ways ChatGPT can be used to help people in a job search. You'll find many different types of answers.
TIN #004 – How To Make Networking Feel Good | Greg Roche
The Introverted Networker is a newsletter that addresses many of the issues introverts feel about networking. In this issue, Greg addresses reciprocity and graciously mentions the acronym AIR. (Though I can't take credit for inventing it, it is a great way of reframing what networking is all about.)
DID YOU MISS THESE?
23 Reasons Why You Can't Find A Job In 2023 (Plus Tips)
6 Steps to Managing Your Job Search
Networking is a Waste of Time- Or Is It?

Hannah Morgan speaks and writes about job search and career strategies. She founded CareerSherpa.net to educate professionals on how to maneuver through today's job search process. Hannah was nominated as a LinkedIn Top Voice in Job Search and Careers and is a regular contributor to US News & World Report. She has been quoted by media outlets, including Forbes, USA Today, Money Magazine, Huffington Post, as well as many other publications. She is also author of The Infographic Resume and co-author of Social Networking for Business Success.