Every job search is unique. However, there are some basic strategies and best practices that apply to almost everyone.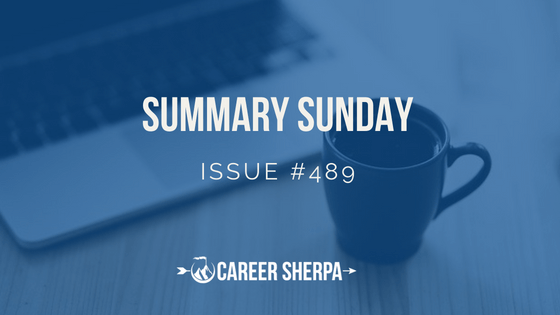 In my summaries, I try to share articles that answer common job search questions and topics job seekers should know about. In this week's summary, you'll find articles about:
Updates to your LinkedIn profile
Pay attention to LinkedIn settings
How to write a strong networking letter
How to reach out to a hiring manager
Ways to handle transitions
Flexible work is in demand
Remote work survey results (some may surprise you)
If you found any of these articles helpful, please, follow the author, subscribe to their newsletter and/or share it with others who may benefit.
LINKEDIN
7 Easy LinkedIn Profile Updates to Drive Results for Job Seekers | Briefcase Coach
Read about these important parts of your profile and why you need to update them by Sarah Johnston.
LinkedIn Privacy Settings | Ed Han
How familiar are you with Settings & Privacy controls on LinkedIn? Quick tips from recruiter, Ed Han. Review your settings here.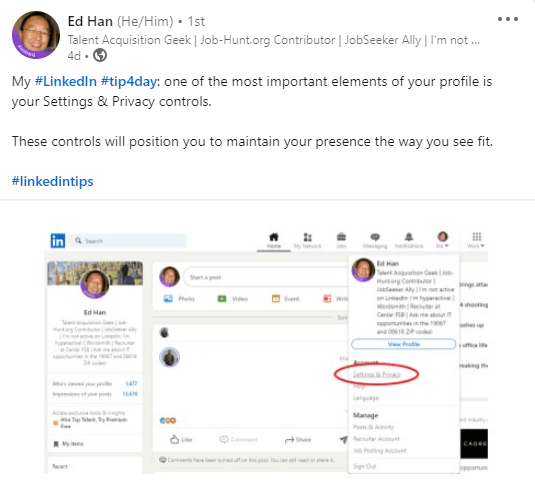 JOB SEARCH
Why Every Job Seeker Needs a Networking Letter (and How to Write One) | Jenny Foss LinkedIn Newsletter – Steer Your Career
"The networking letter is a tool you can use to spell out, in detail, what you're looking for, and how, exactly, your people can help." See examples and be ready to write your next letter.
INTERVIEWING
Questions To Ask During Your Next Interview
Feel free to adapt these questions during your upcoming interview. You can see more here.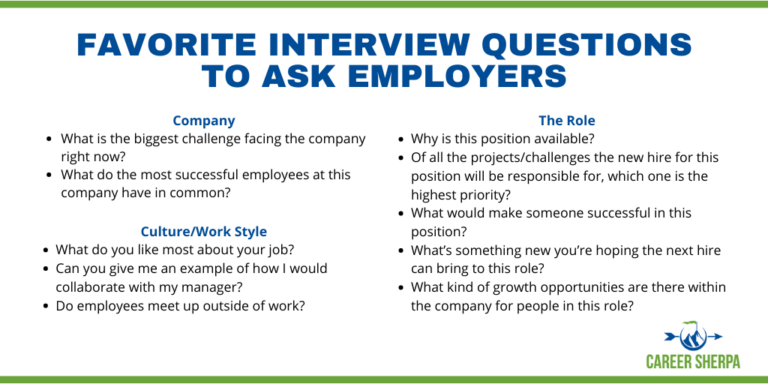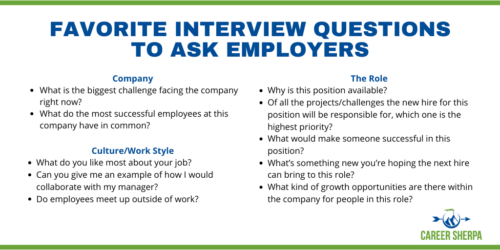 SOCIAL MEDIA
Can I use Twitter to reach a hiring manager? | Ask The Headhunter
If you want to reach a hiring manager, should you reach out on Twitter? Maybe. Nick Corcodilos has other ideas too.
CAREER
This Is The Best Way To Handle Big Transitions In Life: 6 Secrets From Research | Barking Up The Wrong Tree Blog
Thanks to Donna Svei for sharing this valuable article by Eric Baker about handling change during your career.
TRENDS
Americans are embracing flexible work—and they want more of it | McKinsey
McKinsey along with Ipsos surveyed 25,000 Americans in spring 2022. See six charts that clearly illustrate the findings.
The State Of Remote Work In 2022: A Survey Of The American Workforce | GoodHire
Based on a survey of 3,500 adult Americans – GoodHire asked if they still refused to return to the office; what they felt about pay cuts and the possibility of accepting reduced benefits in order to continue their current WFH job status; and an array of other questions about remote work in 2022 and beyond.
PS: Many of these findings I find troubling and perhaps sending workers' rights in the wrong direction. But, it's a survey that has attracted much attention.
MENTIONS
What We Like About LinkedIn (What's New) – Peak Careers
DID YOU MISS THESE
Tips For Answering "What Is Your Leadership Style?"
Do You Want To Tell Us Anything Else About You? (Answers)
The Right Way To Answer "What Are You Most Proud Of?"

Hannah Morgan speaks and writes about job search and career strategies. She founded CareerSherpa.net to educate professionals on how to maneuver through today's job search process. Hannah was nominated as a LinkedIn Top Voice in Job Search and Careers and is a regular contributor to US News & World Report. She has been quoted by media outlets, including Forbes, USA Today, Money Magazine, Huffington Post, as well as many other publications. She is also author of The Infographic Resume and co-author of Social Networking for Business Success.