In this week's summary, you'll find articles about interviewing, LinkedIn and starting a new job.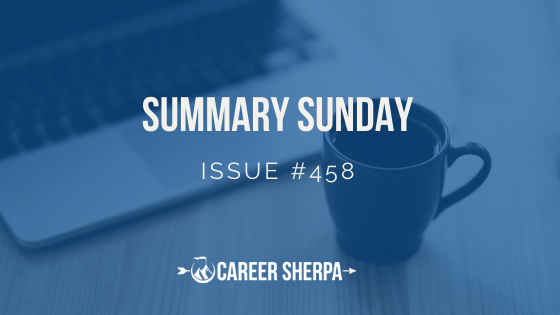 For many, this was a week of getting back into the routine of work (whether virtually or in-person), after the long holiday break.
For job seekers, you should feel an uptick in activity moving forward as recruiters return from break and the new budget year begins and new jobs are posted.
There are a lot of job seekers interviewing and considering negotiating a remote work arrangement. This week's summary will help.
INTERVIEWING
Use This 15-Minute Checklist to Prepare for a Job Interview | Pocket
Sometimes you may not have a lot of time to prepare for an interview. Use this checklist to make sure you've done the most important things to prepare.
PS: If you haven't tried using Pocket, it's a great tool to save articles to read later.
How to Negotiate a Remote Work Arrangement | Harvard Business Review
5 things you should do as you attempt to negotiate remote work – whether for a new job or an existing job.
LINKEDIN
7 Tips for Using Your LinkedIn Profile as Your Personal Branding Website | Entrepreneur
"[D]id you know that typically when someone does an online search for an individual, their LinkedIn profile shows up as the first online link in those search results or the top five links on the first page of those results?"
Here are ways you can make your profile stand out and better reflect who you are!
Virtual Events Are Here To Stay – How We're Investing To Build A Better Experience | LinkedIn
LinkedIn Audio Events will be coming soon. Think of it as ClubHouse on LinkedIn. This brief announcement lays out some of the benefits of audio-only events hosted on LinkedIn. Whether as an attendee or a host, it's just one more way to tap into the power of LinkedIn to grow your network.
NEW JOB
Starting a New Job Remotely Can Be Scary—Here's How to Impress Everyone Right Off the Bat | The Muse
When you don't have a physical office to report to, it can be challenging to build key relationships. Follow these 5 steps.
MENTIONS
Episode #23 – Job Hunting Tips with Hannah Morgan | Build Your Business Better
Thanks to Andrew Biernat for inviting me to talk about important job search topics like resumes, how to find jobs and more!
DID YOU MISS THESE
How To Respond To A Job Rejection Email (With Samples)
The Meaning & Skills Of A Detail-Oriented Person
33 Best Job Search Websites To Use In 2022

Hannah Morgan speaks and writes about job search and career strategies. She founded CareerSherpa.net to educate professionals on how to maneuver through today's job search process. Hannah was nominated as a LinkedIn Top Voice in Job Search and Careers and is a regular contributor to US News & World Report. She has been quoted by media outlets, including Forbes, USA Today, Money Magazine, Huffington Post, as well as many other publications. She is also author of The Infographic Resume and co-author of Social Networking for Business Success.