The best six-figure jobs are rewarding, stable, and growing in demand. But many people who are in school (or early in their careers) are surprised when they find out which positions actually pay well.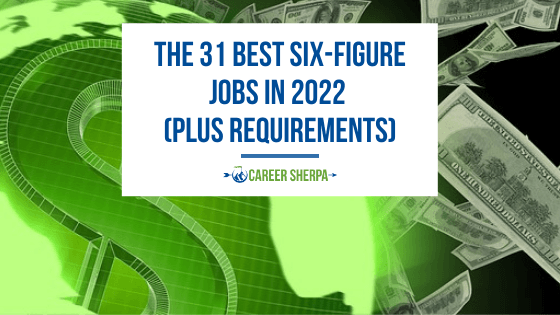 This list of jobs that pay six-figures will help you understand your options if you're seeking a high income.
1.Construction Manager
Construction managers are responsible for keeping job sites running smoothly. The job is multi-faceted, requiring managers to work with engineers, handle complex logistics, manage supervisors, and more.
The payoff definitely makes the work worth it! This six-figure job has an average salary of approximately $101,000 a year. It does require a bachelor's degree and plenty of work experience to land this job.
The good news is that there's ample growth. Projections expect around 11.1 percent in employment growth over the next several years.
2. Airline Pilot
Airline pilots are masters of the sky! Not only do they know how to command massive aircraft, but they also ensure passenger safety.
Becoming a pilot is no easy task. It typically requires a bachelor's degree and specialized training in flight school. But once you land one of these jobs, you will have a handsome salary to enjoy!
Commercial airline pilots make around $121,000 a year. On the upper end of the scale, some pilots bring home as much as $208,000. Job security is good, too, with growth projections at around 13 percent over the next decade.
3. Health Specialties Teacher
There's a growing demand for doctors, nurses, and other healthcare professionals. But we're not talking about those jobs. Health specialties teachers are the people who train the healthcare providers of tomorrow!
Growth projections show this position increasing by a staggering 26.9 percent by 2026.
As a health specialties teacher at a postsecondary institution, you can earn approximately $123,000 a year. This 6-figure job requires extensive training. In addition to a professional degree, most schools ask for in-field experience.
4. Distribution or Transportation Manager
If you're looking for a six-figure job that doesn't require a college degree, this might be it! A transportation or distribution manager coordinates the movement and storage of goods.
Many industries need distribution and transportation managers, so you could work in a business setting, for local governments, and more.
The job pays a hair over $100,000. It's on the lower end of the six-figure scale, but it doesn't require a college degree. All you need is job-specific training and experience. The projected growth is 6.7 percent by 2026.
5. Financial Advisor
A financial advisor works with private clients. Their job is to assess a client's current financial situation and provide strategies to produce growth. They also focus on protecting assets, handling tax requirements, and more.
To become a financial advisor, you need a bachelor's degree in a relevant field. Licensing is required as well.
Job growth for this six-figure career is about 14.9 percent over the next few years, and the average salary is $124,000.
6. Physician Assistant
Physician assistants have massive growth projections in the coming years. With more baby boomers retiring, experts expect demand to grow by a staggering 37.3 percent by 2026. As a result, this is a potentially lucrative and secure field to get into.
The role of a physician assistant is to provide care under the direction of a physician. The role might require administering treatment, counseling patients, and more. To become a physician assistant, you need a master's degree from an accredited program that trains you for this job.
The average salary is around $104,000 a year.
7. Dentist
Dentists earn an average of $180,000 a year. However, there's potential to earn more with private practices and other related endeavors.
A dentist diagnoses and treats oral hygiene issues. They perform checkups, do cosmetic treatments, and can perform oral surgery.
Training is intensive, requiring a professional doctorate degree and years of education. Luckily, growth is stable at around 19.1 percent in the coming years.
8. IT Manager
Also known as computer and information systems managers, IT managers are the backbone of an organization's data systems. They keep information systems running smoothly and work hard to ensure that the current infrastructure is meeting the company's needs.
A bachelor's degree is required to become an IT manager. With companies of all sizes relying on digital technology for day-to-day operations, this six-figure job is in high demand. Projections show a growth of about 12 percent.
The average salary for an IT manager is approximately $150,000.
9. Education Administrator
Education administrators can work in primary education. However, it becomes a 6-figure job at the college level.
In postsecondary settings, education administrators earn around $108,000 a year. For that salary, they coordinate many educational functions. For example, administrators handle educational initiatives, research projects, marketing endeavors, and more.
To become an education administrator, you must earn a master's degree in the relevant field. Projects show a 10.1 percent rise in demand by 2026.
10. Operations Manager
Here's another job that pays six-figures that you can get in a wide range of industries. Operations managers are responsible for coordinating multiple departments in an organization to keep day-to-day operations running smoothly. Whether that's in manufacturing, business, or industrial settings, it's a crucial job.
The average salary is about $124,000, and growth projections show a steady climb in demand at 9.1 percent by 2026.
A bachelor's degree is the bare minimum for operations managers. However, many pursue master's degrees.
11. Physician or Surgeon
We need physicians and surgeons, plain and simple. These healthcare providers help maintain the health of a population, addressing concerns in individual patients and providing life-changing care.
Physicians and surgeons can focus on general practice or go into a specialty. For example, many surgeons turn to fields like oncology or cardiology. Either way, the demand is high.
Growth projections are at 12.8 percent, and average annual salaries are around $215,000. Of course, becoming a doctor requires intensive training. You must obtain a doctorate degree and go through a multi-year residency before becoming licensed.
12. HR Manager
Becoming an HR manager typically requires a bachelor's degree and years of relevant experience. HR stands for human resources, and a manager's job is to work with a company's employees.
HR managers oversee benefits, handle hiring and recruitment processes, and deal with any work-related issues that come up. In larger organizations, HR managers can also lead teams of HR professionals.
The average salary is $129,000, and the projected growth is 6 percent by 2029.
13. Actuary
An actuary is someone who uses math and statistics to analyze business decisions. They typically work at insurance companies to assess risks and minimize costs.
This six-figure job is quite data-heavy, and it requires a genuine love of math to succeed. To become an actuary, you must get a bachelor's degree in actuary sciences or a relevant field.
The job outlook is excellent, thanks to 20 percent growth projections by 2028. The average salary in this role is about $103,000.
14. Lawyer
Lawyers earn around $147,000 a year on average. However, they must go through many years of training to get there. Not only do they have to get a juris doctorate degree, but they must also pass their state's bar exam.
There are many types of lawyers out there. You can become a public defender, a lawyer who focuses on medical malpractice, a criminal defense attorney, and more. The projected job growth is about 8.2 percent.
15. Architectural Engineer
An architectural engineer usually works for larger firms. Their job is to coordinate large-scale projects' overall research and development processes. In this job, you'll have the chance to work on amazing new commercial and industrial builds.
A bachelor's degree is a must for this 6-figure career. It pays around $146,000 a year, and the expected growth is at 5.5 percent.
16. Software Developer
With our reliance on digital communications and technology, the need for software developers is at an all-time high! Developers get paid around $102,000 a year, and job security isn't an issue thanks to the 17.8 percent growth projections.
As the title would suggest, this six-figure job is all about developing new software. The position could involve creating computer software, smartphone apps, and even complex network systems. A bachelor's degree was traditionally a requirement to become a software developer, but that's changing. This is a good job for introverts or anyone who naturally enjoys spending a lot of time on the computer.
17. Air Traffic Controller
Air traffic controllers play a big role in our modern air travel industry. They keep all those flights coordinated, keeping our skies safe and our airports bustling!
This 6-figure job is unique because it doesn't require a bachelor's degree. It does, however, require an associate's degree and specialized training from an FAA-approved school.
Job growth projections are very low at a mere 1 percent. But if you're lucky enough to get in, you can earn around $132,000.
18. Financial Manager
Keeping a large organization's finances in check is no easy task. But it's one that a financial manager has to face head-on. They're responsible for overseeing everything from accounting and investing to insurance and general banking.
Becoming a financial manager requires a bachelor's degree. However, many organizations also call for a master's in business administration.
The average salary is $143,000 a year, and growth projections are relatively high at 18.7 percent by 2026.
19. Gynecologist
A gynecologist works exclusively with female patients, providing care and treatment for a woman's reproductive health. The job isn't easy, and it requires extensive education and training.
Gynecologists are doctors and must have a doctorate degree from an accredited medical school. Not only that, but they need to complete residency and fellowship training.
The average salary is quite high at $208,000. The job outlook is good as well, with 7 percent projected growth by 2028.
20. Business Professor
A business professor teaches the entrepreneurs of tomorrow! They work at postsecondary schools and can teach classes covering everything from business administration to management.
In this six-figure job, you can earn about $102,000 a year. Thanks to the growing demand for qualified educators, the job outlook is good. Growth projections show this position growing 18.1 percent by 2026.
It does require years of higher education. Most professors have a doctoral or professional degree.
21. Industrial Production Manager
An industrial production manager keeps manufacturing facilities operating smoothly. They can work in many sectors. For example, managers might oversee the production of cars, computers, or even processed foods.
Either way, the position has a lot of responsibilities. For your time, you can earn around $110,000 a year.
The education requirements are relatively simple. You only need a bachelor's degree. However, most organizations also require years of experience in a manufacturing setting.
It's worth noting that this job does have a negative occupational outlook at -0.5 percent.
22. Nurse Practitioner
Once again, healthcare providers are in very high demand! While physicians and assistants fetch a higher salary, becoming a nurse practitioner could be a viable option for many.
A nurse practitioner can diagnose and treat illnesses. They also have the power to write prescriptions. As a result, you'll see practitioners working in smaller clinics to provide general care.
The job outlook is excellent, with growth projections at 36.1 percent. The average salary is $107,000, and a master's degree is required.
23. Health Services Manager
A health services manager earns about $112,000 a year. To get this 6-figure job, you must have a bachelor's degree in a relevant field. Thanks to high growth projections at 20.5 percent, there's plenty of job security here.
The primary responsibility of this job is to handle administrative work in a healthcare setting. They take the burden off of physicians and other providers by coordinating health services.
24. Electronic Engineer
To become an electronics engineer, you must have a bachelor's degree. This job involves researching and designing electronic components.
Electronics engineers can work on a wide range of projects. For example, they can design navigational systems, power generation equipment, and more.
There are modest growth projections at 3.7 percent. However, the salary is high at $106,000 a year.
25. Petroleum Engineer
Petroleum engineers earn an average yearly salary of $137,000 a year. They typically work for oil companies and are responsible for figuring out how to extract oil and gas from the ground.
The work for this job in energy is continuous, supporting our oil industry to perfect techniques and equipment.
Job growth is modest at 3 percent. Generally, petroleum engineers have a bachelor's degree in a relevant field.
26. Chief Executive Officer
A chief executive officer, or CEO, is the "big boss." They're the ones that oversee the direction of a company, making important decisions that support the organization's goals and bottom line.
It's a high-paying position with a salary of around $196,000 a year. Interestingly enough, the minimum educational requirement is a bachelor's degree. However, many CEOs have additional education and tons of work experience.
This is another job with negative growth projections. It's at -3.7 percent. However, for this position that isn't something to put too much stock in since it's extremely rare to start as a CEO right out of school. You'll need to spend some time climbing the ladder before this is an option (unless you start your own company).
27. Pharmacist
A pharmacist earns around $121,000 a year. They can work in hospitals, clinics, or even drug stores. Their job is to accept and dispense valid prescriptions to patients.
To become a pharmacist, you must earn a professional degree at a pharmacy school. Growth for this 6-figure career is around 5.6 percent.
28. Anesthesiologist
Anesthesiologists have some of the highest-paying jobs around. The reason is that it commands great skill and years of training. To become an anesthesiologist, you have to go to medical school, complete residency and fellowship programs, and get licensed.
Once you get through that, you can earn $271,000 a year. The growth projections are modest at around 4 percent.
The job of an anesthesiologist is to administer pain relief and sedation drugs to patients in hospitals and operating rooms.
29. Marketing Manager
With an annual salary of around $140,000, this job is an excellent six-figure position for those who have experience in marketing. It only requires a bachelor's degree to get hired. However, most organizations look for plenty of experience from applicants.
The role of a marketing manager is to oversee expensive advertising campaigns. They usually work with multiple departments, ensuring that all the pieces keep moving smoothly.
Job outlook is great, thanks to 8.4 projected growth.
30. Computer Network Architect
With our reliance on digital communications being higher than ever, computer network architects are in high demand. The growth projections are at 6.5 percent, and average salaries are around $108,000 a year.
As a computer network architect, your job is to design and implement complex communication networks. You might work for large organizations and play a big part in their day-to-day operations. Despite the responsibility, this is often considered a low-stress job.
To get this six-figure job, you must have a bachelor's degree in a relevant information technology field.
31. Data Scientist
Data scientists can work in many industries. They are responsible for gathering and interpreting data. Usually, their work helps higher-ups make crucial business decisions that support the organization's bottom line. On top of that, it's also one of the best remote jobs you can get!
The minimum education requirement to become a data scientist is to earn a bachelor's degree. The average salary is around $101,000 a year, and growth projections are very high at around 28 percent in the coming years.
Conclusion
This list of the best 6-figure jobs should help you get an understanding of the many different careers you can pursue if you're interested in a high salary. There are many more that didn't make the list, so don't be afraid to use this as a starting point!
You can also check out this list on CareerOneStop for a detailed listing of six-figure jobs.

Hannah Morgan speaks and writes about job search and career strategies. She founded CareerSherpa.net to educate professionals on how to maneuver through today's job search process. Hannah was nominated as a LinkedIn Top Voice in Job Search and Careers and is a regular contributor to US News & World Report. She has been quoted by media outlets, including Forbes, USA Today, Money Magazine, Huffington Post, as well as many other publications. She is also author of The Infographic Resume and co-author of Social Networking for Business Success.