The best paying jobs in energy all benefit from the demand for talent that this sector is facing. Whether it's renewable energy or something more traditional, people need power (and always will).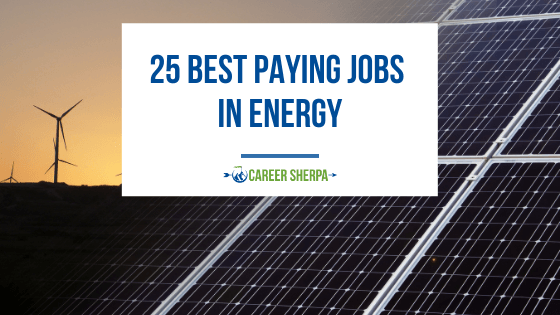 This list of the highest paying jobs in energy will give you an idea of what your options are if you're thinking about pursuing a career in this industry.
1. Geoscientist
Geoscientists play a crucial role in the energy sector. They're responsible for studying the physical properties of the earth and understanding how certain activities it.
For example, geoscientists will likely use their expertise to find suitable drilling spots to siphon natural gas and oil. Not only do they discover prime drilling locations, but they do testing to ensure that the earth will be stable once work starts.
Typically, geoscientists earn around $92,000 annually for their work. To become one, you must earn at least a Bachelor's degree in geoscience or a related field. Some employers seek further education through a Master's degree as well.
2. Solar Power Plant Operator
Contrary to popular belief, solar plants aren't entirely self-sufficient. Most require multiple operators to keep things running smoothly. Thanks to growing interest in renewable forms of energy, this job is in high demand!
Technically speaking, you can become a solar plant operator with nothing more than a high school diploma. However, the growing complexities of solar plants are changing educational requirements. Most employers now require vocational training and proficiency in electrical systems.
Operators can earn upwards of around $83,000 a year. It's a messy job, but those who are successful will find that this is one of the best paying jobs in the growing sector of energy.
3. Information Systems Manager
As an information system manager, your job is to deal with the technology and software side of things. Unlike other jobs you'll see on this list, you won't be focusing your attention on maintaining or installing energy systems. Instead, your job is to keep computer systems and networks running smoothly.
Modern energy systems rely heavily on technology and data. It helps providers become more efficient and identify chokeholds that could use improvement.
Generally, information system managers work to maintain security, improve databases, and more. Getting a position like this requires a Bachelor's degree in computer and information systems. But the work is worth the effort because this is definitely one of the best paying jobs in energy. With the right qualifications, you could earn around $146,000 a year. Experienced managers can net more than $200,000 annually!
4. Land Acquisition Specialist
It takes a Bachelor's degree at minimum to become a land acquisition specialist. However, this isn't career doesn't go too deep into complex scientific concepts. Instead, it focuses on acquiring land to develop new energy systems.
More specifically, land acquisition specialists typically work to create wind energy sites. They find suitable land to meet energy needs and design plans to take full advantage of the location's capabilities.
They also handle many development headaches like acquiring permits, facilitating purchases, and more. The average salary for a land acquisition specialist is about $63,000 a year.
5. Material Scientist
The primary job of a material scientist is to study and analyze the chemical properties of different materials. That sounds like a pretty vague description, but that's because these scientists aim to develop new products or improve existing ones through their findings.
How does that relate to energy? With the rise of renewable energy, material scientists are in high demand. They work to improve solar panels, composites, semiconductors, and more. Material scientists are why renewable energy is making so many strides.
The average salary of a material scientist is in the neighborhood of $97,000. To get started in this high paying energy job, you must earn a Bachelor's degree.
6. Chemist
If you enjoy the complexities of chemistry, becoming a chemist that works in the energy sector might be right up your alley. The average salary of a chemist in this field is about $70,000 annually.
But what do they do?
Chemists develop new lubricants, fuels, and other usable products for the oil and gas industry. However, even the shift towards green energy means this high paying energy career is important. Chemists are paving the way to developing new biofuels that lower our carbon footprint.
It's possible to enter the field with just a Bachelor's degree, but most employers in the energy sector prefer those with Master's degrees or higher.
7. Architectural Manager
As an architectural manager, you have one of the best paying jobs in the energy sector. The median pay for this position is about $144,000 a year. However, the top earners make more than $200,000!
Entering this field requires a bachelor's degree at the very minimum. But more experience and education can lead you to more prestigious opportunities.
Ultimately, the goal of an architectural manager is to design and build energy-efficient buildings. They do detailed planning, perform research management, and check technical accuracy to ensure that facilities use as few resources as possible. It's a multi-faceted job, but it can make a huge difference.
8. Agricultural Engineer
The rise of biofuels is paving the way for some unlikely sectors to merge. Take agriculture and energy as an example. While they seem like two opposites, biofuel is turning agricultural engineers into an essential (and high paying) career in the world of energy production.
This job requires you to create the most efficient agricultural operation you can. The position has a lot of variables, but it requires using machinery, supplies, structures, and even environmental advantages to produce more biofuel products with fewer resources. Efficiency is the name of the game.
A Bachelor's degree is a must for this field, and it can net you about $80,700 a year.
9. Materials Engineer
Not to be confused with a material scientist, a material engineer works to create and improve materials in a practical application. For example, they have a deep understanding of various materials like ceramic, plastic, metals, and more. With their expertise in material science, engineers can create products to improve efficiency in vehicles, home construction, solar panels, etc.
This job is about maximizing efficiency and improving the existing materials we already have. They make products and materials better!
A material engineer earns about $93,000 a year and must have at least a Bachelor's degree to enter the field. This is one of the best paying jobs in energy that has a great long-term outlook.
10. Chemical Engineer
Chemical engineers earn an annual salary of roughly $108,000, making this job a very lucrative career in the energy sector. It requires a Bachelor's degree in chemistry, biology, math, or other related fields. That's because this science-heavy job uses many disciplines to solve everyday problems.
Their focus is on fuel and fuel-related products, but the job will require problem-solving in many different situations. Typically, these engineers will work to improve the efficiency of large-scale manufacturing facilities, test new techniques, and more.
11. Aerospace Engineer
Once again, the growing interest in renewable energy brings another job into the energy sector. Aerospace engineers typically work on satellites, airplanes, and other crafts that defy gravity. However, their expertise is bringing them into the world of wind energy.
Aerospace engineers are working on designing turbines and other crucial systems. Their understanding of resistance, force, efficiency, and other principles proves to be of significant value to this sector.
Becoming an aerospace engineer requires a Bachelor's degree in engineering or a related field. For your troubles you'll have one of the best paying jobs in energy generation. Aerospace engineers can expect to earn about $115,000 a year.
12. Atmospheric Scientist
To become an atmospheric scientist, you must earn a Bachelor's degree in meteorology or a related field. These scientists have a deep understanding of the weather and how it influences the environment. They're the perfect people to determine where to place wind turbines for harnessing green energy.
They can also contribute to creating efficient harnessing systems. Their ability to monitor, follow, and predict weather patterns makes them a valuable asset. Atmospheric scientists are already working for the energy sector, but growth will likely occur as renewable energy becomes more mainstream.
This is one of the best paying jobs in energy due to demand and the level of expertise that's required. The average annual salary for an atmospheric scientist is about $147,000.
13. Solar Energy Technician
The demand for solar energy technicians is bound to increase as more people invest in this form of renewable energy. It's no longer a niche market!
A solar energy technician is responsible for installing, repairing, and maintaining solar systems. They can work for homeowners, commercial business owners, industrial property owners, and more.
The great thing about becoming a solar energy technician is that you don't need an advanced degree. Most technicians complete vocational programs and on-the-job training. Those with existing trades skills can easily transition to solar energy, paving the way for plenty of career opportunities.
The average salary for solar energy technicians is about $72,000.
14. Nuclear Technician
Most nuclear technicians work in nuclear power plants to maintain a safe environment. There are many inherent risks with nuclear power, and this position ensures that none of those hazards affect nearby communities.
If you become a nuclear technician, some of your duties might include monitoring equipment performance, improving machine efficiency, and more. You'll also perform water, air, and soil tests to ensure that radiation levels stay low.
Becoming a nuclear technician involves an associate's degree focusing on nuclear science or a relevant field. Many technicians go through vocational training to adopt the skills they need to be proficient in their job. The average salary for this energy job is roughly $82,000 a year.
15. Civil Engineer
Civil engineers earn about $87,000 a year, but ample vertical growth opportunities exist to help you make even more. Typically, the education requirement to qualify for these jobs is a Bachelor's degree.
The energy sector relies heavily on civil engineers when building a new power plant. This job is responsible for planning and overseeing massive energy projects. Engineers provide oversight, keep projects moving forward, and help to develop feasible plans for the location.
Without civil engineers, we wouldn't have functional power plants. The role is crucial, and it will continue to be important even as we shift to renewable energy.
16. Environmental Engineer
Environmental engineers need a Bachelor's degree in this field or related ones like civil, chemical, or general engineering. This high paying career in energy requires an in-depth understanding of engineering principles. With the right qualifications, the job can earn you an average of $88,000 a year.
So what do environmental engineers do? Generally, they have their hands in many aspects of energy production. However, the overarching goal is to promote environmental improvements and ensure that techniques are as conscious of nature as possible.
Engineers might work in recycling, waste disposal, public health, and more. As green energy becomes more prominent, this job will create cleaner and safer power plants.
17. Sales Engineer
Believe it or not, sales positions are vital in the energy sector. It's not about being in a retail environment. Instead, sales engineers focus on securing new projects and helping potential clients find the right products for their needs.
Many sales engineers work for renewable energy providers. For example, they might work for a solar energy company to sell solar systems to commercial business owners. Their work brings in new business and spreads the adoption of the product.
Generally, sales engineers make about $104,000 a year. Educational requirements can be flexible for this high paying energy job, but it would help if you had a Bachelor's degree in a relevant field to get your foot in the door.
18. Renewable Energy Consultant
This job is similar to the last. However, renewable energy consultants focus less on the hard sell and more on finding a suitable solution for clients. They have a deep understanding of the technology and typically need a Bachelor's degree in renewable energy management to succeed.
In this job, you'd work closely with property owners to develop a system that meets their needs. For homeowners, the job is pretty straightforward. But, things get more complex when working with large scale commercial properties or energy-reliant industrial complexes.
The goal is to advise clients on energy solutions and potential upgrades to their existing setup. As one of the best paying jobs in energy, renewable energy consultants earn an average of $88,000 a year.
19. Financial Analyst
Financial analysts can work in nearly any industry. To get started in this career you must have a Bachelor's degree. However, many employers prefer to see a Master's degree and ample work experience.
A financial analyst sifts through data to help companies make decisions and develop strategies that improve the bottom line. This role is vital from a business standpoint, and analysts are paid handsomely for their work. On average, analysts earn about $81,000 a year, but top earners can bring in $150,000 or more.
Renewable energy is still in its infancy, so financial analysts are even more important in that sector. Their work ensures that these green companies can continue to push their strategies.
20. Solar Project Manager
Solar projects are popping up all over the country, and they all need someone to lead them. A solar project manager is responsible for all the finer details.
They don't necessarily have hands-on contributions to the installation of solar systems, but their managerial skills ensure that everything goes off without a hitch. As a manager, you would plan every stage, obtain the necessary work permits to get them done, and take care of all the bureaucratic aspects of the project.
Managers also collaborate with financial analysts, engineers, legal teams, and more. It can be a stressful job at times, but it's also one of the highest paying. Solar project managers earn an average annual salary of $84,000. No advanced degrees are necessary, but most managers go through vocational programs and on-the-job training.
21. Software Developer
If you have a degree in computer science and want to be a part of the growing green energy movement, consider becoming a software developer. Again, this is a position with tons of availability across many industries, but they're in high demand in the energy sector.
Solar energy production relies on software to run smoothly. It's a tech-heavy field that needs top-notch software to succeed. That's where you come in!
The types of projects developers work on can vary based on the company's needs. But it's usually monitoring and management software.
Software developer salaries are competitive, but the average is around $80,000 a year.
22. Petroleum Engineer
Petroleum engineers are one of the highest earning careers in energy. They can make around $137,000 every year with only a Bachelor's degree.
But what exactly do they do?
Despite the slow shift to renewable energy, the world still relies on petroleum products. An engineer works to develop extraction methods that are efficient, safe, and cost-effective. Their goal is to find and use oil resources as optimally as possible.
There's a lot of flexibility with this job. Some petroleum engineers spend their time working in an office. However, others travel frequently or work overseas to monitor oil production and refining operations.
23. Wind Turbine Service Technician
Looking for a well-paying career in energy that doesn't require a lengthy degree? Consider becoming a wind turbine service technician. This is a trade job that requires you to complete vocational programs and on-the-job training.
The pay is around $55,000 a year, but many technicians quickly get into this trade school job without student debt. Pair that with opportunities for growth and career development, and there's a lot more financial potential than most realize.
As the job title would imply, wind turbine service technicians work with wind-generating equipment. They work on turbines and their various components to keep things running smoothly.
24. Power Plant Operator
A power plant operator's duties are to service and maintain the systems that produce and distribute energy. Again, that's a broad description. There are many types of power plant operators out there, and their day-to-day tasks will depend on the environment they're in.
That said, the ultimate goal is to keep the energy flowing. Whether you work at a solar farm or a nuclear plant, your job as an operator is to maintain equipment, address issues as they appear, and perform preventative care to avoid problems altogether.
A power plant operator doesn't need a degree to enter the field. A high school diploma and job training will suffice, but it's still one of the best paying jobs in energy. Operators earn an average of $86,000 a year!
25. Wind Farm Site Manager
Wind farms are massive and usually have multiple turbines running to harness energy. It's a lot of work to keep farms operational around the clock. Managers handle all of the finer details.
They oversee the wind farm and all the personnel assigned to care for the equipment. Duties can vary dramatically, but the role requires excellent leadership skills. You must understand the equipment you're working to maintain while also having the experience to keep your team efficient.
Typically, wind farm site managers must have a Bachelor's degree and some experience with business management. For their efforts, these managers earn around $105,000 annually. That easily makes this one of the best paying jobs in renewable energy that you can find.
Conclusion
The best paying jobs in energy are all in-demand and have a great outlook going forward. If you're interested in finding a career in this sector, the future is very bright!

Hannah Morgan speaks and writes about job search and career strategies. She founded CareerSherpa.net to educate professionals on how to maneuver through today's job search process. Hannah was nominated as a LinkedIn Top Voice in Job Search and Careers and is a regular contributor to US News & World Report. She has been quoted by media outlets, including Forbes, USA Today, Money Magazine, Huffington Post, as well as many other publications. She is also author of The Infographic Resume and co-author of Social Networking for Business Success.