What is networking anyway? Plain and simple: networking equals relationships! Don't be turned off by the term, instead shift how you think and feel about networking and learn how to tap into your existing network and extended professional network for job search guidance.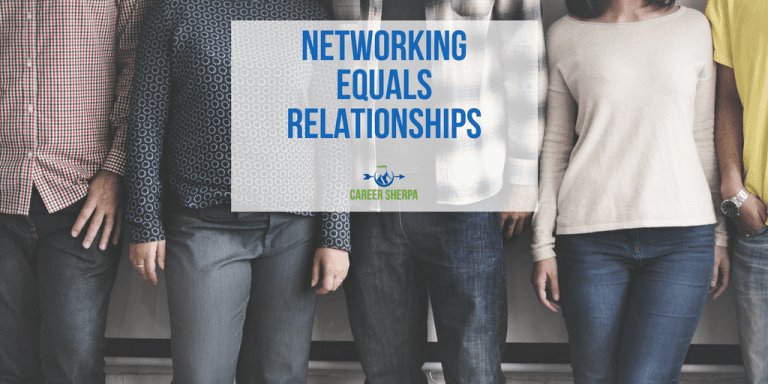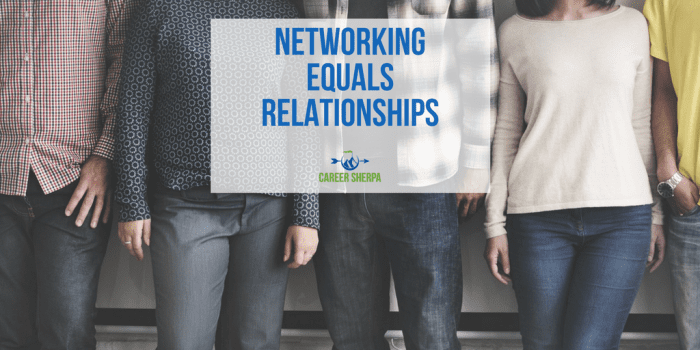 You probably already gather information, acquire recommendations, or discover solutions, by talking with people you know, like and trust! Therefore, networking equals relationships. See?!
Here's how to use your relationships to acquire information that will help your job search.
Your Existing Network
Let's keep it simple. You already have a list of people you know. These are your friends, family, neighbors or the people you know well. Let's call these people you know your "existing network." These are the people you will want to reach out to first to ask for advice and assistance with gathering information for your job search. 
Why? Because they care about you and your well-being. 
Here's an example. Have you ever asked any of your friends for the name of a good electrician, or what kind of car they drive or their favorite restaurant? Why? Because the thought of pulling a name out of a directory is risky. You want something reliable at a fair price and you trust the recommendation of someone you know. Right? Did they give you a hard time when you asked for their advice or were they eager to share?
That's exactly why you want to reach out to your "existing network." You are looking for their advice, opinions and reliable information.
Here are a few ideas to help you move away from the conversation that starts with "I'm looking for a job…" (because we all know how that works out):
Tell each person in your "existing network" specifically what type of job you are looking for. Ask if they know of a company hiring for that role.
Ask for their recommendations about good companies to work for.
Ask if they know anyone who works inside a company you are interested in working for or are about to apply to.
Your Extended Professional Network
This extended professional network is about relationships too. Think about the people you may have only interacted with professionally. They could be vendors, suppliers, customers or even competitors. They could be people you have served on committees with.
If you called any of them on the phone they would recognize your name! This means you have some sort of relationship with them. Have you ever asked anyone in your extended network for advice, recommendations, information?  If so, then you know networking equals relationships!
Try asking them these questions:
What companies are growing right now?
What skills do you need to highlight to be in-demand in your field?
Is there anyone else you would suggest I speak to for more information on what's happening in our field?
Looking for more questions to ask? Check out Networking Conversation Starters and Closings
Who Else Do You Need In Your Network?
We all can benefit from growing our network. So who are the people you want to meet? Create a list of people you would like to meet. They could be movers and shakers in your industry. It could be a person whose name comes up frequently in conversation. Here is some help: Tips for creating your networking bucket list
As you write down names, also write down WHY you want to meet these people.
Networking is so misunderstood!
I keep writing about networking because it is so misunderstood by those new to job search.  If you consider yourself to be the owner of your career then you understand the power and importance of building a more targeted network, both now and for the future. Because after all, networking equals relationships.

Hannah Morgan speaks and writes about job search and career strategies. She founded CareerSherpa.net to educate professionals on how to maneuver through today's job search process. Hannah was nominated as a LinkedIn Top Voice in Job Search and Careers and is a regular contributor to US News & World Report. She has been quoted by media outlets, including Forbes, USA Today, Money Magazine, Huffington Post, as well as many other publications. She is also author of The Infographic Resume and co-author of Social Networking for Business Success.