Do you avoid networking because you don't have conversation starters or closings? Get ideas for how to start networking conversations, questions to ask during informational meetings and how to close a networking conversation.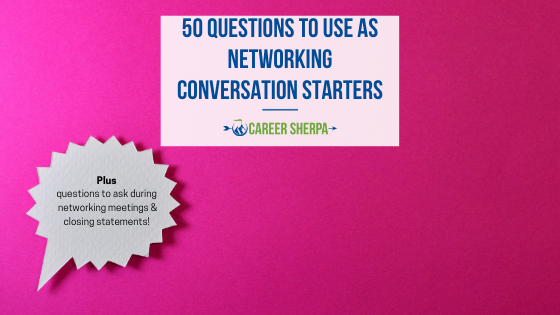 In this article, you'll get 40 conversation starters, 12 informational meeting questions and 4 conversation closers which may just give you the confidence to reach out and network!
Bonus: There are 5 recommended action items to help you network more strategically!
Is Networking A Barrier?
Knowing the right thing to say can make all the difference. If you dread networking, you aren't alone. In fact, Lee Hecht Harrison surveyed 440 U.S job seekers via an online poll asking,
"What area of job search networking is most frequently holding you back?"
The survey found these were the top reasons people didn't network:
Identifying potential networking partners 31%
Lack of clear strategy at networking meetings 25%
Making initial contact via phone or email 24%
Lacking confidence at group networking events 19%

How To Start A Conversation
Networking can be stressful- but it doesn't have to be if you try using some of these suggested conversation starters. Build your repertoire by adding or testing out some of these:
Any group event
I know, right now we are in the middle of a pandemic and we aren't attending group events in person. However, there are online group events (webinars, training, networking meetups and other opportunities to meet new people online).
What brought you here today?
How's your week going?
What do you have planned for the weekend?
At a conference with speakers
Again, online conferences have replaced in-person events, but you can still engage in chat or video conversations.
What did you think of the speaker?
What part of the talk really resonated with you?
What prompted you to come here today?
Have you been to one of these before?
What's been the best session for you?
Who have you enjoyed the meeting so far?
What session are you most looking forward to?
Looking for more? The Muse lists 30 Brilliant Networking Conversation Starters.
Questions for An Informational Meeting
Before you reach out for an informational meeting, you need to know something about the person, their background and how you think they can help you. Create a list of questions you would like their opinions, advice or insights on. These may help get you started:
Gather Career Path Information
Tell me about your career path. How did you get to where you are today?
Why did this type of work interest you?
What do you know now that you wish you knew when you were entering this field, but didn't?
What publications, professional associations, or events should I check out for additional information on this field?
Who else do you think I should speak with?
Gather Company Information
What do you think the company will look like 5 years from now?
What trends do you see in the future that will affect your organization and industry?
What is the greatest demand for your services or product?
How do you differ from your competition?
If this company was known for 3 things as a workplace, what do you think those 3 would be?
What are the qualities of people who perform best in this business?
How do you think most of the employees would describe this workplace?
How To Close A Conversation
If you find yourself trapped or just wanting to end a conversation, you may want to try some of the networking closings below.
Keep in mind, especially if you are an introvert, your mission is to begin the foundation for a relationship. You most likely can't dig as deep as you would like and still meet everyone you had planned on meeting. And leaving a conversation shouldn't feel like the end. You want to be able to continue it at a later time.
Tim Tyrell-Smith, a job search coach/marketer, provides recommendations for how to "close" a conversation with someone you've just met. Here are some examples:
"It's been great talking with you. Can you introduce me to anyone else here who might make a good connection for me?
"Thanks for answering all my questions. You've been great! Would you be open to a follow-up meeting over coffee?
"I appreciate your time. I'd love to meet a few more people tonight. Is there anything I can do for you before we move on?"
"Thanks for the time. Seems like we have a lot in common. Can I send you a LinkedIn invitation?"
BONUS: Do You Want To Network More?
Try setting some of these goals for yourself:
Identify 5 people you would like to meet over the next month
Attend one professional association meeting
Practice asking new types of questions at your next meeting to find something in common
Listen for opportunities to offer help, share information, or introduce them to someone
Proactively show your appreciation/gratitude to 5 people next week by sending them a thank you or shoutout on LinkedIn

Hannah Morgan speaks and writes about job search and career strategies. She founded CareerSherpa.net to educate professionals on how to maneuver through today's job search process. Hannah was nominated as a LinkedIn Top Voice in Job Search and Careers and is a regular contributor to US News & World Report. She has been quoted by media outlets, including Forbes, USA Today, Money Magazine, Huffington Post, as well as many other publications. She is also author of The Infographic Resume and co-author of Social Networking for Business Success.