Yes, You! Be the owner of your reputation, proactively manage your future and create income stability! In other words, promote yourself.
Promote Yourself: The New Rules For Career Success
The timing is perfect! The message is crucial.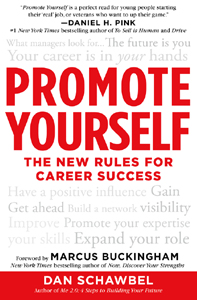 Advancements in technology, rise in freelance/short-term hiring, and increased awareness of personal branding have created the perfect storm, so to speak.
Schawbel's newest book contains stories, logic, and strategies to convince skeptics that now is the time to look at your career differently. Here's what he promises to deliver:
What are managers really looking for?
What do you do if you're stuck at work?
How do you create a personal brand for professional success?
How do you use social media to propel your career?
Dan Schawbel is no stranger to the world of work and Gen Y. He is a Gen Y career expert and the founder of Millennial Branding, a Gen Y research and consulting company. Not only has Schawbel immersed himself in understanding this generation, he is a member himself.
I was honored when Dan asked if I would review his book and gladly accepted the honor. I downloaded it onto my tablet and began pouring over the easy-to-digest content!
It makes sense, it is smart and it is absolutely do-able!
We have all heard that Gen Y is wired differently and this new wiring brings a new skill set and revised ways of thinking. The older generations would be foolish to overlook or dismiss these differences and Gen Y would be equally foolish not to understand how they can showcase their value! Schawbel's book provides answers for Gen Y.
Chapter 10 Is One of My Favorites!
In Chapter 10 "Start Your Own Business While On The Job" Schawbel means INTRAPRENEURSHIP- the act of introducing new ideas within your current company! The chapter starts by noting two important trends:
Corporations are investing in start-ups in exchange for a stake in equity instead of buying their technology.
Corporations have begun to appreciate and embrace the need to innovate and are turning to their employees for new ideas
This chapter, like all of his chapters cites examples. It lists companies who have implemented ideas from intrapeneurs and also tells you, step-by-step, how to implement this yourself. Schawbel provides warnings and suggests methods to successfully present your new ideas internally. Risk is inherent in this new way of thinking, Schawbel states:
"Of course, creating a new business at work and becoming an intrapreneur isn't going to be easy, but hey, there's no true reward without risk. I actually think it is risky not to take risks at work."
Dan has more information about the book on his site here.
And mark your calendar to watch the September 10th book launch event, exclusively sponsored and hosted by Ernst & Young LLP, which will be streamed live online for the first 1,000 people to register. Register for the event on Eventbrite.
MOXIE and VIV-id
These two terms also fit with the themes addressed in Promote Yourself. As you traverse today's treacherous career management terrain you'll want to understand MOXIE and VIV-id. Saturday's post defines MOXIE and this post describes VIV-id.

Hannah Morgan speaks and writes about job search and career strategies. She founded CareerSherpa.net to educate professionals on how to maneuver through today's job search process. Hannah was nominated as a LinkedIn Top Voice in Job Search and Careers and is a regular contributor to US News & World Report. She has been quoted by media outlets, including Forbes, USA Today, Money Magazine, Huffington Post, as well as many other publications. She is also author of The Infographic Resume and co-author of Social Networking for Business Success.